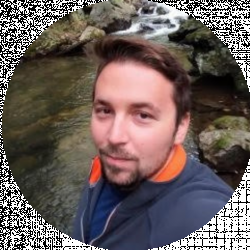 Latest posts by Coty Perry
(see all)
In the past decade, I have spent a considerable number of hours on the water. While angling was the primary objective, these trips have also allowed yours truly to learn a lot about a variety of outboard motors. 
Without a doubt, the Yamaha 300 is one of the best outboards that I have seen and used. No matter the conditions, it always delivered heaps of fun. So, in this Yamaha 300 outboard review, I will tell you what makes this model special from all aspects.
Bottom Line Up Front
 The Yamaha F300 is an excellent outboard motor that still remains one of the best even a decade after its introduction. It offers a great combination of power, efficiency, and durability and adds plenty of features to deliver more convenience for the users. Overall, it is an outboard that looks and performs great and will offer years of service without a stutter. You may find the unit to be pricey but at the end of the day, it remains one of the best 300HP outboards in the market.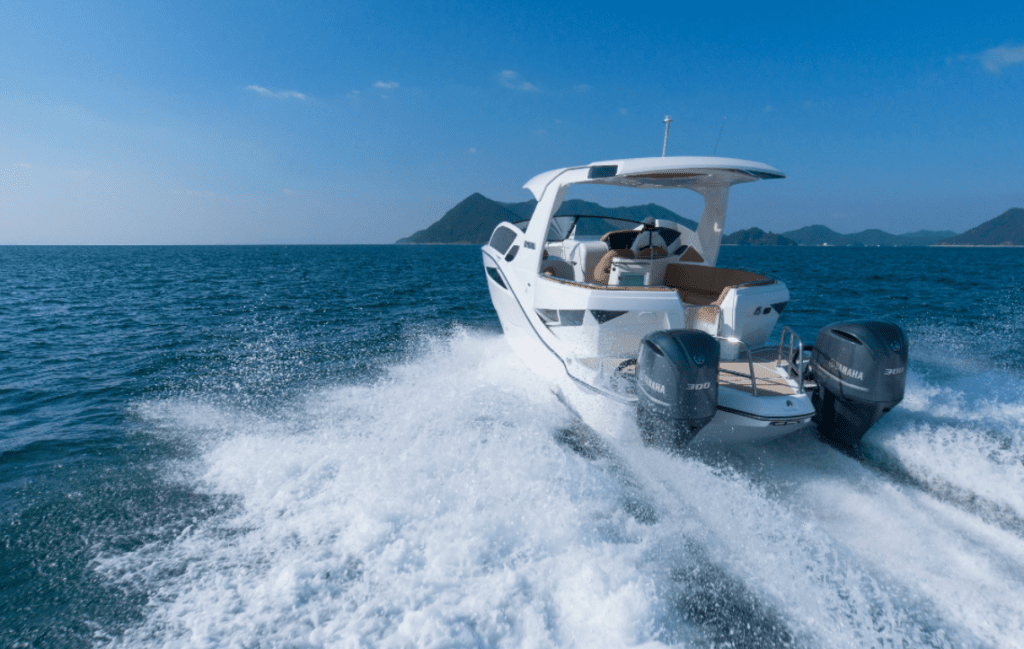 Yamaha 300 Outboard Review
Based on the super-reliable 4.2-liter V6 platform, the F300 outboard motor is one of the top products from Yamaha. With excellent power delivery and superior fuel efficiency, this is one of the best 4-stroke outboard engines in the market. Add the superior quality and durability as expected from Yamaha, and you have a winner in your hands.
Main Features 
The F300 outboard is a feature-rich model. Here is a look at some of the main features.
A Fresh Design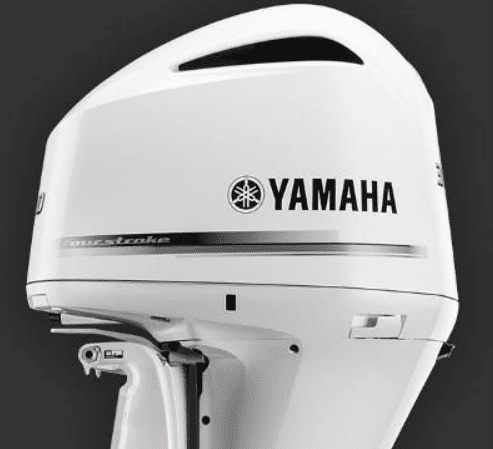 The unit has been upgraded with a new cowling design that looks sleek and elegant with the raised chrome graphics. It also has integrated digital steering. In addition, the exhaust has been rerouted to deliver better reverse thrust. You can choose from two attractive colors- pearlescent white or Yamaha grey. The overall ergonomics is top-notch. In addition, the motor mounts are better designed to reduce vibrations.
Enhanced Power Output
The V6 model is equipped with Variable Camshaft Timing (VCT) technology. This means the engine can breathe faster and uses the air-fuel charge more effectively based on the load. The on-demand combustion rate is also relatively faster. Also, the V6 also has a larger piston stroke. As a result, you get top-end torque across the entire powerband.
Reverse Exhaust
The unit comes with Thrust Enhancing Reverse Exhaust (TERE) that keeps the exhaust bubbles at a higher level. The bubbles remain above the anti-ventilation plate and clear from the propeller when it is in reverse. This allows the propeller to rotate in clear water and generates excellent reverse thrust and better control. When combined with Digital Electric Steering, this also allows you to easily maneuver the boat in tight spaces.
Total Tilt Function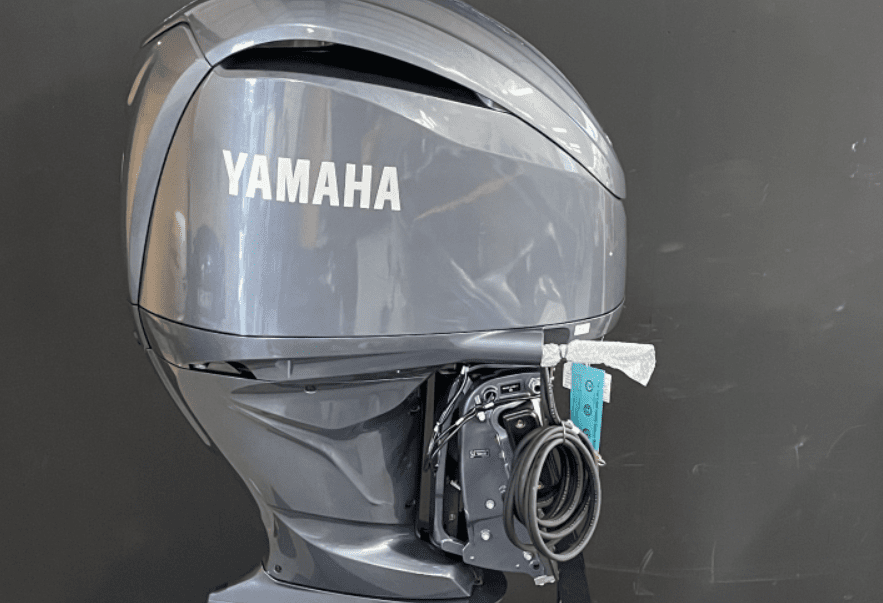 Time to say goodbye to tiring manual tilting operations. This feature allows complete tilt-up or tilt-down of the engine from any position by the double push of a button. For safety, there is a built-in integrated tilt limiter in the unit. You can also tilt it high out of the water than the older models. This reduces the chances of corrosion damage.
Better Flushing
You can use automatic or manual engine flushing systems with this unit. Besides, there is also an external flush attachment for easier operation. Overall, this makes the unit easy to maintain and extends the life of the engine.
Enhanced Control
The unit comes with an advanced Helm Master EX DEC control. It has features like speed control, station selection, trim assist, and single-lever operation. The digital electric steering has zero lag and offers an excellent steering response. The steering contains no hydraulic lines which keep the boat cleaner.
By upgrading the Helm Master EX, you can also equip the boat with features like Yamaha AutoPilot and a Full Maneuverability Joystick.
Lightweight Build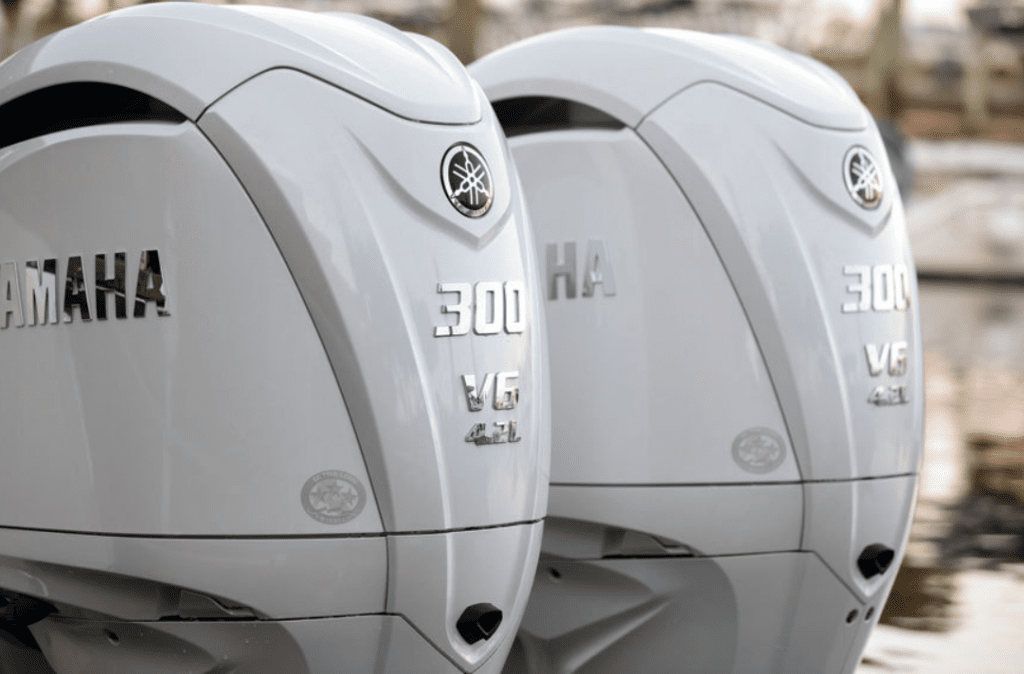 Yamaha has managed to keep the weight of the unit to 551 lbs., thanks to the special applied plasma fusion process. Yamaha was able to improve torque and power delivery without increasing the size. This allows the motor walls to be 60% harder than conventional steel without having any steel cylinder sleeves. The other advantage of the design is the engine cools better and overall performance is improved. The "micro-textured" cylinder walls also reduce the internal frictional losses and improve reliability.
Fuel Economy
Yamaha has improved the fuel economy of the V6 by using an electronically-controlled throttle valve that guides the air entry to the engine. It is connected to a Multi-Point Fuel Injection System that precisely optimizes the fuel delivery in the engine cylinder. Due to the reduced heat and frictional losses, the fuel economy is further enhanced.
Safety and Protection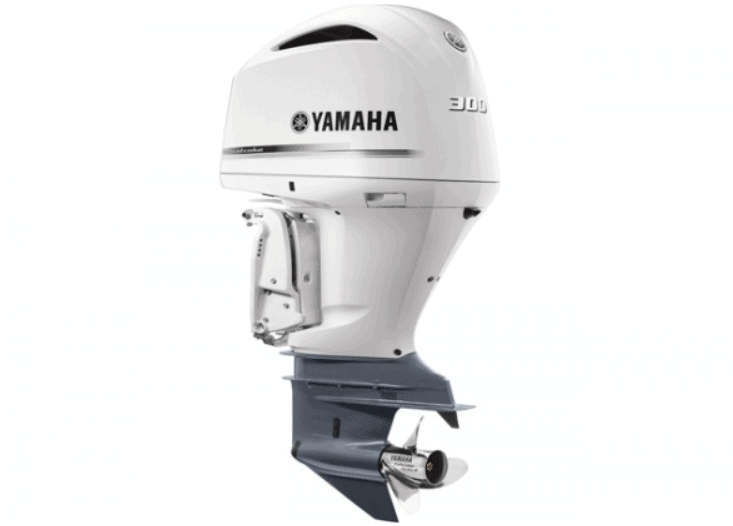 The unit comes with multiple safety systems including the Over-heat warning, low-oil indicator, and the over-rev limiter. There is also a knock control and a Yamaha immobilizer system. Special anodized treatment and electrodeposited painting on both sides reduce corrosion.
Pros
A feature-loaded outboard

A built-in digital electric steering

A user-friendly TotalTilt trim system

Reliable and powerful performance

Enhanced internals for better fuel economy
Since its introduction, the V6 has been one of the top performers in the market. The new enhancements have added to its overall performance and made it more competitive. Presently, it provides users with more flexibility and better control. The engine is also extremely quiet while idling and the vibrations are minimum. If you want to move fast, the V6 delivers top-notch acceleration, especially at higher RPMs.
Apart from the smooth and precise performance, the unit is compact and easy to install. I enjoyed the ergonomic designs and the easy-to-use functions. As usual, you can expect superb reliability from Yamaha products. This unit comes with a 3-year warranty for pleasure use.
Overall, Yamaha has done a great job of bringing together some great features to design an excellent outboard. 
Cons
It is expensive

Not ideal for smaller boats
To be honest, it is hard to point out faults in the Yamaha F300. One thing is it is pricey. If you are on a budget, you may look for other options. Admittedly, the Yamaha reliability and durability come at a higher price.
In general, 4 stroke outboard engines are heavier and require relatively more maintenance. So, if you are on a budget and do not need top-end power you may pick a smaller 2-stroke engine.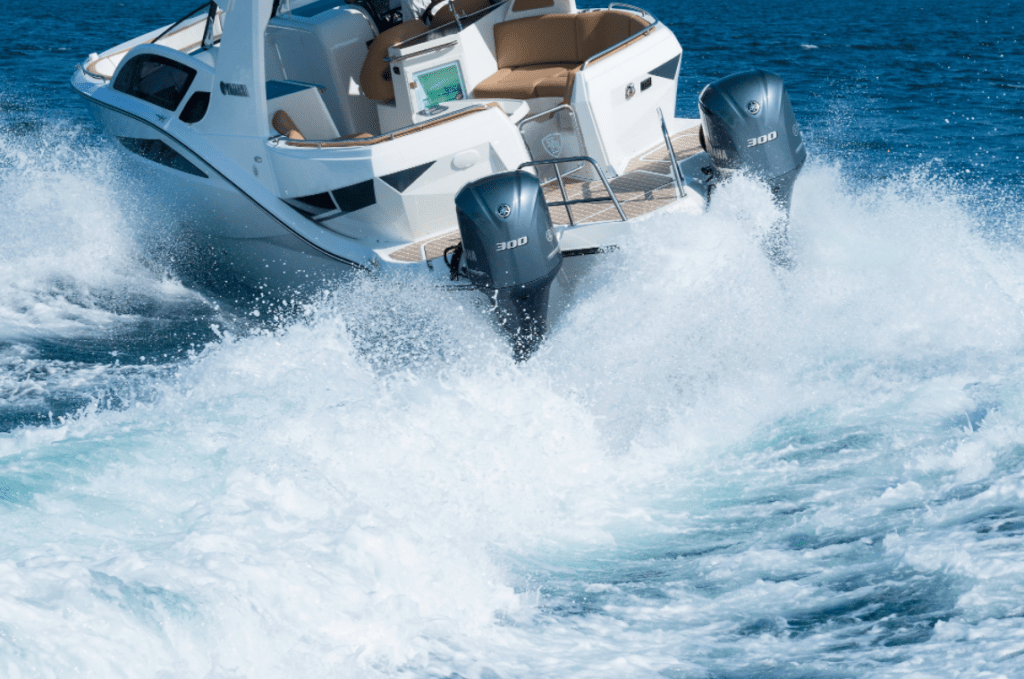 How to Choose the Best Outboard Motor
Fact is, without the right outboard motor attached to your boat, you will not be able to enjoy your ride. 
But with a variety of options available in the market making the right choice can be difficult. So here are some of the main points to look out for while selecting a motor.
Engine Power
Choosing the right power output of the motor is a critical decision. Engines can range anywhere between 10 to 300 horsepower. The trick is to match the weight of your boat, including passengers and accessories with the power requirement. 
The next step is to determine the maximum speed that you will need on the water. If you prefer enjoying relaxed solo rides, you don't need a large amount of power. An engine with lower horsepower will also cost less and make less noise.
Considering these factors will help in determining the horsepower that you need. Ideally, it is best to pick an engine with a slightly higher horsepower than a lower one. A little extra power can be helpful in some situations. For example, if you like boating in the ocean, you will need more power to tackle choppy waters.
To determine the required horsepower, check the National Marine Manufacturers (NMMA) plate located in the stern. The minimum and maximum horsepower ratings needed for your hull will be mentioned there. In case your boat is not NMMA certified, contact the manufacturer for more details.
Make sure you stay within the specified limits while picking an outboard engine. Choosing a motor with a lower capacity will not deliver enough power. If you go above the ratings, the integrity of the hull can be compromised.
In general, smaller boats around 10-15 feet in length use motors that deliver between 15 to 20 horsepower.  For boats between 15 and 25 feet, the power requirement can be around 100 horsepower or more. For larger boats above 25 feet, that travel long distances offshore, the requirement can be around 200 to 300 horsepower.
The Type of Engine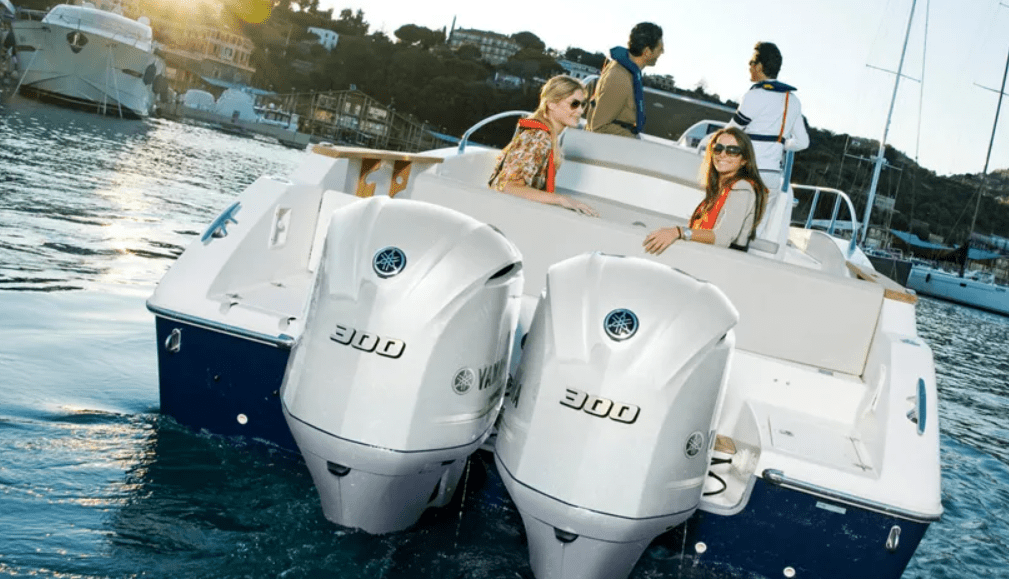 The two main types of engines available are two-stroke and four-stroke. Both these types have different operating procedures and their own pros and cons.
Two-stroke engines are much lighter and have a better power-to-weight ratio than four-stroke ones. They have lesser parts and are easier to install and maintain. However, many two-stroke engines come with higher emission levels.
On the other hand, four-stroke engines are quieter and have better fuel economy. If you want to make a more environment-friendly choice, choose four-stroke. Due to more parts in a four-stroke engine, they are heavier and need more maintenance.
With modern manufacturing techniques, the size and noise differences between these two types have come down considerably. So, the final choice will be based on your preferences.
Fuel Injection
Outboard engines come with three types of fuel injection systems. These are the Direct Fuel Injection (DFI), Electronic Fuel Injection (EFI), and the simpler carbureted systems.
EFI engines like the Yamaha E300 offer excellent fuel efficiency. They come with sensors that cut down fuel consumption without affecting power output. The system is controlled by an Electronic Control Unit and the fuel is atomized through a nozzle as it is injected into the engine.
The DFI system also ensures a precise amount of fuel injection and perfect injection timing. Here the fuel is delivered directly into the engine chamber. However, the process can result in some carbon buildup on the valves and intake ports. 
Carbureted systems have been around for decades and are the most inexpensive option. But the fuel economy is lower and the emissions are higher than the EFI and DFI systems. Don't expect this system in modern outboards.
Features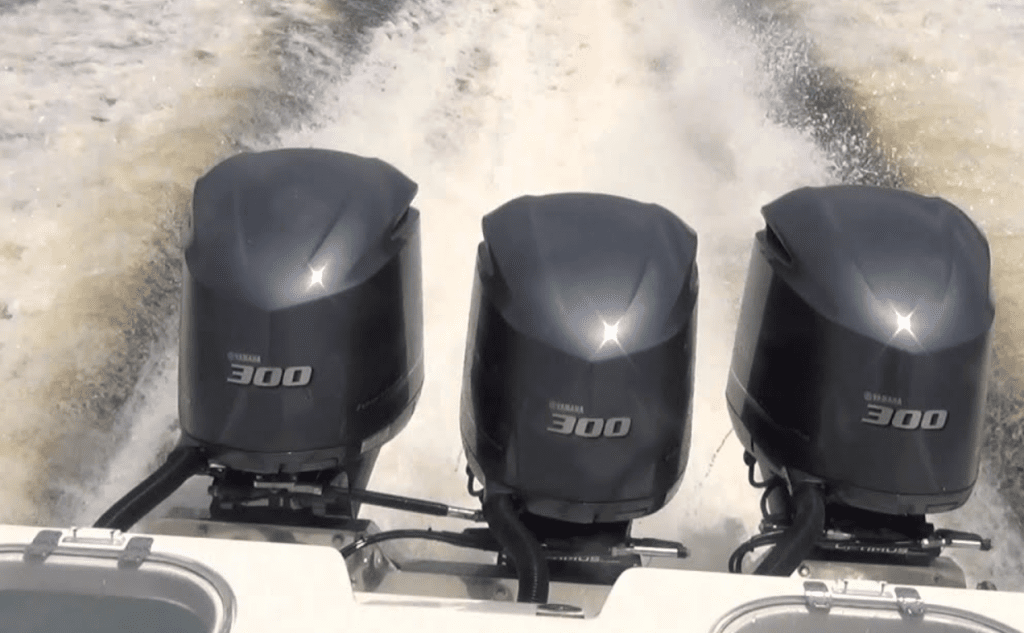 Additional features on outboards provide more convenience and make your boating experience more fun. Here are some features you can choose from
Autopilot

– This is a useful boat control feature that makes navigating easier. Modern autopilot systems precisely control the boat and also takes you to your exact destination in the shortest possible period. With a fully integrated plug-and-play system controlling your boat is super easy.

Electric Start

– It may happen that you need to start the engine quickly to move out of a rough weather condition or stop the boat from drifting. In such scenarios, an electric start makes it easy to regain quick control of the boat.

Power Thrust

– This is a useful feature that helps you to tackle challenging weather conditions like strong winds and currents. In some Honda outboards, you can gain 60% more thrust power in reverse and 15% more while going forward. So, it takes less time to reach the desired speed. In addition, the maneuverability of the boat is also improved.

Power Tilt-

Tilting your engine manually while moving in shallow waters is a tough task. With the power tilt feature, you just need to push a button to tilt the engine. That saves considerable time and effort on a trip.

Three Alternative Outboard Motors
If you are looking for other options, here are three alternatives in the category that can match Yamaha in terms of performance.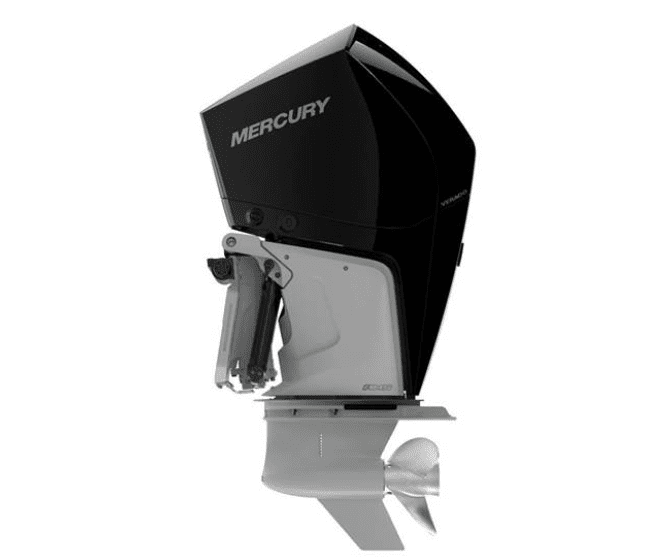 This outboard is another favorite choice of boaters due to its excellent performance and fuel efficiency. The 4-stroke V8 engine used by Mercury has high piston displacement along with quad-cam design. This delivers better efficiency and higher acceleration. Advanced features include adaptive speed control, fast throttle response, battery management technology, and joystick operation. The engine is also lighter and delivers a quiet performance even at higher loads. Mercury is a top brand when it comes to marine products and this outboard is no exception.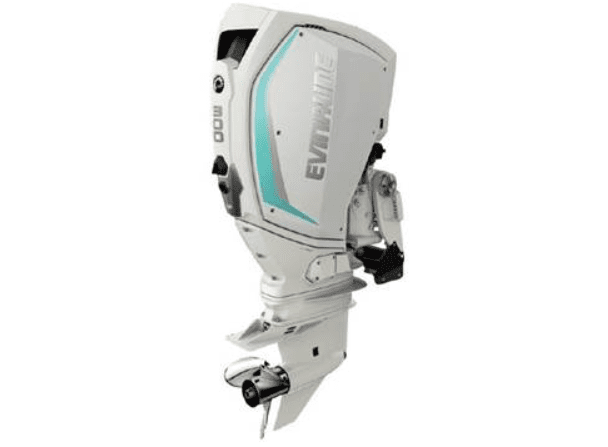 The Evinrude outboard comes with a V6 engine and direct fuel injection. Users were impressed by the acceleration of the engine and the fuel efficiency was impressive too. The unit also comes with iSteer, which integrates a hydraulic steering system with a power steering. Besides, it also has an iTrim feature that ensures that the outboard stays at the optimum trim level at all points. In short, if you're looking for the best combination of speed and performance, this outboard is worth a closer look.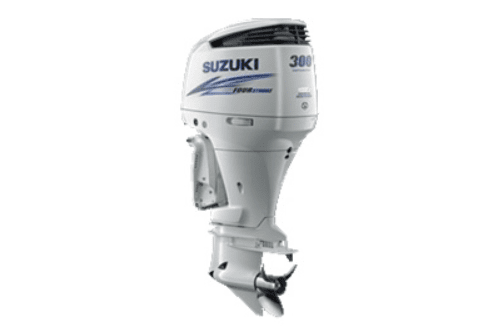 This is a top product from Suzuki that comes with a V6 engine, multi-point electronic fuel injection, and powerheads with dual overhead cam (DOHC). To deliver the best low and mid-range torque, the unit has variable Valve Timing (VVT). The engine also offers excellent durability, and features like precision control, a dual water inlet for effective cooling, and an advanced drive gear layout. Overall, a great product from Suzuki that you can depend on.
Frequently Asked Questions 
Question: How long will a Yamaha 300 outboard last?
Answer: Yamaha is a brand that offers excellent performance and durability. With the right maintenance, the outboard can easily last between 1,500 to 2000 hours. Note, for recreational boating, the average use of an outboard can be between 50 to 100 hours per season. 
Question: How much horsepower does the Yamaha 300 outboard have?
Answer: The Yamaha outboard delivers 300 horsepower at 5500 RPM.
Question: Is a Yamaha 300 outboard a V8?
Answer: No. The Yamaha 300 is a V6 engine. That means it comes with six cylinders and not eight as in a V8 engine.
Question: How fast is a Yamaha 300?
Answer: Yamaha mentions that compared to the other 300HP four-stroke outboards, the F300 is 19% faster at cruise RPM. At the top RPM, you can achieve cruising speeds of above 40 knots. 
Final Thoughts
There you have it. The Yamaha 300 outboard review from my end.
The V6 series from Yamaha has been a time-tested outboard that has proven its merit. Yamaha has added some new upgrades that enhance the looks, features, and convenience. Admittedly, the performance and durability have been beefed up considerably. All in all, it is a class-leading outboard that you can depend on.
Looking for more interesting readings? Check out: