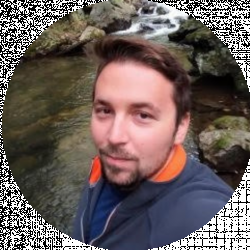 Latest posts by Coty Perry
(see all)
Bottom line up front: The Mariner Mercury F9.9 HP is the best option, because it can reach 17+ knots. If you're looking to be impressed look into the outboard motor!
Are you in the market for a good 10 HP outboard motor? If so, you will notice there are a plethora of options to choose from. Knowing the right one may be a challenge. This is why we came up with this article. It will give you everything you need to ensure you find the best 10 HP outboard motor to suit your needs. Check it out!
Our Top 5 10 HP Outboard Picks
Finding the right 10 HP outboard motor is a daunting task. That is why we compiled a list of some of the best in the market. The information below is compiled from ratings and testimonials from owners and outboard motor sellers. We have also included a buying guide to help you understand the factors you should consider when selecting a 10 HP outboard motor.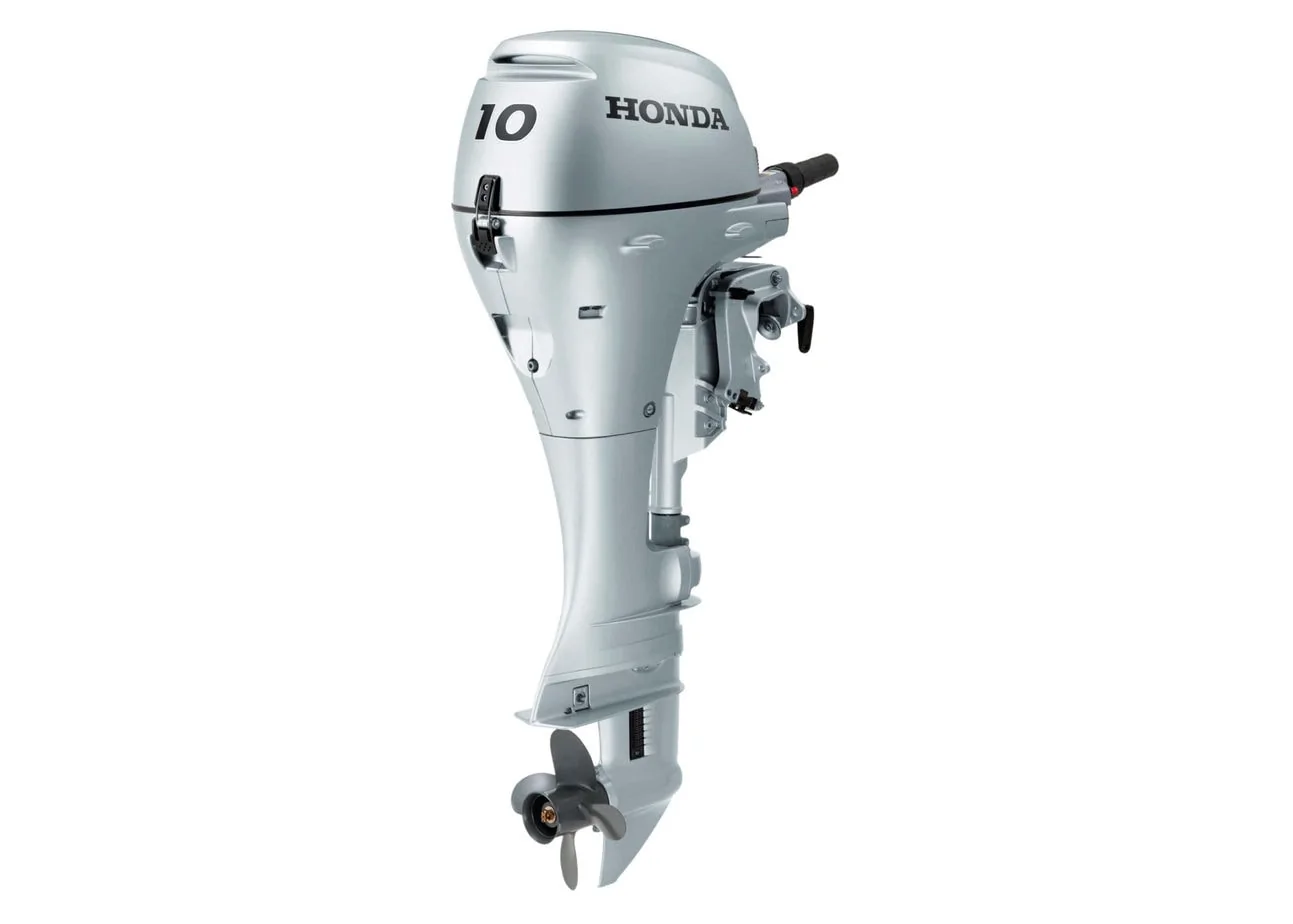 The BF 10 HP from Honda looks similar to other more powerful outboards from the manufacturer. In our list, this model has the largest capacity engine at 222 CC. Furthermore, it has 7.4 kW achieved at 5,000 RPM to 6,000 RPM, which is the highest-rated power output on this list.
The engine is a 4-stroke twin cylinder design with a remote fuel tank and pull start. There is an option of getting it with remote steering and an electric start. Everything is solidly engineered and well-oiled combined with modern styling. You also get an impressive 6-year warranty with this product.
When it comes to performance, you get 14.8 knots top speed. This is the lowest for petrol-powered engines with a horsepower rating of 10 HP. Acceleration from 0 – top speed is 16 seconds. At idling, it's quiet at 59 dB, while cruising and top speeds measure 75 dB and 90 dB respectively.
Although it's the heaviest in our list at 42 Kg, it comes with well-positioned handholds. The front-mounted gearshift is a setback compared to its rivals who use an ergonomic tiller-mounted design. All in all, it's refined and smooth with low sound levels.
Pros
Large engine capacity
6-year warranty
Low noise levels
Option of remote steering and electric start
Cons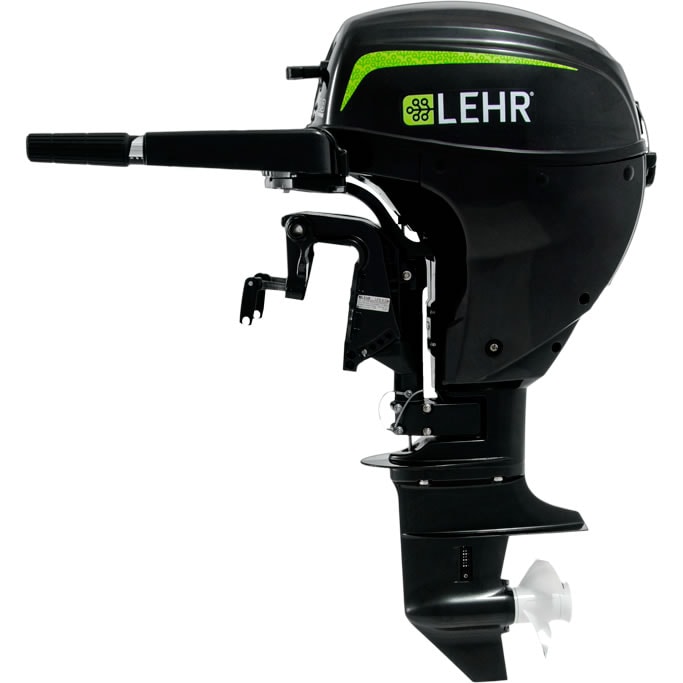 Due to their promise of low emissions and cleaner refueling, Lehr's propane-powered outboards are gaining popularity in the market. It has a pressurized gas line that connects it to an external 6 Kg cylinder.
It has a total capacity of 212 CC from its twin cylinders that deliver 7.2kW (9.9 HP) at 5,500 RPM. Short and long shafts are available along with an optional electric start.
With good quality components and slick styling, it's well put together unlike some new engine brands seen on the market that have questionable quality. It falls short of the five years warranty offered by some manufactures since it comes with a three-year warranty.
Despite its 9.9 HP power rating, there's a slight loss of power when using propane fuel. This means compared to its petrol rivals, the Lehr struggles to match the acceleration or speed. It takes 18 seconds to get to a rather disappointing 13.5 knots. However, it gets the boat to the plane easily enough.
Its sound levels are higher considering it records 66 dB compared to 60dB or less for the Yamaha, Suzuki, Honda, and Tohatsu. The gap narrows to just 1 dB louder than the Tohatsu and Mariner which are at 80 dB when at a steady cruising speed. At full revs, it's exactly in line with the Honda and Yamaha, but it's still considerably louder.
Starting is easy since there's no choke or primer pump to contend with. Rather than on the tiller, the gears are mounted at the front of the engine. On the upside, the gear action is smooth.
The Lehr 9.9 HP is smack in the middle in terms of weight coming in at 39.8 Kg. The well-located handholds reduce the risk of petrol spillage both when storing the engine and when refueling.
The Lehr range of engines is not quite there when it comes to performance or refinement. However, it's a tempting proposition if you like the idea of a more environmentally friendly engine with clean emissions and no faffing about with messy petrol cans.
Pros
Slick styling
Takes 17 seconds from 0 – top speed
Easy to start
Environmental friendly
Lightweight
Cons
Louder than its counterparts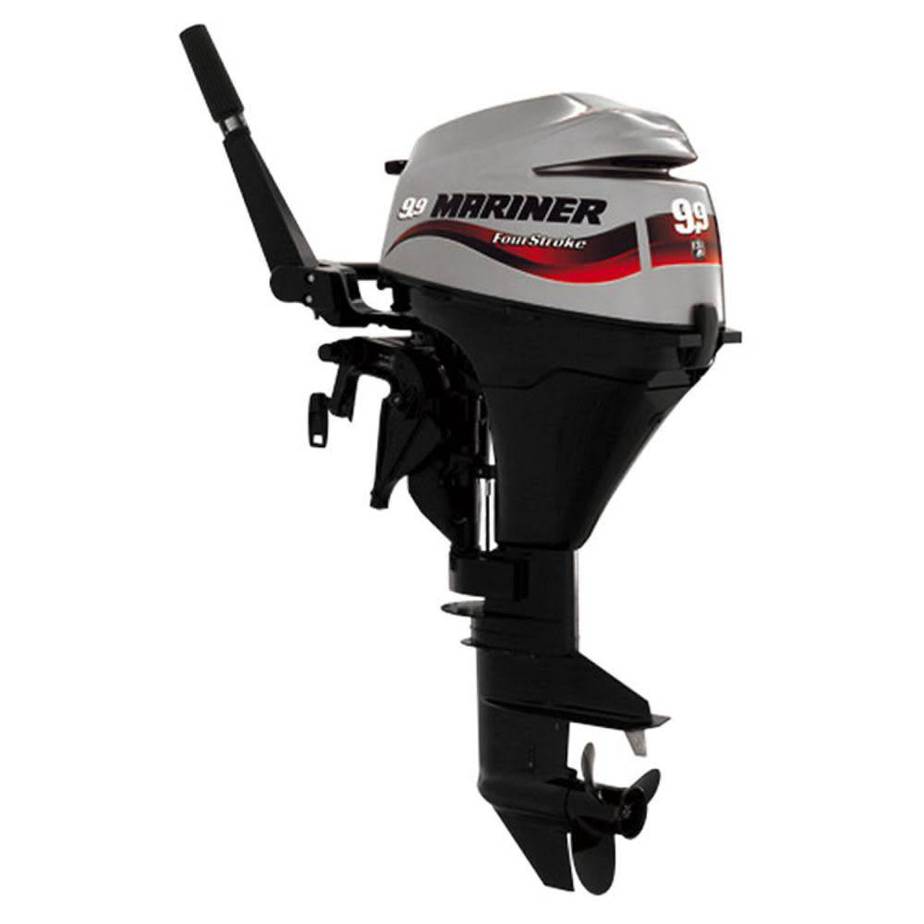 You'll find the same 208 CC block as the Tohatsu underneath the Mariner or Mercury cowling. Key changes include a unique tiller-end gear change and gearbox. The Mariner Mercury F9.9 HP has a twin-cylinder engine with electric start options and the usual shaft lengths. It generates 7.28 kW (9.76 HP) between 5,000 and 6,000 RPMs, which is coincidentally the same capacity as the Suzuki.
The outboard feels very solid while the engine block has been tested to ensure it meets international standards. It has a chunky forward-facing carry handle that also protects it during storage. It comes with a five-year warranty.
This is the fastest engine on our list. Acceleration is also impressive with a top speed of 17 knots. It moves to the plane swiftly from 0 MPH and gets to its top speed in just 15.7 seconds.
The Mariner measures 60 dB at idle, rising to 79 dB at cruise, and 92 dB at top speed. This is more than the Honda and Yamaha and almost identical to the Suzuki and Tohatsu. Though the level of noise wasn't irritating, it doesn't feel as smooth as the two more cultured Japanese offerings.
It has a 'twist-and-go' throttle that engages gears for you. To go forward twist one way and the other way to go astern. Although it takes a bit of time to get used to the process, it's ultimately easier to use than a separate lever.
You can rev it in neutral using a button on the cowling that disengages the gears. The chunky handle offers perfect leverage for lifting. The Mariner Mercury F9.9 HP weighs 38 Kg. This quality build with easier gearshift and better acceleration makes it better than the Tohatsu.
Pros
Lightweight
Reaches top speed in 15.7 seconds
Easy gearshift
5-year warranty
Moves to plane swiftly
Cons
Operating may be a challenge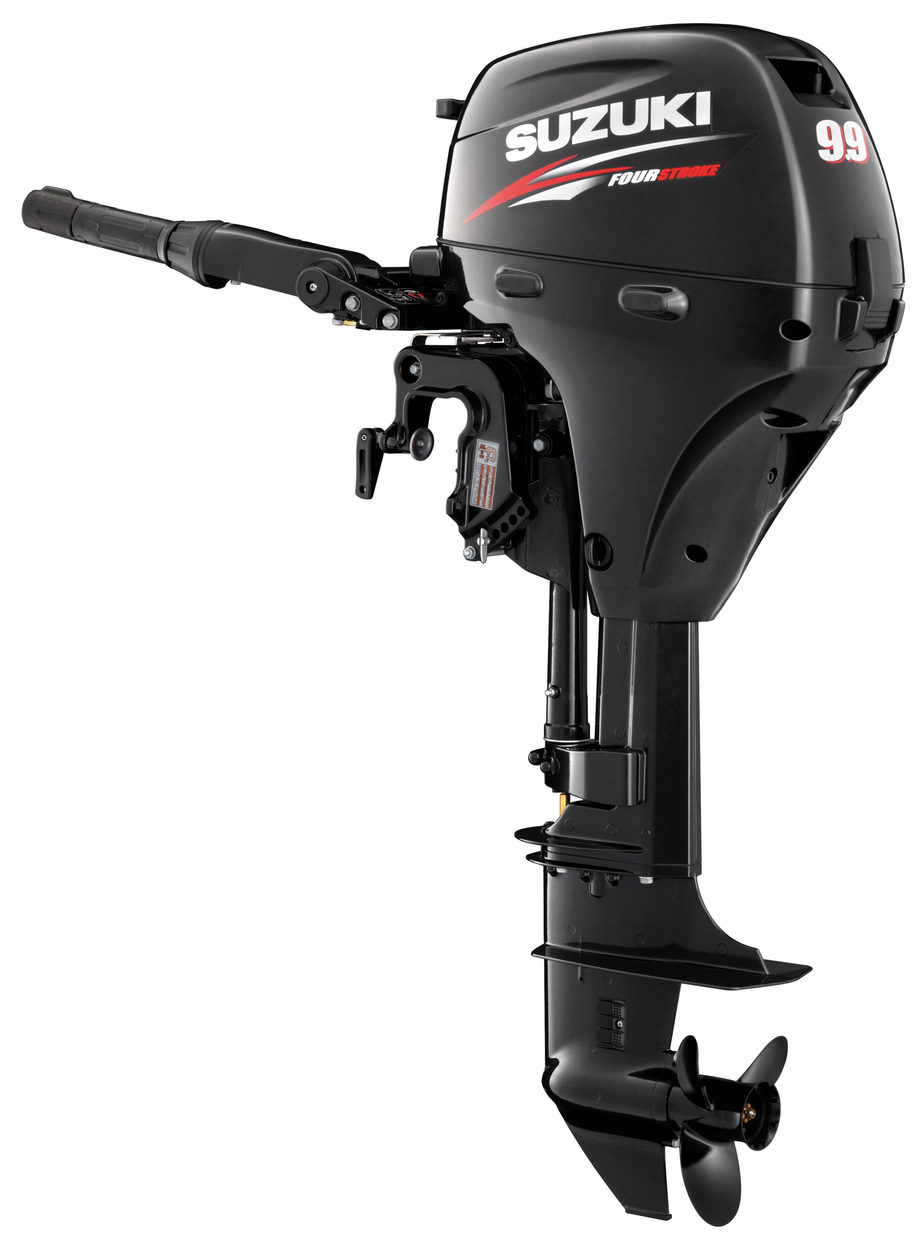 The Suzuki and the Mariner have the smallest engine on this list at 208 CC. With the optimum range being between 5,200 RPM to 6,200 RPM, the DF9.9 revs slightly higher where it makes 7.3 kW (9.79 HP) of power. It has a connector to a generic fuel tank and uses a twin-cylinder engine.
Suzuki is very focused on keeping the weight down This means some of its smaller engines feel a little too flimsy. This is not the case with the DF9.9A. For starters, it feels well put together and also has a very nice finish. It also competes with Honda's 6-year warranty to give your 5 years on warranty.
This outboard takes 16.5 seconds to reach 15.5 knots. This makes Suzuki's performance in the middle of the range. The results were from testing the outboard on a long shaft model instead of a standard one. Plenty of low-down grunt enables the tender to get on the plane without struggle.
At idle it measures a modest 60 dB. This is as quiet as the Mariner and Tohatsu, but not quite at par with the Honda. At cruising speed, this rises to 78 dB and 91 dB at top speed. At higher speeds, there is some water spraying into the boat due to the long shaft.
There's a separate ring on the end of the tiller that engages the gears by twisting. There is a resistance adjuster and a throttle. They are in the middle and a little further back respectively. By creating a basic form of cruise control, the set-up works brilliantly making it user-friendly. Smart-molded stand guides you on which side to lay it down on.
Both the ease of use and the quality justify its premium pricing.
Pros
Twin-cylinder engine
Gets to plane easily
User-friendly
Easy to engage gears
Smart-molded stands
Cons
Water spraying into the boat at high speeds
Yamaha has an exceptional reputation for building reliable outboard engines used by many rescue and police services over the world. What you may not know is that the reliability tends to come at a premium price. Along with the Lehr engine, Yamaha has joined the second largest capacity engine at 212 CC producing 7.3 kW (9.79 HP) of power.
Yamaha products are adamantly built using high-quality materials and this model is no different. The engine block is well designed. It's because the F9.9JMHL is the only one you can lay on three sides without the oil draining into the cylinders.
It's within a whisker of being the quickest on our list because it has a top speed of 16.7 knots. The acceleration is great considering it takes 15.8 seconds to reach this speed. It gets to the plane quite easily perhaps due to its larger capacity 212 CC engine. People who have used it state you can feel the raw power when you reach high RPMs.
The product is just as quiet as the Honda at idle measuring 59 dB. At cruise, it is just behind at 77 dB but joins the chasing pack at its maximum speed recording 91 dB. The quality of sound is very good though, and wouldn't start to screech over time.
The large tiller-mounted gearshift is the best on this list. It's also a real bonus being able to lay it on three sides. The forward-facing grab handle is the only letdown since it is so cluttered with cables that you can't use it to carry the engine. With several great features and its first-rate engine combined with strong performance, this outboard has an edge over its rivals.
Pros
Large capacity engine
Low noise levels
It can be laid on three sides
High top speed
Great acceleration
Cons
Forward-facing grab handle is cluttered with cables
Outboard Motor Buying Guide
Whether you are an avid boater or starting out, you will have to spend some time analyzing different makes, types, and models of watercraft before purchasing a boat. However, when they buy outboard boat motors, they don't always take enough time to ensure they're getting the best outboard for their boat and water-related leisure activities.
If you are looking for tips to ensure you get the best 10 HP outboard motor, we got you covered. We have sourced information from boat owners and retailers to get a checklist for buying a 10 HP outboard motor. Read on to know more.
Power
5 horsepower per ton of boat is what you need as a good rule of thumb. However, you may need more when considering factors such as rough waters and headwinds. Remember to also consider how you plan to use your boat. Having a minimum of 75% – 80% of the maximum horsepower rating for the boat is another good rule of thumb for smaller boats. This ensures it will drive the way it was intended and you'll have enough thrust to get the boat to the plane.
Speed
You'll need plenty of power if you want high speeds. Depending on the weight and size of your boat, how much cargo you are carrying, and your hull design, you'll need to hit 8 – 12 MPH just to get your craft to the plane.
Engine
In reality, 2-stroke and 4-stroke motors are both good choices. The features that are most important for you determine which is best for you.
Depending on how you want to use it and the type of boat, each motor type has its advantages and disadvantages. Before you decide which type is good for you, always take time to learn about them.
For instance, 2-stroke motors offer a better, faster throttle response and are generally lighter for the same power. They are, however, not favorable for idling/trolling and low-speed use. They also tend to have more noise and vibration. 4-strokes may be larger and heavier, but often have better fuel efficiency, offer better speed control, and are quieter.
Shaft
Yacht auxiliary and fishing boats require a long shaft, while most inflatables require a 15" (short) shaft. You must get the measurements right.
A short shaft on a long transom will not only affect the cooling and performance of your motor, but also the flow of water. Putting a long shaft on a short transom is a big mistake and more dangerous since a thrust point that is too low in the water could cause the boat to capsize.
Motor Weight
To ensure that you have sufficient power for speed, safety, and maneuverability, the size of your outboard needs to match the size of your boat. However, going with a smaller outboard has the advantage of easy lifting and carrying.
Most outboard motors of 2 HP – 10 HP weigh in the neighborhood of 35 to 90 pounds while 20 HP – 30 HP motors weighs roughly 100 to 160 pounds.
Electric or Manual Start
Depending on your budget as well as your desire for convenience, an electric-start option comes in handy for starting your outboard easier. However, this privilege comes at a cost, and a 12 V marine cranking battery will also be required. Take note it may be more affordable to buy a new motor with an electric start than retrofitting a manual outboard with one.
Maintenance
Always keep in mind the cost of maintenance and downtime associated with the type of motor you choose. For instance, 2-strokes Direct Fuel Injection (DFI) requires a constant supply of oil. On the other hand, 4-strokes have more moving parts and thus require more frequent service.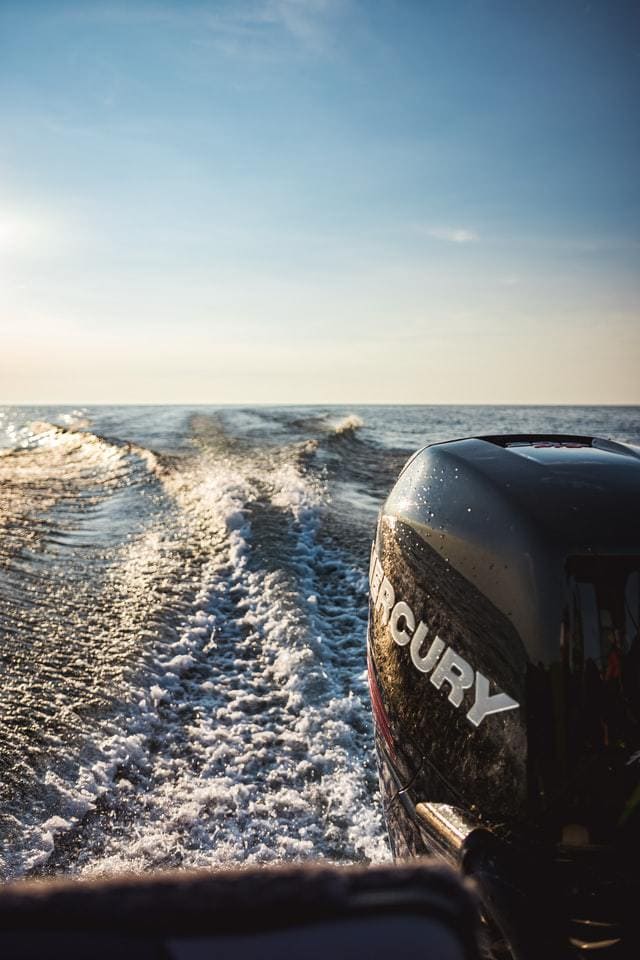 10 HP Outboard Motor FAQs
Question: How Fast is a 10 HP Boat?
Answer: The 7.5 HP – 10 HP engine will push you 15+ MPH, while 5 HP engines will put you in the 10 MPH range.
Question: Between 2 and 4-Stroke Outboard, Which Is Better?
Answer: A 4-stroke outboard is by far more fuel-efficient than a 2-stroke from a cost perspective.
Question: What Is The Weight Of A 10hp Outboard?
Answer: The 10 HP weighs about 70 lbs.
Question: Which is the Lightest 10 HP Outboard?
Answer: Mercury Marine introduced a 9.9 HP two-stroke outboard. It's the lightest in its class featuring a portable, compact, and ultralight engine that provides exceptional power.
Bottom Line
You know have everything you need to know to buy a 10 HP outboard. For example, if you want the fastest in the market, go for the Mariner Mercury F9.9 HP. It can reach speeds of 17+ knots. If you prefer a gas outboard, the best option is the Lehr 9.9 HP. It has low emissions and can reach speeds of 13+ knots.
If you didn't find any outboard that meets your needs, check out our buying guide. It has information on everything you should consider when looking for an outboard motor. The combination of this information ensures you can make the right and informed outboard motor buying decision.
Looking for more interesting readings? Check out: