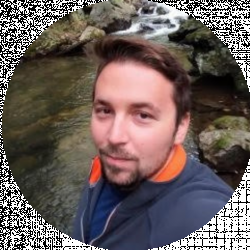 Latest posts by Coty Perry
(see all)
Finding the right 2HP outboard motor for your boat is important for so many reasons. You will need a reliable motor that will not malfunction in any way. It is too time-consuming to have to worry about your boat's outboard motor when it is constantly worrying you and putting your passengers in danger.
When choosing an outboard motor for your boat, it is a good idea to choose one that is reliable and lightweight. We reviewed our favorite choices of 2HP outboard motors and key factors to look out for when making a purchase to make the process of purchasing a motor easier for you.
Different Types of Outboard Motors
There are two different types of outboard motors to choose from. 
Electric Outboard Motor
The electric outboard motor is less frequently used when comparing it to gas-powered outboard motors. Electric outboard motors are typically small in size and require batteries for operation. Unlike gasoline-powered motors, which are measured using horsepower, electric outboard motors are measured using pounds of thrust.
Electric outboard motors are great to use on small boats for fishing, in a small yacht, or even in a kayak. Electric outboard motors do not cost as much as gas-powered outboard motors, mostly because they are small in size and require batteries to use. 
Gas Outboard Motor
Gas-powered outboard motors are most common between the two types of outboard motors. Gas outboard motors have a power range that begins at 1.5 horsepower and can go as high as 300 horsepower.
Gasoline-powered outboard motors also have many engine configurations that can range from 1 cylinder to 8 cylinders and can be 1 or 2 stroke. While the use of gas-powered outboard motors is preferred by most over electric motors, gas outboard motors are not eco-friendly and gas can be expensive. 
Price Ranges of Outboard Motors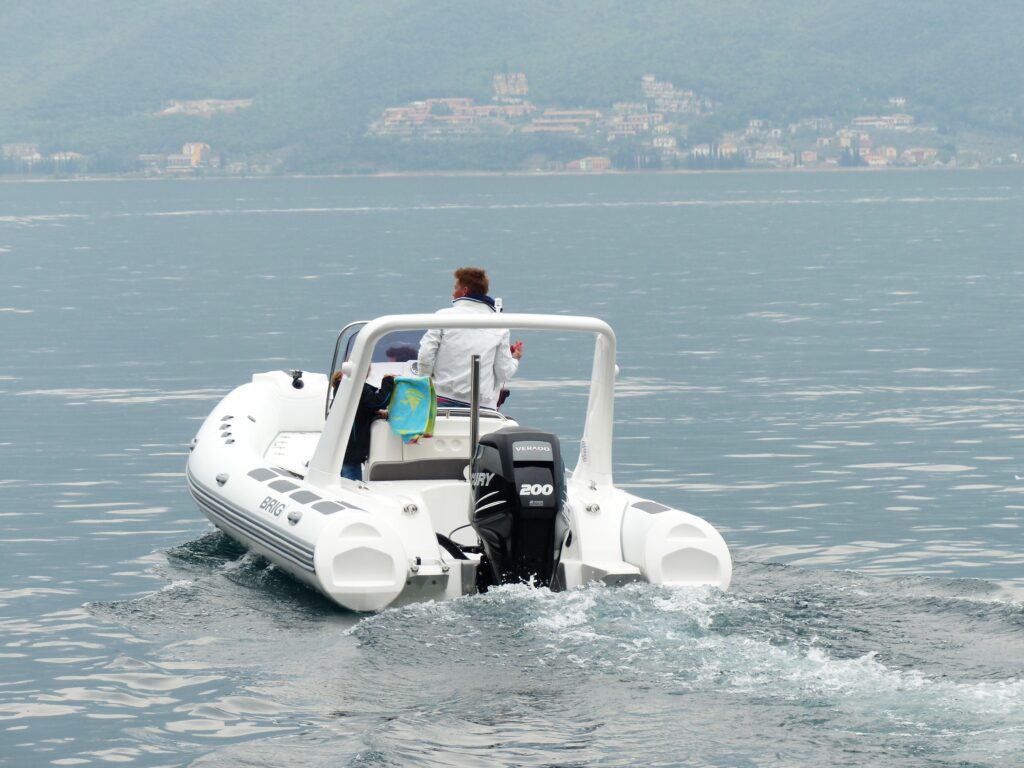 Outboard motors are priced according to the size of the motor, type of motor it is, its speed, and its capacity. You can expect to spend somewhere between $200 for a small, electric motor to around $700 for a large, gas-powered motor.
The price can even be higher or lower than this range, but this is most commonly what is charged for various types of outboard motors. 
The higher the price you pay, the higher the horsepower your motor will be and be both two and four-stroke with three gears (neutral, forward, and reverse). The lower the price you pay will result in a motor with little horsepower, will be small, and likely will have just two gears (forward and neutral). 
The Difference Between 2 Stroke and 4 Stroke Engines
There are quite a few differences between 2 stroke and 4 stroke engines.
2 Stroke Engines
Engines that are 2 stroke tend to burn oil more effectively than 4 stroke engines because the exhaust valve isn't exposed when fuel gets into the cylinder. 2 stroke engines respond quickly when you throttle, which is helpful if you like to water ski. This way, if you are water skiing and a storm comes, you can quickly get back to land as quickly as possible. 
While 2 stroke engines have a lot of great qualities like being lightweight, more energy-efficient, and have a quick throttle response, they come with a couple of disadvantages as well. Engines that are two-stroke tend to have startling power surges during acceleration and the oil you need for the 2 stroke motors can be expensive.
4 Stroke Engines
Engines that are 4 stroke are great when going on a fishing trip. 4 stroke engines can handle being used continuously for hours at a time because of their impressive torque and power.
You will have a smooth experience fishing when using a 4 stroke engine because any adjustments made to the throttle does not result in a power surge like it does when using a 2 stroke engine. 
It is no secret that 4 stroke engines are efficient on fuel. This will become obvious if you run your boat on low bpm and compare it to a 2 stroke engine.
These engines are quiet because their power phase is separated from the exhaust which makes it much quieter than a 2 stroke engine. The only things that can be considered disadvantages of 4 stroke engines are that they are expensive, and they will need more parts for maintenance. 
What to Look Out for in the Best 2HP Outboard Motors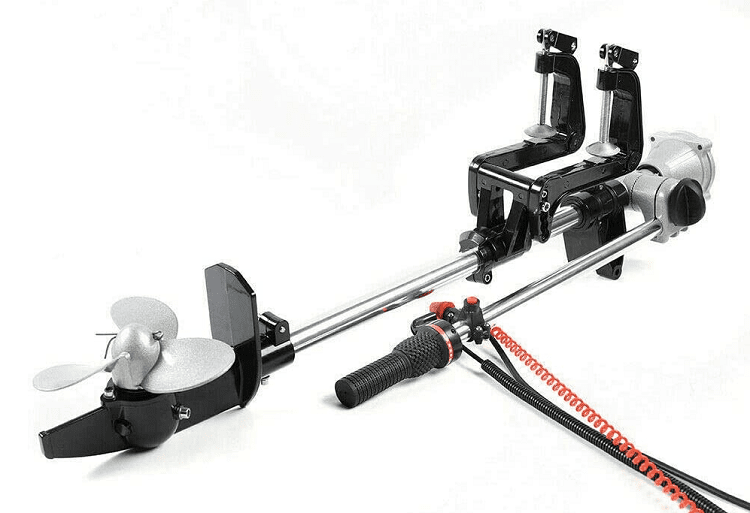 There are quite a few factors to consider before purchasing your outboard motor. It is important to carefully review these factors before making a purchase to ensure you purchase the right outboard motor for you and your boat.
Gears
Some outboard motors have 3 gears – neutral, forward, and reverse. However, other outboard motors have only two gears – neutral and forward – along with a 360-degree shaft.
A 360-degree shaft allows you to turn the propeller around completely to move your boat in reverse. An outboard motor with three gears is usually preferred because it makes your boat easier to maneuver through the water, but a motor with three gears is more expensive than a motor with just two gears.
Power
When choosing which outboard motor is right for you and for your boat, the power of the motor is one of the most important factors to consider. The power of an outboard motor determines more than just speed. It determines your engine's capability of handling rough waters and how well it can handle speed in the midrange.
There isn't too much of a difference in power between 2HP and 3.5HP outboard motors. If you are into water sports, like water skiing, choosing an outboard motor with high speed is an important factor to consider. 
Weight
Choosing an outboard motor that is too heavy is an important factor to keep in mind before making a purchase. If your outboard motor is too heavy for your boat, your boat will be slowed down.
Most outboard motors are lightweight and can be used on various types of boats, like small yachts, kayaks, fishing boats, and inflatable boats. 
Even though your outboard motor might be lightweight, it is important to keep in mind to check out your motor's manual regarding maximum capacity.
Usually, outboard motors can easily be used while your boat has four people in it. If you have more people than what is recommended in your boat, it will cause your motor will slow down. 
Speed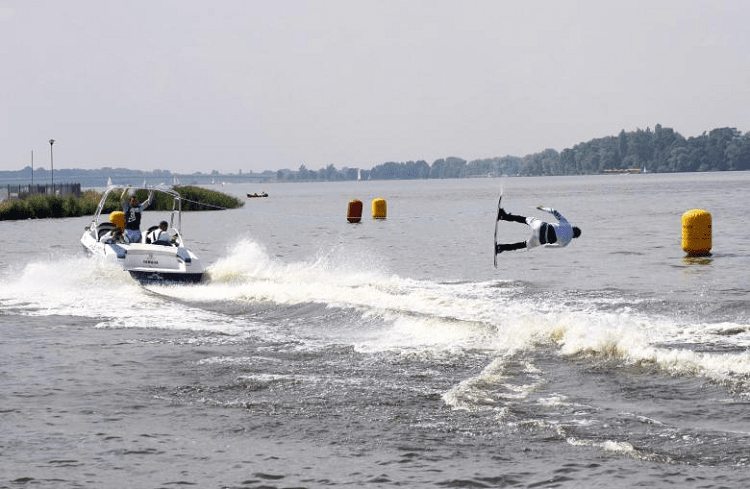 Before purchasing an outboard motor, it is good to know its speed. The speed of the motor will depend on the size of the motor, and the size you choose depends on what size boat you have.
If you are happy with a motor with a slow speed, consider purchasing an electric outboard motor for $200 or less. If you want a motor with a lot of speed, you can purchase a large motor with high speed for about $700, give or take. 
Shaft Length
There are two types of shaft lengths for outboard motors – short shaft and long shaft. When deciding which shaft length is best for your boat, the center of the transom will need to be measured precisely from top to bottom.
You will need a short shaft outboard motor if it measures close to 15 inches. If the transom measures somewhere between 17 and 22 inches long, you will need a long shaft outboard motor.
Brand
When choosing the right outboard motor for your boat, there are so many brands to choose from. If you generally prefer a specific brand, like Honda, consider purchasing a Honda outboard motor for your boat so you know it will be reliable.
There are many reliable brands to choose from, like Honda, Yamaha, Coleman, Minn Kota, Suzuki, Motorguide, Hangkai, Tabodd, and so many other great brands.
Price
The price of the outboard motor you are going to buy is perhaps the most important factor to keep in mind. The price of outboard motors depends on a few factors – the motor's speed, capacity, thrust, and gears.
Be sure you are aware of everything the motor you are going to purchase has to offer so you know you are getting what you pay for. The price of the motor will be higher if it is a high-quality brand and lower if it is an average brand.
Most average brands have the same results as a high-quality brand, but you are paying for the brand specifically when it is priced very high.
Top 5 Choices of 2HP Outboard Motors
While there are many 2HP outboard motors that are good enough for your boat, these are the top 5 outboard motors that are great for your boat.
Coleman 2.6HP Outboard Motor with Short Shaft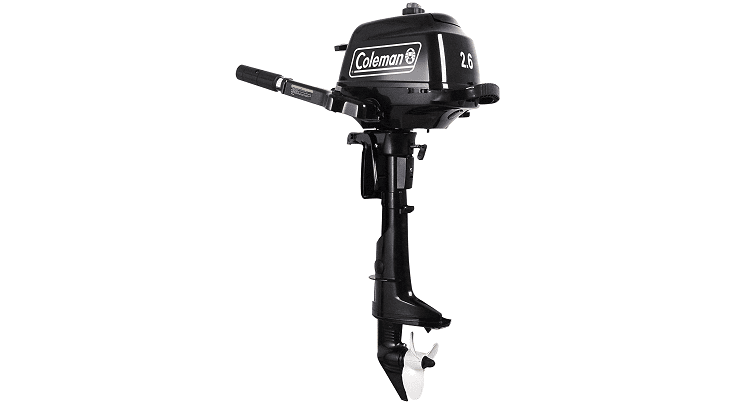 We love the Coleman 2.6HP short shaft outboard motor. It is a lightweight, 4 stroke engine that holds up to 31 gallons of gas. This motor makes it easy to maneuver your boat through rough waters because of its 360 degree steering and forward and neutral gears. It is easy to carry and is corrosion resistant. 
Pros
Easy to maneuver through rough waters

Light when carrying

Small but powerful
Cons
2.3 Horsepower Two-Stroke 52cc Outboard Motor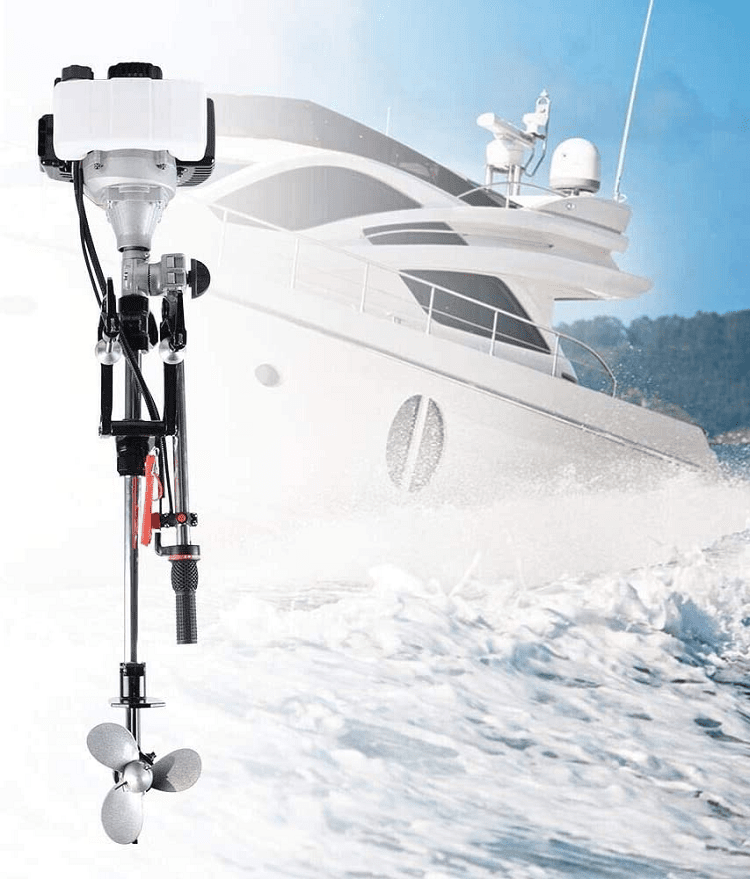 LoyalHeartdy makes this 2.3HP outboard motor. It is a 2 stroke and is lightweight, making it easy to carry. We love that this outboard motor is inexpensive.
This motor is compatible with most boats, like fishing boats, small yachts, kayaks, rubber boats, or inflatable boats. All gas-powered motors are loud, but this one is louder than most gas motors. While it might be loud, you cannot beat the price.
Pros
Inexpensive

Is very lightweight and easy to carry
Cons
Motor is loud and disruptive
TBVECHI Outboard Motor 2.3HP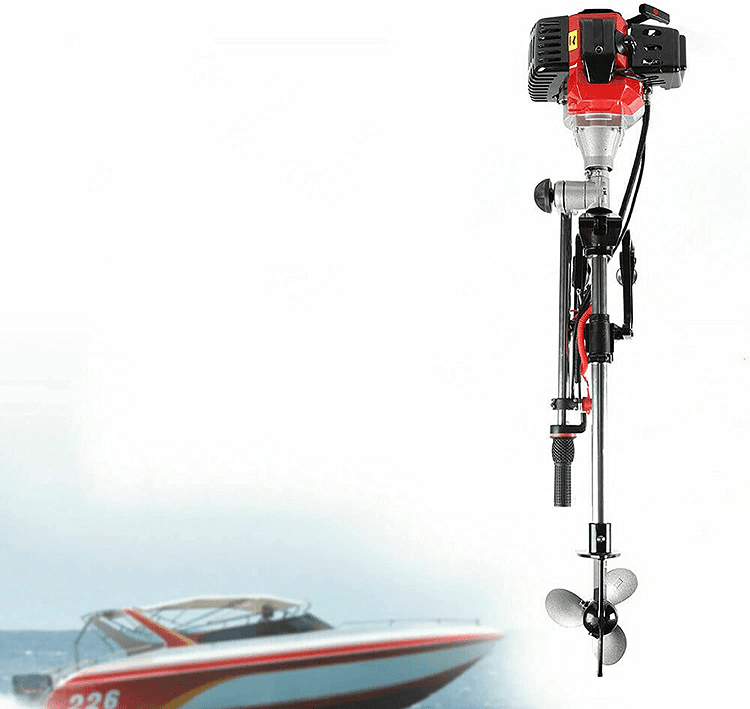 The TBVECHI outboard motor is great to use for most small boats like inflatable boats, rubber boats, and fishing boats. It is a 2 stroke engine powered by gasoline. There is no neutral gear for this motor, but it does have low-speed mode and idle mode.
We love how lightweight this motor is and it does not slow down, even if there are 4 people in the boat. With this motor, it is necessary to prepare a boat motor bracket or a hanging plate on board in order to support the motor. Since it is gas-powered, it can be loud but it is not too loud. 
Pros
Is not as loud as some other gas-powered motors

Lightweight which makes the boat easy to maneuver through choppy water
Cons
Need to prepare a boat motor bracket or hanging plate before using
Honda Marine BF2.3 2.3 HP Engine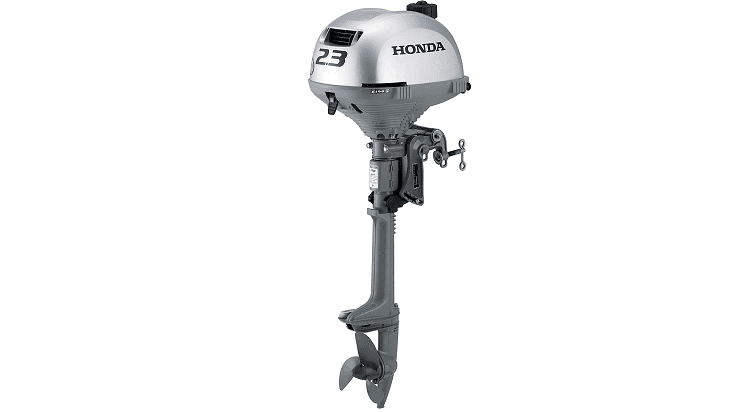 This Honda 2.3 horsepower outboard motor is reliable and efficient. It has a 4 stroke design and has lots of power. We like that it is easy to start, carry, and install, making it easy for you to enjoy your boat.
It is a small-sized motor and is lightweight, so your boat will not be very likely to slow down unless you have too many people in your boat. Its gas tank even provides for about an hour of open throttle and has very low 3-star carb emissions. We love how advanced this outboard motor is. 
Pros
Powerful for being small

Reliable

Uses environmentally conscious technology 
Cons
2.3HP 2 Stroke Outboard Motor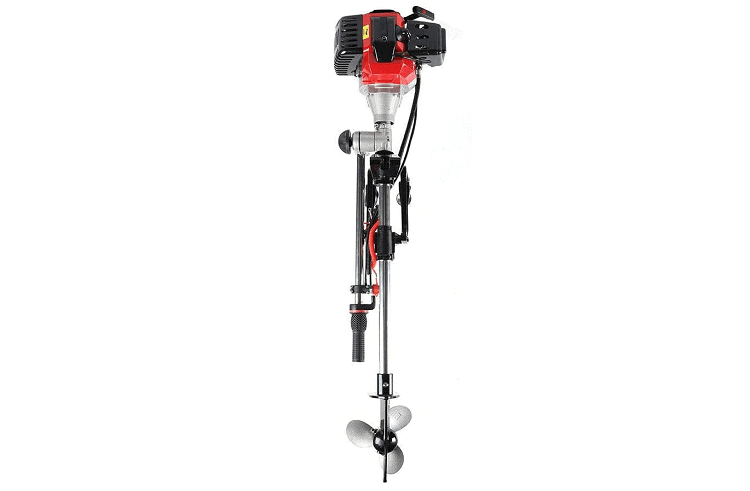 This 2.3HP outboard motor is made by Jayeuw and is best used with inflatable boats, rubber boats, or fishing boats. There are only two modes on this motor, idle mode and low speed, but that doesn't change our decision about liking this motor. We like that this is a lightweight motor and is not heavy to carry.
Like other motors, it is best if used when no more than 4 people are in the boat or it can start to slow down. This engine can be noisy, like most gas-powered engines, but it isn't excessively loud.
Pros
Durable and reliable

Works great with inflatable and rubber boats
Cons
Can be loud

There are only 2 modes
Frequently Asked Questions About Outboard Motors
When deciding which outboard motor is best to use for your boat, knowing these frequently asked questions regarding outboard motors could help with your decision.
Question: What is the Lightest 2HP Outboard Motor?
Answer: The world's lightest 2HP, 4 stroke outboard motor is the Honda BF2D. This motor is only 27 pounds without fuel or motor oil. 
Question: How Fast is a 2HP Outboard Motor?
Answer: Depending on the size and weight of your boat and the weight of everyone and everything in your boat, 2HP outboard motors can usually achieve a top speed between 5 and 6 MPH.
Question: Why are 2 Stroke Outboard Motors so Loud?
Answer: The mechanical aspects of the engine are what makes it seem so loud. A 2 stroke engine fires at every crankshaft cycle, while a 4 stroke engine fires every other cycle. Besides the mechanics, the exhaust design can also be a factor why 2 stroke outboard engines are so loud.
Question: Does the Yamaha 2.5HP Lave a Reverse Gear?
Answer: The Yamaha 2.5HP outboard motor is very agile. It can easily maneuver throughout the water and you will never have to shift gears because of its full reverse thrust.
Question: Is a 2.5HP Outboard Motor Good Enough?
Answer: Most new models of 2.5HP outboard motors are very compact and inexpensive. You can carry it in one hand because it is so light. These motors are easy to repair with common tools and maintain.
Final Thoughts
The reliability of your outboard motor is such an important factor when choosing the right motor for your boat. All of these motors are great choices, but our top pick is the Honda Marine BF2.3 2.3HP Engine.
We specifically favor this motor because it is reliable, powerful for its size, and is made to be environmentally conscious. It truly can't get much better than that! Check out this high quality outboard engine today. 
Looking for more interesting readings? Check out: