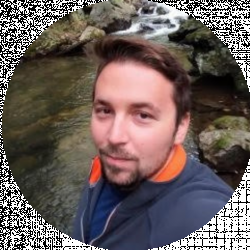 Latest posts by Coty Perry
(see all)
Trying to choose the right outboard motor for your boat can be a difficult decision. There are so many different types of engine configurations, fuel types, and brands to choose from. You also need to know what speed, power, shaft length, and how many gears you are looking for in your engine to choose the right one.
This can be a lengthy process, but once you know what type of engine you need for your boat, the decision will come easily to you. You can choose a large, small, electric-powered, or gas-powered engine. To make this process easier for you, we carefully went through the best outboard motors to choose from and how to select the right one. 
Types of Outboard Motors
There are two types of outboard motors. The most common type of outboard motor is a gas-powered one, but electric motors can be used as well. 
Gas
Outboard motors powered by gasoline are the most common type of outboard motor. The pros are that their power range can go from 1.4 horsepower to over 300 horsepower, there are multiple engine configurations ranging from one to eight cylinders and can be two-stroke or four-stroke, and gas outboard motors can be hooked up to a steering wheel hydraulically.
The cons of a gas outboard motor are gas costs more than electricity, and gas is not eco-friendly. Other than that, gas-powered outboard motors are great.
Electric 
Electric outboard motors are not used as much as gas outboard motors. This is because they are typically smaller than gas outboard motors and require the use of a battery. Gasoline motors are measured using horsepower, while electric motors are measured using pounds of thrust. 
The pros of using an electric outboard motor are that it is inexpensive, they work well for fishing boats, kayaks, and small-sized yachts. The cons are that the motor is rather small. If you feel you don't need a large motor, then an electric motor might be the right choice for you.
Outboard Motor Price Ranges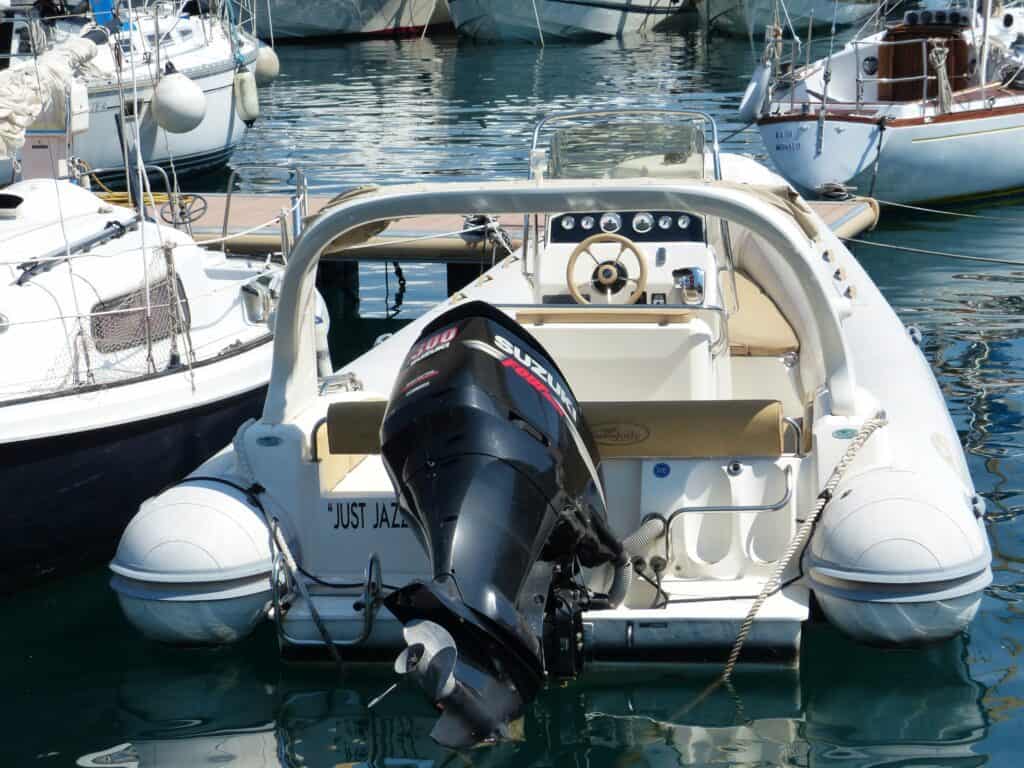 The price of outboard motors ranges depending on the type of moor you choose, the motor's capacity, and speed. 
Less Than $200
Most outboard motors costing less than $200 will be electric motors and will not provide much thrust. There are gas powered motors that cost less than $200 as well, but they do not have a lot of power.
Between $200 and $700
Within this price range, there are a lot of two-stroke higher capacity outboard motors and smaller capacity four-stroke motors. Most outboard motors within this price range have just forward and neutral gears.
Over $700
Outboard motors priced higher than $700 are higher in horsepower, both four-stroke and two-stroke. Outboard motors in this price range have neutral, forward, and reverse gears.
Key Things to Look for in the Best Outboard Motors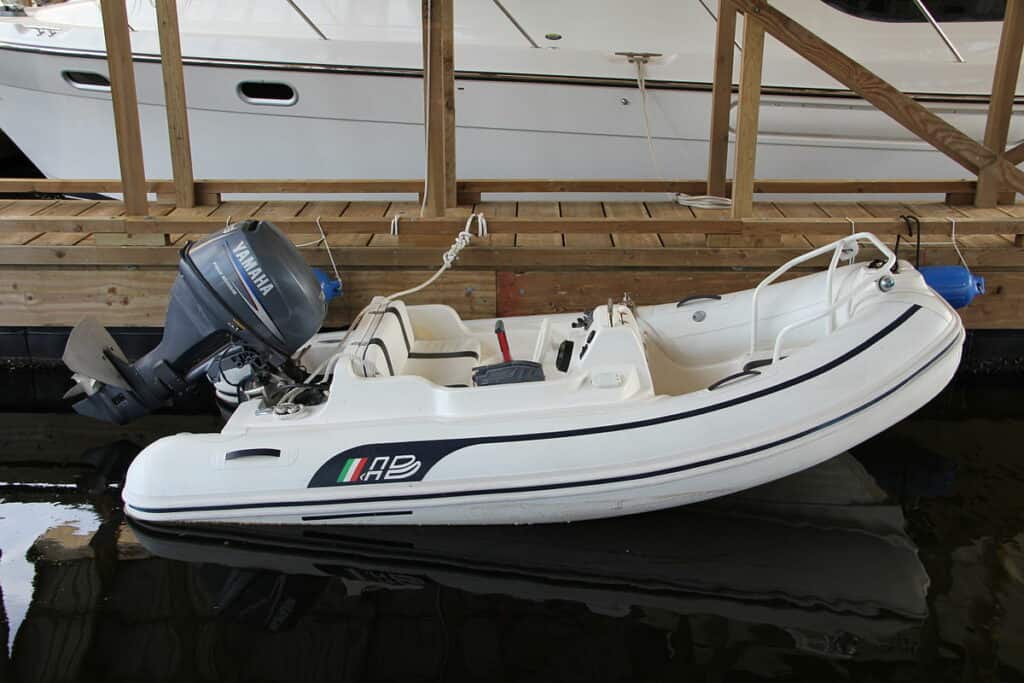 There are many things to look out for when purchasing an outboard motor and it is important to take careful consideration when choosing your motor.
Power 
The power of an outboard motor is the main thing to consider when purchasing a motor. Your engine's power has more to it than just speed.
Power determines how well your engine can handle speeds in mid-range and how well it can get through rough and choppy waters. It is also important to have a powerful outboard motor if you like doing watersports, like water skiing.
Shaft Length
Outboard motors have two main types. These types are long shaft motors and short shaft motors. In order to decide which one is best suited for you, you will need to measure at the precise center of the transom from top to bottom.
If it measures close to 15 inches, you will need a short shaft outboard. If you get a measurement between 17 and 22 inches, you will need a long shaft outboard.
If you make a mistake and place a long shaft motor on a short shaft boat, you will lose several inches in draft, and your top-end speed will be affected. You might also notice issues with steering, and you will go through your fuel faster than normal.
Gears 
While some outboard motors have neutral, forward, and reverse gears, other outboard motors have only neutral and forward gears with a shaft of 360 degrees, where you will need to turn the propeller completely around to put it in reverse.
It is much easier to maneuver an outboard motor with three gears, but the three geared motors cost more than the two gear motors.
It is important to note that most outboard motors that are 3.5HP have three gears, such as forward, neutral, and reverse. However, some 3.5HP motors have just two gears. This factor does not affect the quality of the motor, just the convenience. 
Speed 
It is good to consider the speed of the motor before you make a purchase. The increase of speed heavily depends on the size of the motor you choose and the size of the motor will depend on the size of your boat. If you don't mind a slower speed, you can purchase an inexpensive motor for under $200.
If you want a motor that has high speed, consider purchasing a motor that costs around $700. Think of it as an investment in the future of your boat.
Weight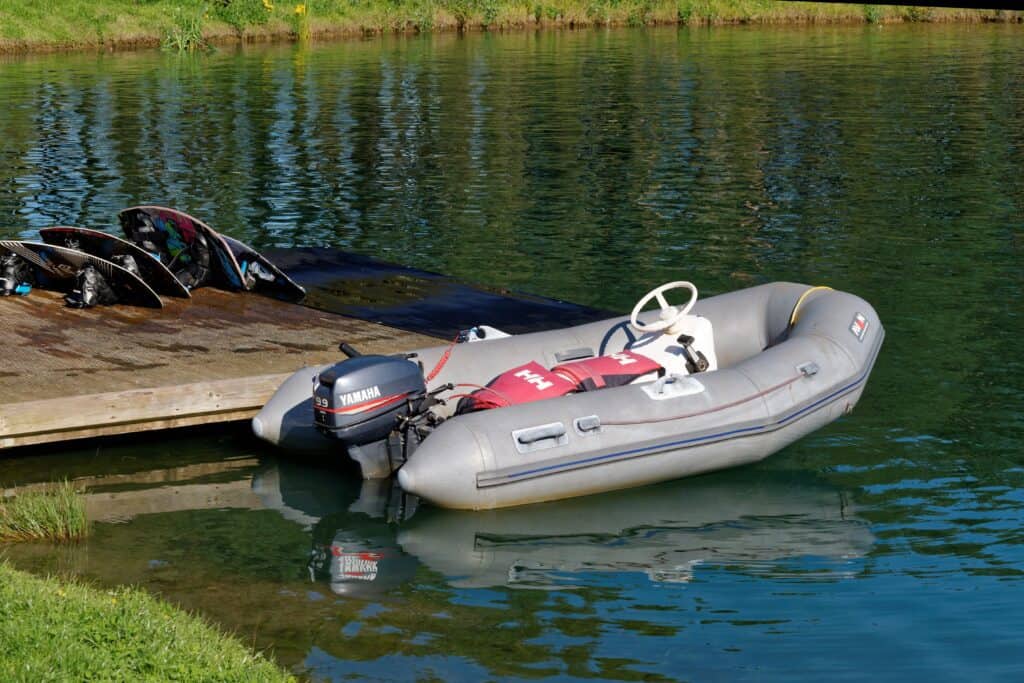 The weight of your outboard motor is important because depending on the size of your boat, you don't want the weight of the motor to slow you down. Lightweight motors are great for inflatable boats, small yachts, fishing boats, and kayaks. If you purchase one that isn't lightweight, these boats will not run as smoothly as you would like. 
It is important to keep in mind, however, that even though a motor might be lightweight, your boat may run slower than you would like if you have more people in your boat than what is recommended for your outboard motor.
Most motors have a maximum of four people that can be on the boat before your motor starts to slow down a bit. Try to follow your motor's instructions about maximum capacity in order for your lightweight motor to run correctly.
Price
The price of the motor is a huge factor to consider when making a purchase. The price will depend on the motor's thrust, speed, capacity, and gears. It is good to make sure the outboard motor has everything you are expecting for the price you are going to pay. Prices can vary from around $200 to over $700.
Your outboard motor's price reflects on more than just speed, capacity, and gears. The price will be higher if it is a high-quality brand, like Motorguide.
Keep in mind that just because you do not purchase a high-quality brand does not mean the brand you purchase will not work. Many average motor brands work just fine and have the same results of a high-quality brand.
Brand
It really doesn't matter which brand you choose for your outboard motor, However, if you are loyal to a specific brand or want a brand known for reliability, carefully choose an outboard motor that is right for you. There are many well-known brands including Suzuki, Yamaha, Honda, Minn Kota, Hangkai, Motorguide, and many more.
The 5 Best 3.5HP Outboard Motors 
There are so many great 3.5HP outboard motors. Here are the top 5 best motors to choose from.
Dyrabrest Outboard Motor Engine 3.5 Horsepower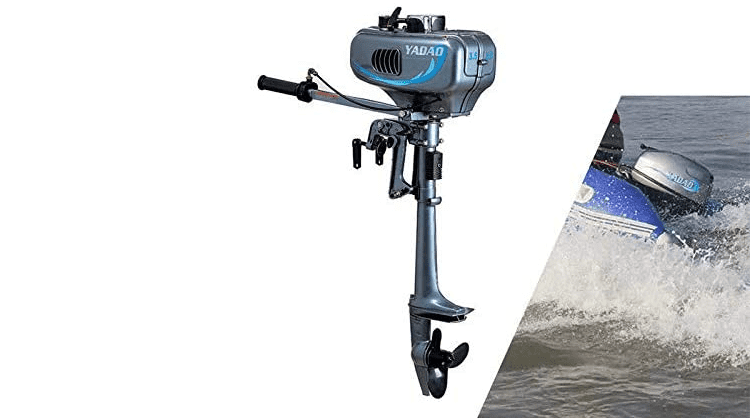 This is a great outboard motor if you are looking for a lightweight, two-stroke, easy-to-use motor. This motor is best used for kayaks, small yachts, fishing boats, or inflatable boats. There is no neutral gear with this motor, but there is idle or low-speed mode. It can revolve 360 degrees and is well suited for seawater or turbid water cruising. 
All gas motors can be loud, so expect this to sound similar to the engine of a motorcycle. This motor can bear the weight of up to four people in a boat, but the more people in the boat, the slower it will move – like any engine.
Pros
This motor is inexpensive

Lightweight and easy to handle

Can revolve 360 degrees
Cons
Can be used to support up to only 4 people on the boat
TBVECHI 3.5HP Outboard Motor Boat Engine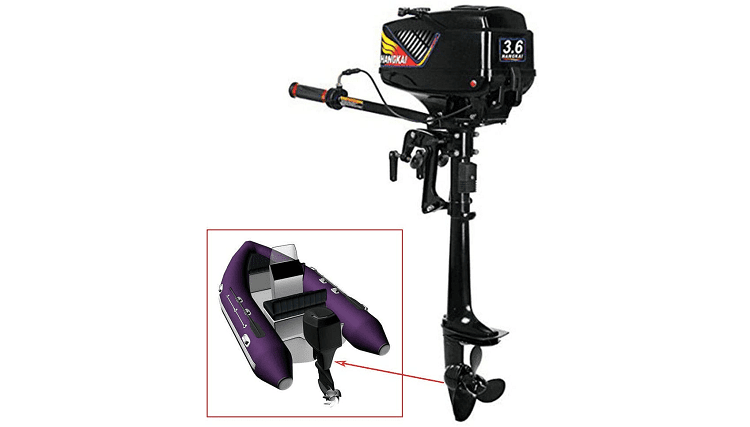 This gas-powered outboard engine has a two-stroke, full throttle operating range and 360-degree rotation for reverse shifting. The vertically mounted engine is designed for increased power, performs well, and is durable.
It has a manual control system and tilt, is lightweight, has a shirt shaft, and has a feature for lifting and tilting in shallow water. This engine has everything you will need to take the boat out for the day. This motor will work well with small yachts, sailboats, fishing boats, kayaks, or inflatable boats.
Pros
Durable and is resistant to corrosion

Works great in shallow water

It is powerful enough to tread through choppy water
Cons
Not the most reliable option
TABODD 2 Stroke 3.5HP Outboard Engine Motor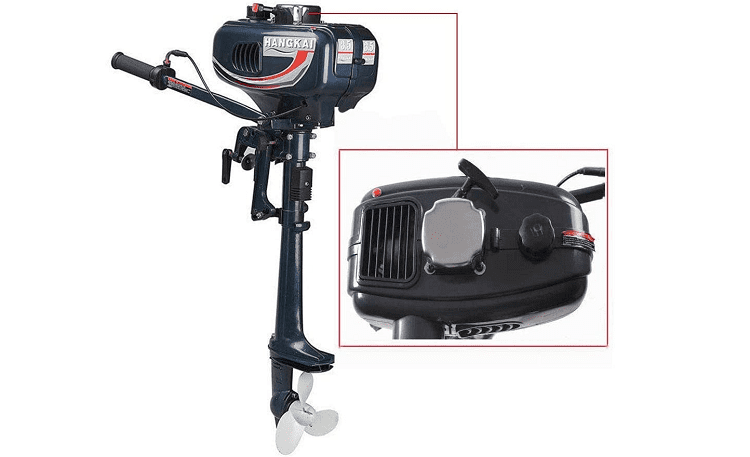 The TABODD 2 stroke, 3.5HP gas outboard engine is excellent water cooling technology that will help improve the reliability of the motor. It is easy to use, corrosion-resistant, energy-efficient, lightweight, and can bear the weight of up to four people. This motor works well with inflatable boats, sailboats, fishing boats, kayaks, and small yachts. 
The TABODD engine is environmentally friendly and suitable for both freshwater and saltwater. TABODD is a good brand for motors, is reasonably priced, and is long-shafted. 
Pros
Very reliable

Easy to maneuver 

Has enough power to get through rough water
Cons
Difficult to start sometimes
Hangkai 3.5HP Stroke 2 Stroke Outboard Boat Motor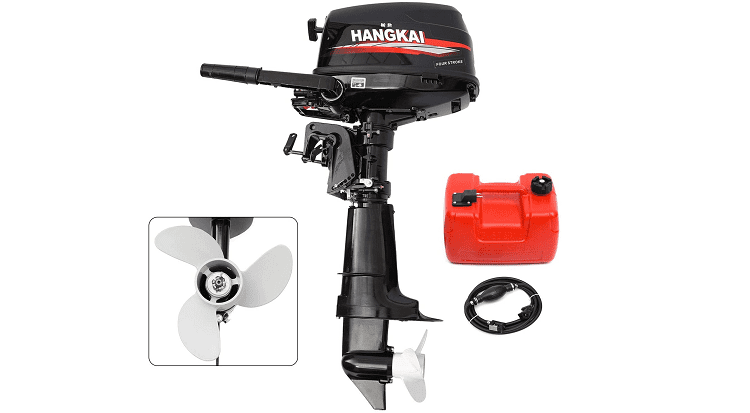 The Hangkai gas outboard motor is 2 stroke and has an excellent engine. It does not make a lot of noise, which is great for not scaring the fish away. Besides being fuel-efficient, it is easy to use and transport and can run on maximum throttle.
This short shafted and durable outboard motor can hold up to four people. This motor can be used in saltwater and freshwater, meaning the motor is resistant to corrosion. 
The Hangkai motor has three gears, forward, neutral, and reverse. Its high amount of power is great for treading through rough waters, and the motor is lightweight. This type of motor is best used on inflatable boats, sailboats, fishing boats, small-sized yachts, and kayaks. 
Pros
Engine is reliable

Great noise control

Powerful to get through choppy waves 
Cons
TFCFL 2 Stroke 3.5HP Outboard Motor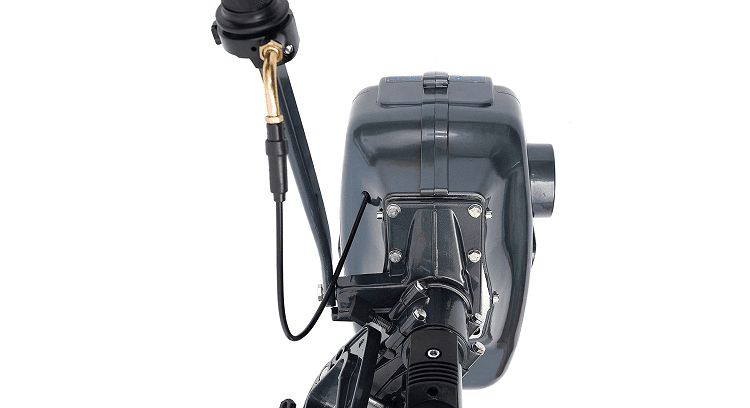 This TFCFL gas outboard motor is 2 stroke, has 360-degree steering rotation, is easy to use, resistant to corrosion, and is durable. This engine is short shafted, has great speed, has full throttle operating range, and has a superior air cooling system. 
Since the air cooling system works so efficiently with this motor, you can expect to be out on your boat all day to fish. This motor works best with fishing boats, inflatable boats, sailboats, and small yachts.
Pros
Great water cooling system

Optimal speed 

Good choice for inflatable boats
Cons
Outboard Motor Frequently Asked Questions 
When it comes to choosing the right outboard motor for your boat, there are some common questions you might have in order to make the right decision.
Question: How Fast will a 3.5HP Outboard Motor Go?
Answer: A 3.5HP electric outboard motor can push a 12-foot boat with a load of 331 pounds at the most, with a speed of 5.6 MPH. It can sufficiently push forward a 10-foot tender and it can work for a day sailer as an auxiliary power for up to 3,307 pounds. 
Question: What is a 3.5HP Outboard Good for?
Answer: 3.5HP outboard motors are mostly used for recreational fishing. They usually drive a 3 to 5-meter rigid inflatable boat, or a small sized boat used for fishing. The electric outboard motors are quieter than the gas ones, but both work well when used for fishing.
Question: What is the Smallest HP Outboard Motor?
Answer: The smallest HP outboard motor is a 2.5HP portable motor. Yamaha's 2.5HP motor is the smallest on their roster, is easy to transport, and is easy to store and clean. They are great for light-duty activities while out on the boat.
Question: Where Should Water Come Out of an Outboard?
Answer: On most outboard motors, you can put on the muffs and start the engine. You should be able to see a steady flow of water coming out of the holes located on the top of the engine.
However, some motor brands do pump out a flow of water, but it doesn't appear to be steady. This might make you nervous or think you are doing something wrong, but it is completely normal for most motor models.
Question: How Do Boat Motors Stay Cool?
Answer: The water will flow directly through the engine and come out of the exhaust. The cooler water will absorb heat from the engine in order to keep it cool. Many newer engine models use fresh water and coolant combined.
Question: How Much Thrust Does a 3HP Outboard Have?
Answer: A 3HP outboard engine will blow a 50-pound thrust electric motor right out of the water. A boat can be held with 3HP while running so it does not push a large amount. A boat with a 5HP motor probably has over 200 pounds of thrust. 
Final Thoughts
Outboard engines that are 3.5 horsepower are a popular choice amongst anglers today. Whether you choose an electric motor or a gas motor, the choice is solely yours to make. Most 3.5 HP engines are great in their own ways, but our top pick is the Hangkai 3.5HP outboard motor.
We carefully chose this motor because it runs well, is easy to use, has great noise control, and is a top-quality engine that is perfect to use on your fishing boat.
Looking for more interesting readings? Check out: