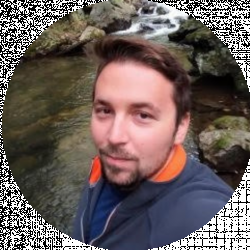 Latest posts by Coty Perry
(see all)
Coleman opened business in 1963. Since then, they have been manufacturing motors for different platforms including the outboard motor industry. It's the reason why Coleman outboard motors are among the most popular in the world today. If you are looking for one, you have come to the right place. Read on to know how you can get a great Coleman outboard motor for your needs.
Our Top 10 Coleman Outboard Motors
Choosing the right outboard motor is a challenge even when you are knowledgeable. If you want to get a good Coleman outboard motor for your watercraft, we have got you covered. We did some research to discern the best outboard motors from this brand.
It took thorough sifting of data from enthusiasts, reviews, ratings, and testimonials from previous and current users to come up with the best guide on Coleman outboard motors. Read on to know everything about these motors.
4-Stroke 2.6HP Coleman Powersports Outboard Motor with Short Shaft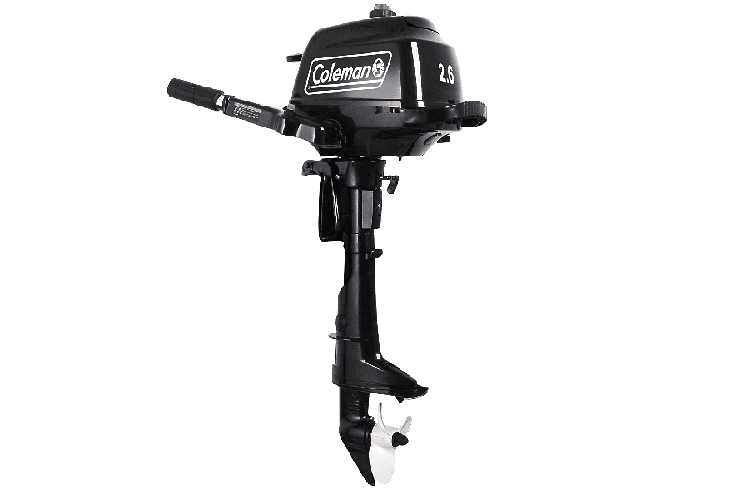 These motors are designed for inflatable and small boats. They are popular for their innovation that enables them to work as an auxiliary trolling motor. This model weighs 37.5 lbs and it comes with a 4-stroke OHV that houses an internal gas tank with a capacity of 31 gallons.
The product meets CE and EPA standards. One of the outstanding features of this motor is that it runs quietly compared to other brands at the same price point. It features 360-degree steering and an easy-start TCI ignition. Additionally, it has a marine aluminum alloy body designed for corrosion resistance.
If you are looking for an outboard motor that is ideal for shallow water drive, Coleman Powersports 2.6HP is a great option. For starters, it has a forward and neutral gear position. The amount of fuel it consumes per hour is 0.53 gallons. When switching the engine on, it can either start after the first or second pull.
Even though it's not the fastest motor on our list, it still performs well when you follow the recommendations in the instructions. Remember you must use ethanol-free fuel for this product to perform well.
Specs
Weight: 37.5 lbs.
Dimensions: 43 x 18.7 x 15.5 inches
Gas tank capacity: 31 gals
Engine type: 4 strokes, 1 cylinder-OHV
Gear position: Forward and neutral with 360-degree steering
Pros
Easy to start TCI ignition
EPA and CE approval
Easy shifting
Lightweight
Heavy-duty marine aluminum alloy
Cons
Must use ethanol-free fuel
Limited speed
2 – 4 Stroke 3.5 – 18 HP Coleman Outboard Motor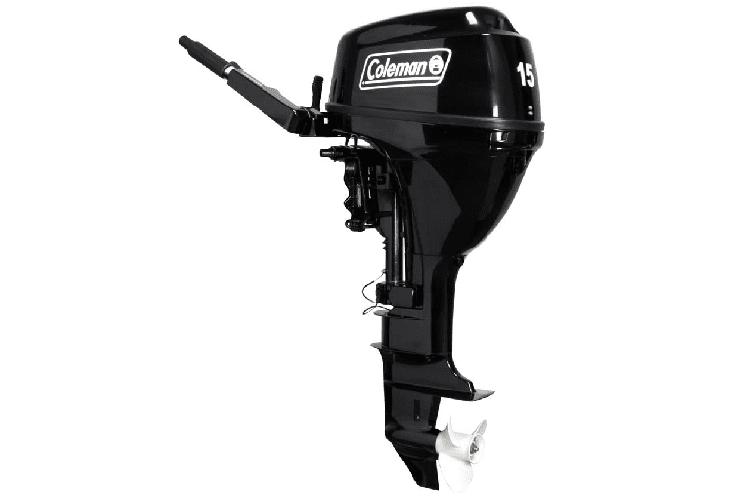 One of the key features of this product is the start-in-gear protection that doesn't allow prop rotation while idling. This means it's quite easy to start. It features a tilt used for operating on shallow waters.
A convenient transistor enables non-conduct electronic ignition. There is a vertical mount engine is designed to increase power and improve performance and durability. Efficiency is increased through a superior carbonation system that features a primer bulb.
You need to note that the motor doesn't operate with reverse gear. To enhance performance, the motor comes with an engine stop button and a twist grip throttle handle. The superior anti-corrosion system in addition to anodes increases durability. That aside, it's constructed with durable cast aluminum for corrosion protection.
The outboard model has a spiral bevel gear and a drive hard shaft. You can steer the wheel on both the vertical axis and counterclockwise. The installation procedure involves various steps. First, you have to fix the racks then configure the propeller. The product should feature a trim, 3 blades, and a tilt system.
It comes with 2 boxes specifically for adding oil and gasoline to the engine. Note that you should not mix the gasoline with the engine oil. The motor doesn't operate with the reverse gear. Make sure you test the motor in river, lake, or seawater, and not on the shore. One of the main reasons we recommend this motor is because it's CE certified.
Specs
Material: High strength aluminum
Engine: 4 strokes
Operation mode: Electronic
Max power: 3.75KW/2500rpm
Pros
Start in gear protection
The tilt feature enables shallow water operation
It comes with an engine stop button
Transistor non-contact electronic ignition
Superior carbonation system
Cons
Lacks a reverse gear
Certification limitation
2-Stroke 6 HP Coleman Outboard Motor
Are you looking for an outboard motor with a water-cooling feature? If so, a 6HP Stroke Coleman outboard motor is a great option. The gasoline engine comes with affordable standard spare parts.
The water-cooling technology makes this motor more reliable. Apart from it being corrosion resistant, the product is also energy efficient. The unit features superior performance and easy maintenance.
That said, it's light meaning it's easy to carry around. The motor has a unique appearance and a large tank capacity. The outboard engine is CE certified. If you want a machine that can run in a maximum throttle and continuous operation with low power attenuation, this model is is the way to go.
For a smooth and quiet operation, the 2-stroke 6 HP outboard engine comes with a circulating oil lubrication system and a direct bearing for ensuring precision. It produces little noise making it comfortable to use in a quiet environment.
Specs
Material: High strength aluminum
Weight: 37.5 lbs.
Engine: 2 stroke
Operation mode: Electronic
Pros
Lightweight
CE certified
Affordable standard spare parts
Large tank capacity
Easy maintenance
Cons
The bearing requires direct lubrication
Not budget-friendly
4 Stroke 3.6 HP Coleman Outboard Motor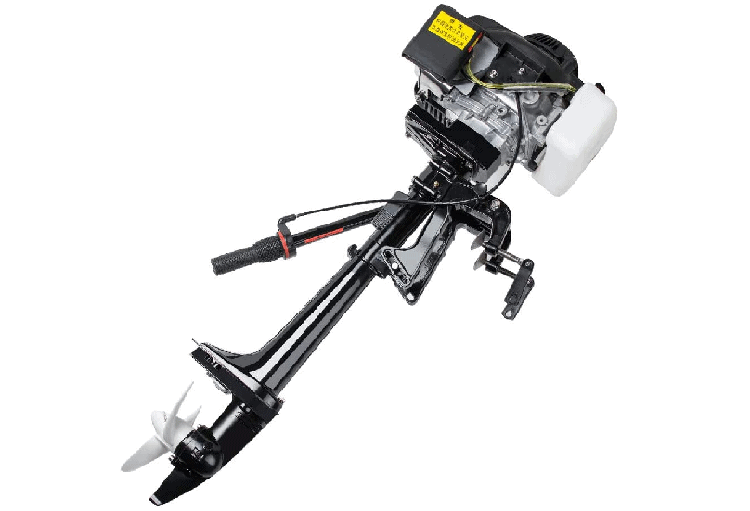 This model is best for a 55 CC boat and it features an air cooling system. The 360-degree steering rotation enables you to reverse easily without shifting gears. To save on time and improve the response, the product comes with a twist grip throttle handle and an engine stop button.
You won't feel hot while sailing and fishing thanks to the superior engine air cooling system. It helps improve your engine performance. The lightweight aluminum propeller sets apart the model from the rest.
The full-throttle operating range is 5,000 to 6,000 RPM with a maximum output of 2.6KW/3.6HP. If you want to access the motor instantly, just pull off the engine cover by using the provided push-button. For increased durability, performance, and power, the motor features a vertical mount engine design.
That said, there's the inclusion of durable cast aluminum for superior outboard anti-corrosion protection. This makes the motor ideal for both saltwater and freshwater. Keep in mind a new outboard should not be operated for more than 10 hours without replacing oil.
When replacing the oil, ensure that you use high-quality 4 stroke gasoline engine oil. You should add only about 12 oz. of oil. The only thing to bear in mind is that outboard start-up shouldn't be done on the shore.
Specs
Max Output: 2.6KW/3.6HP
RPM: 5,000 – 6,000
Transom Plate Height: 16.54 inch
Material: High-strength aluminum
Pros
Best for both saltwater and freshwater
Superior engine air cooling system
It comes with a superior outboard anti-corrosion protection
Vertical mount engine design
Lightweight aluminum propeller
Cons
Best for a 55 CC boat engine
A bit noisy
4-Stroke 6.5 HP Hangkai Coleman Outboard Motor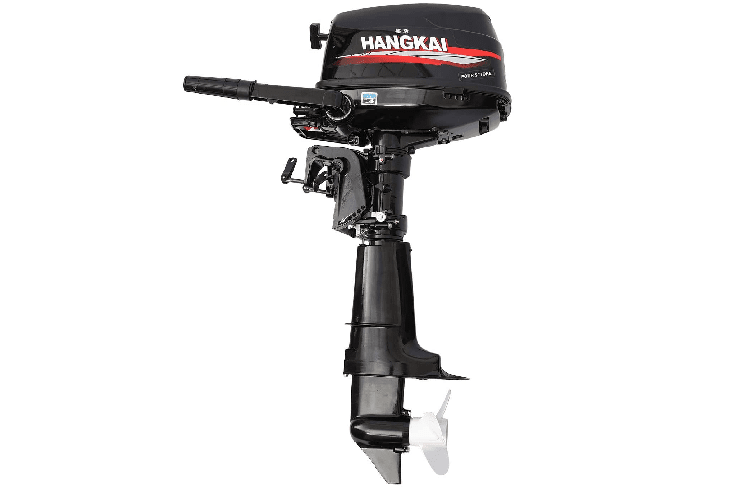 Do you want a superior Coleman outboard motor with the power you need to drive a small boat? If so, take a look at the 4-stroke 6.5 HP Hangkai model. It comes with most of the features that you may require for your watercraft.
Of course, all gasoline engines are a bit noisy. The good thing about this model is that it doesn't produce much noise. With this in mind, it's also lightweight making it ideal for boats weighing not more than 100 Kg. and ferrying a maximum of 4 people.
However, note that if the customer prefers speed, pay attention to the number of people onboard (max of 3). The motor is best for fishing, rubber, and inflatable boats.
Specs
Mounting: Engine
Fuel Type: Gasoline
Operation: Manual
Engine Type: 4-Stroke
Pros
Easy operation
Lightweight
It comes with a 2-year warranty
Produces less noise
Minimal maintenance
Cons
Not ideal for some boats
Not recommended for people looking for speed
4-Stroke 6.5 HP TBVECHI Coleman Outboard Motor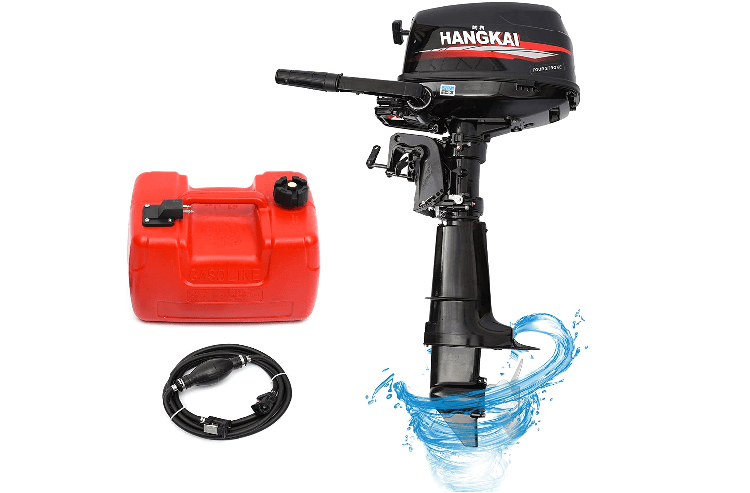 This brand comes with a short shaft of about 40 cm. If you want a machine that will sail you over the other side of the lake comfortably, get this Coleman option as it won't fail you. The gear ratio is 2.08 (27:13) with a displacement of 123 CC.
It's lightweight meaning you can use it on a boat with a weight of not more than 100 Kg. If you prefer speed, the maximum load-bearing capacity should not exceed 4 people. Compared with the other models, it produces very little noise which makes it ideal for boaters who prefer quiet environments.
However, the machine faces some setbacks. Cylinder scoring causes serious damages. This occurs when the motor is not used properly. To avoid this, don't start your motor off the water.
Specs
Engine Type: 4-stroke
Mode of operation: Manual
Max. Output(kW): 4.8
RPM: 5,000 – 6,000
Pros
Lightweight
Easy to operate
Minimal maintenance
Produces less noise
It features a displacement of 123 CC
Cons
Easy to get cylinder scoring
It has a short shaft
Coleman Outboard Motor Buying Guide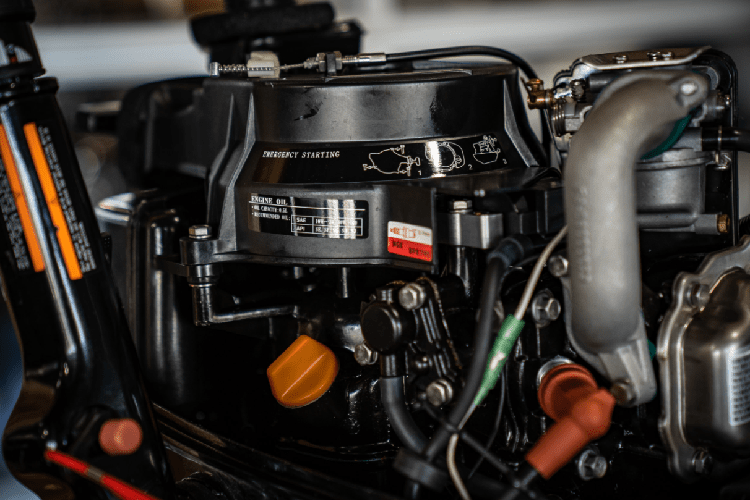 After thorough research from online videos and reviews, we have explained the different types of Coleman outboard motors available in the market. Each one of them is designed to perform a particular task to perfection.
The main factors to consider as you buy a new outboard motor are the start, shaft length, and power features.
Start
Whether you are using a manual or electric start doesn't matter as the point is to start the outboard motor. Both are pretty straightforward. If you prefer an easier start, choose the electric option. To get the motor running you only need to push a button. Go for the manual option if you are more of a "hands-on" person.
Shaft Length
You must know the transom height for you to determine the shaft length that you need. The transom is the part of a boat hull where your motor mounts. For the motor to properly mount on the boat and propel the boat perfectly, you need to get the height correct.
The transom height is determined by measuring the distance from the top-center section where you attach the outboard motor to the bottom-center of the hull. The results are categorized into 2 options which are short shaft (14" – 17″) and long shaft (18" – 22″).
Before buying any Coleman outboard motor, ensure the transom height is shorter or the same as the outboard shaft length. Currently, the majority of boats require a long shaft motor.
Power
When buying an outboard motor, one of the main features to factor in is the power. A motor's power impacts more than the top speed. Power determines how perfect your motor will cope in rough waters and how best it can handle mid-range speeds.
Horsepower is also another critical factor to consider. It's because when you overpower a boat it can lead to less stability and potential damage to the transom. On the same note, under-powering can cause damage because of the excessive demand placed on the motor.
Fortunately, it's easy to solve this problem. Every boat comes with a National Marine Manufacturers Association Certification Plate located inside the stern of the boat. It indicates the maximum motor size your boat can handle together with the total weight of the gears, motor, and the maximum load-bearing capacity.
Types of Outboard Motors
There are only 2 types of outboard motors. They are either gas or electric. Let's take a look.
Gas
These are the most common outboard motors in the market. The horsepower ranges from 1.4 to above 300. The engine configurations are numerous. They can be either 2-stroke or 4-stroke with between 1 to 8 cylinders. These models can be controlled by a throttle on the end of the arm. Alternatively, they can be hydraulically hooked up to a steering wheel.
Electric
These models are not as common as the gasoline ones. That aside, they're much smaller. The power of electric outboard motors is measured in pounds of thrust, while gasoline is measured in horsepower. For kayaks, small yachts, or fishing boats, opt for the electric models.
Which is The Best Outboard Motor Between 2-Stroke and 4-Stroke?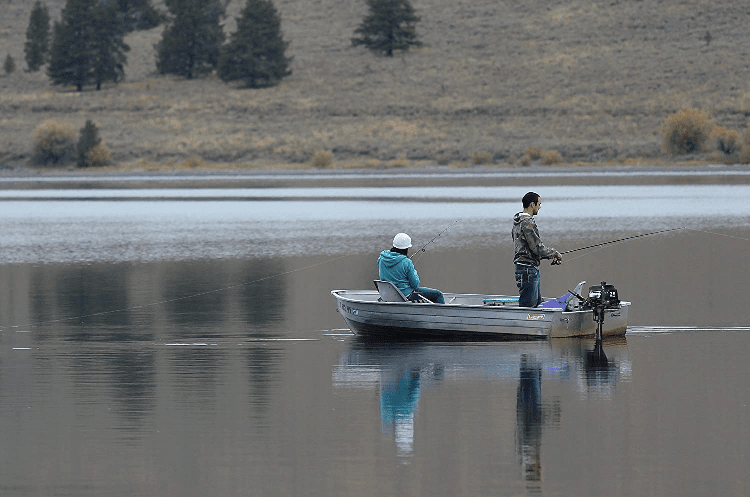 You have 2 primary options when it comes to shopping for an outboard motor. You can either buy a 2-stroke or a 4-stroke outboard motor. There are some differences between the two you should note.
A 2-stroke motor mixes both gasoline and oil. The mixture is then received by the injector or carburetor. As a result, these feed the mixture into the cylinder through the intake valve. At the same time, the exhaust valve opens up releasing approximately 20% of un-burnt fuel.
There is also another brand of 2-stroke motors with direct fuel injection. Fuel is sprayed into the cylinder with better precision timing. The piston covers the exhaust valve to ensure zero fuel wastage. Even though 2-stroke motors are less environmentally friendly and louder, they are also lighter and more powerful.
On the other hand, 4-stroke motors burn pure gasoline using a cylinder to circulate lubricating oil through another system. Oil and gasoline never mix in this system. They are heavier, complex, and expensive to repair. Fortunately, 4-strokes lasts longer and can run more quietly than 2-strokes.
How Many Motors Are Needed in A Boat?
Generally, one outboard motor is enough for your boat. If your budget is tight, it's good you invest in a powerful single motor that is efficient and durable. However, in case you can spend more owning a second outboard motor is a good idea.
If one of the motors breaks down, you'll have a backup. That means you can still get back to shore without calling for assistance. On the same note, 2 outboard motors make it easier to dock. The reason is one of the motors can rotate its propellers in the opposite direction offering more steering control.
Which is The Ideal Size for an Outboard Motor for Your Boat?
Size is a very important factor to consider when buying an outboard motor. Initially, small motors used to disappoint but nowadays they are more powerful and reliable. That said, you need to also confirm that the motor you are buying is strong enough to power your boat.
To determine the size of your outboard motor, make sure that you look into your boat manufacturer's maximum rating. Of course, if you want a more powerful one you may need to dig deeper into your pockets.
What Are the Benefits of an Outboard Motor?
An outboard has various benefits which include:
Speed
This is one of the advantages of an outboard motor. The increase of speed you get depends on the size of the motor you choose.
Distance
You need an outboard motor if you want to go for serious distances on the water. The good thing with this motor is that you can upgrade your gas tank if you plan on spending the day out on the water.
Save Time and Energy
Rowing a boat can consume a lot of energy. Fortunately, with an outboard motor, you can save both time and energy since it's faster and more convenient than rowing.
Coleman Outboard Motor FAQs
Question: Does a Coleman Outboard Motor Have a Warranty?
Answer: Yes. It comes with a one-year limited warranty. Furthermore, it's also CE and EPA approved.
Question: Who Makes Coleman Outboard Motors?
Answer: They are produced by Tohatsu which is a Japan-based maritime company.
Question: Is Coleman 2.6 HP Outboard Motor Produced in China?
Answer: Yes. It's made in China. Compared with 3.5 HP 2 stroke motors, it's designed and built differently.
Question: Which is the Ideal Coleman Side By Side UTV?
Answer: For those who don't need anything too extraordinary, the Coleman Outfitter 400 is a perfect UTV. Even though this unit is may not be the most powerful, it comes equipped with abundant features. For example, a winch is part of the package.
Bottom Line
Coleman is a great outboard motor investment. As you can see, numerous considerations exist that you need to take into account when shopping for an outboard motor that meets your preferences. Make sure you look at the variations of each outboard motor on our list.
If you don't find one that suits your preferences, use the buying guide to help you get your ideal choice. It will help you have an idea of what to look for and how to choose the best outboard motor for your needs.
The Coleman 2.6 HP short shaft is our top pick. Apart from being lightweight, it's easy to shift and comes with an easy to start TCI ignition. A bonus is the CE and EPA approval. Lastly, the majority of boat owners who use it have given it stellar ratings.
Looking for more interesting readings? Check out: