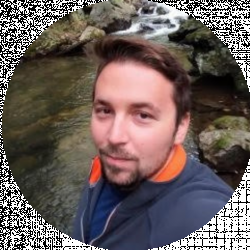 Latest posts by Coty Perry
(see all)
For any trailer owner, buying the best trailer coupler lock should be at the top of their list. Trailers are easy to hitch up, steal, and sell when they aren't secured. This makes it necessary to secure your trailer with the best coupler lock.
Coupler locks can save you a lot of heartache and hassle considering they don't cost that much. The cost of replacing a whole trailer is way more than the money you'll spend on a trailer coupler lock. Check out my list of the top trailer coupler locks to make your purchase decision easier. 
Bottom Line Up Front
I would recommend the Reese Towpower 72783 as the best trailer coupler lock. It's the most popular product according to testimonials, reviews, and opinions from people who have used it. The 1st and 2nd runners-up are Trimax UMAX100 and Master Lock Universal Size Fit.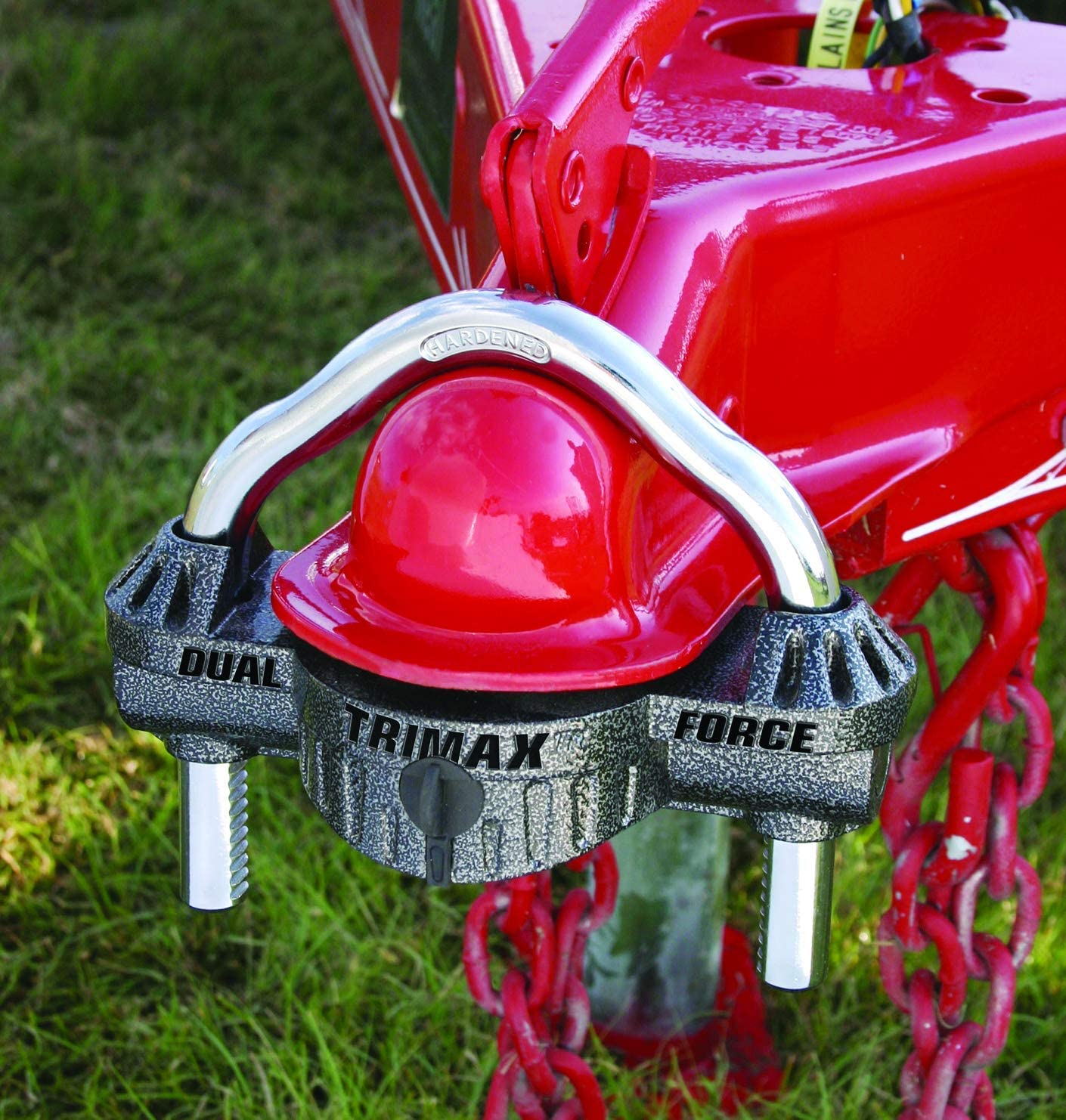 Top Trailer Coupler Locks
There are different types of trailer coupler locks available in the market. According to my research from trailer owners and coupler lock forums, I gathered the following list of the highest-rated coupler locks. Here we go!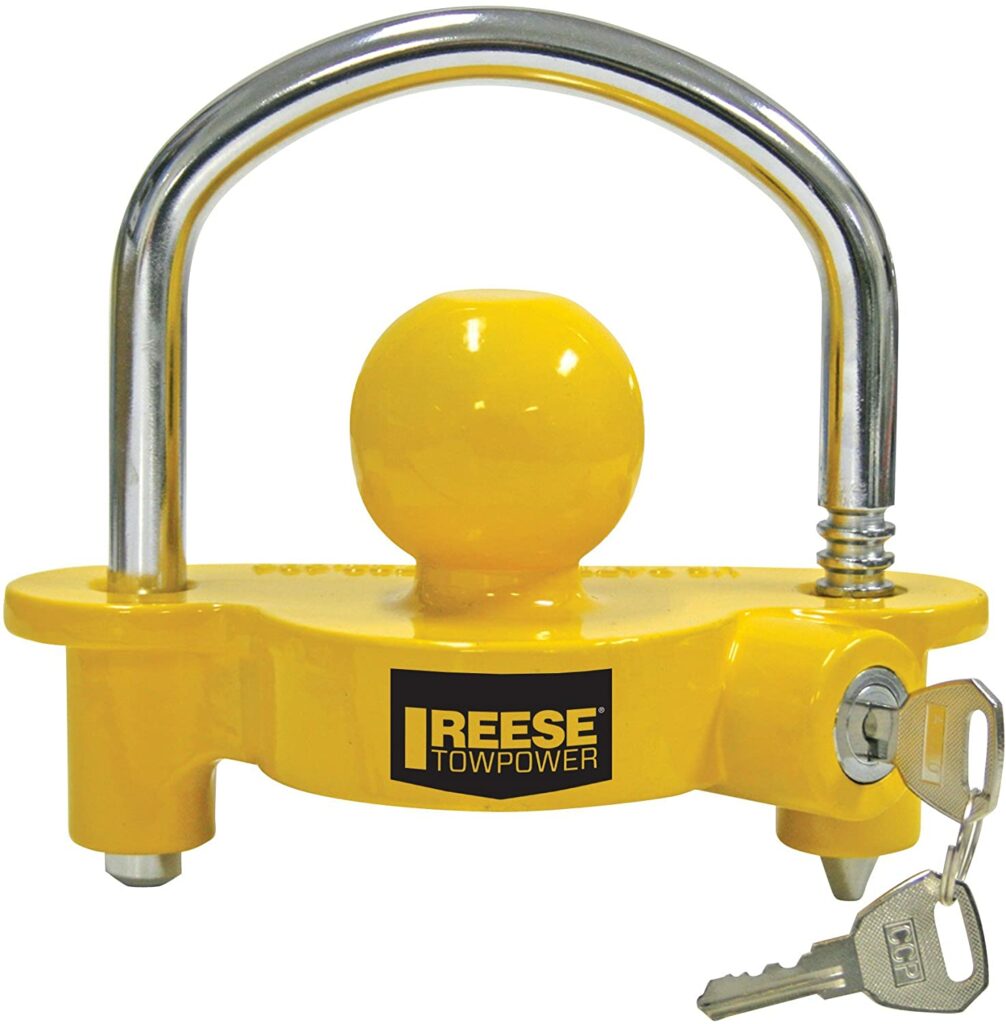 With this universal coupler lock, you will never risk losing your trailer. It's one of the best in the market for any RV or trailer. It comes with a durable steel bar that makes it next to impossible to break. You won't be disappointed by this heavy-duty lock.
It comes with great adjustability. It has an 11-ratchet design locking positions to adjust according to your preference. Keep in mind the adjustments are a precise fit. Couplers of 1-7/8 inches, 2 inches, 2-5/16 inches easily fit into this lock.
This lock provides you with ultimate security considering it's deftly constructed. For improved visibility, the base is painted yellow. The lock is composed of advanced and sturdy materials that are resistant to prying, picking, or drilling.
Installing is quite easy since the tow hitch locking system is pretty simple and it comes with an adjustable hoop. Turn the key clockwise and clench it in position then pull the clamp upward if you want to release the locking clamp.
Pros
Designed for a universal fit

The locking bar is adjustable

Resistant to rust or corrosion

High visibility ensured by intelligent painting
Cons
The aluminum coat isn't strong enough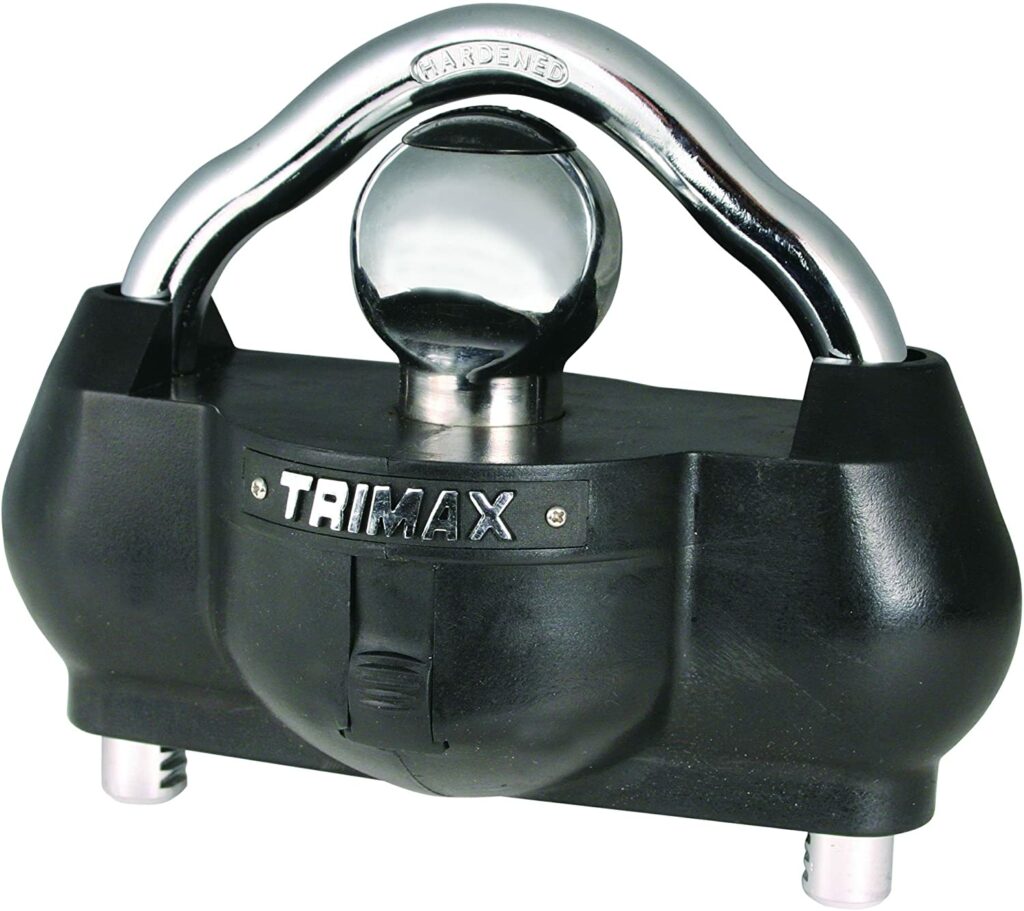 Trimax is an outstanding trailer lock and therefore an excellent theft deterrent product for your trailer. Take note its build and design don't quite match. Any chance of breaking is eliminated by a deterrent feature, which is the 360-degree hardened steel.
With this product, your trailer, RV, or boat and their contents are completely secure. The first-rate coating on this lock protects the base from unwanted corrosion. It also features ballistic grade sleek nylon housing.
One of the main benefits is that you are guaranteed zero jamming. This is because the keyhole features a cover that keeps grime and dirt away. If you own one you have peace of mind any time you leave your trailer unattended.
This lock fits on 1-7/8", 2", and 2-5/15" couplers and is compatible with almost every trailer. The lock also fits any hitching couplers. A dual ratchet hook feature that this theft deterrent product comes with helps protect trailers that aren't hooked.
It also comes with a Trimax coupler lever lock for enhanced security. The lock is simple in design, weighs 4.7 lbs., and is easy to install.
Pros
Keyhole cover to keep out dirt

Decent nylon housing

Universal fit

Rugged body design

Innovative cover
Cons
Fits loosely on some trailers

A bit pricey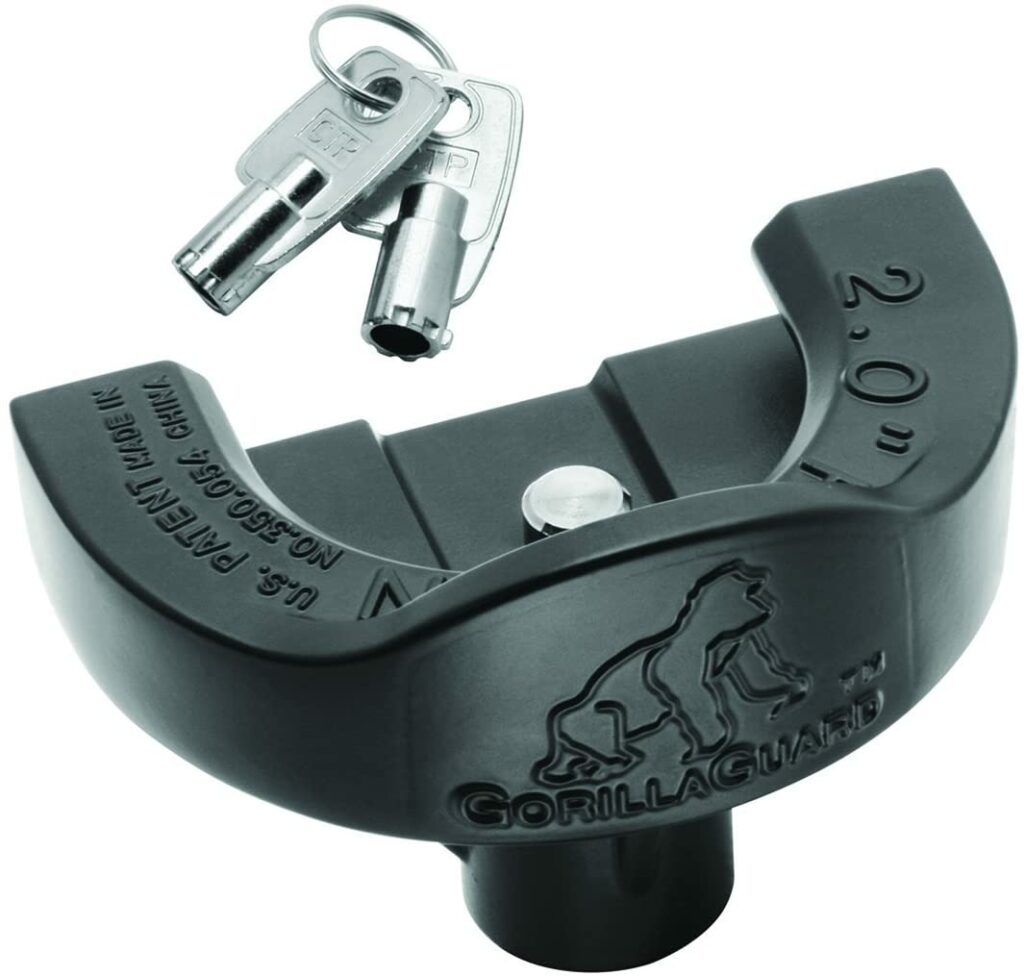 If you are eyeing an affordable and solid option, you may want to take a closer look at the Tow Ready heavy-duty Gorilla Guard coupler lock. This lock has a great design that shields the lock from tampering devices.
The company says that the coupler lip's height must be within 5/16 inches. It further says that it works on coupler widths with a 3-13/16" or less. It ideally fits most of 2" couplers.
To steal a trailer that has this lock installed will be next to impossible since the build and design ensure it is almost impossible to break. With this deterrent, you can be sure that your unattended trailer is safe.
Thieves find it a huge task to break the tough metal structure because even drills, saws, or hammers can't beat it. The installation seems a bit tedious but that is a slight downside when you consider the benefits of the product.
This rock-hard lock ensures you are worry-free. It's designed to fit the ball socket of your trailer with the solid bar covering the coupler. The lock comes with two keys ensuring you are not stranded when you accidentally lose one.
The wide design is effective to avert any tampering devices from gaining access. It also helps it withstand any type of impact. This high-quality lock is the best hitch lock in the market at this price point. The downside is the lack of compatibility with some coupler sizes.
Pros
Full metal structure

Tough to break

Comes with two keys

Best quality at this price point
Cons
Supports 2-inch couplers only

Tedious installation process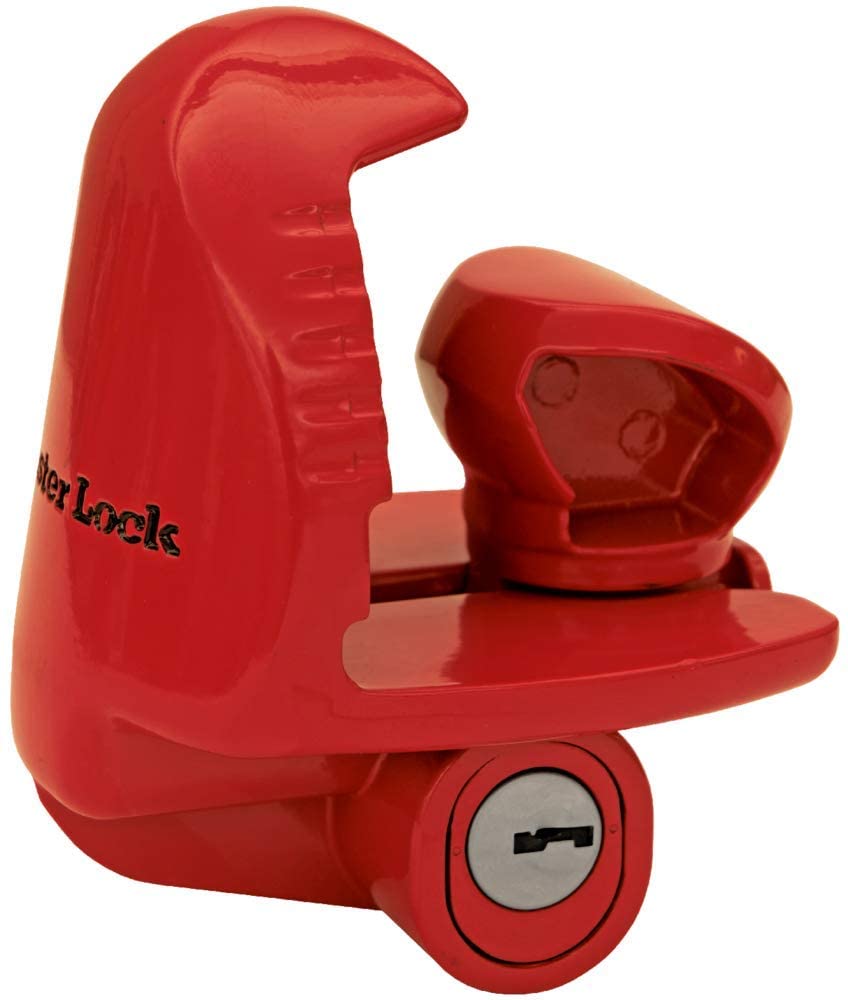 For the security of your trailer, this Master Lock-Universal size fitting trailer lock may be what you need. This unique lock reduces the challenges associated with searching for an ideal trailer lock since it's a universal product.
This theft deterrent product has a unique design and can lock couplers of 1-7/8 inches, 2 inches, and 2-5/16 inches. The heavy-duty lock will give thieves a hard time because it is made of sturdy materials. Its locking mechanism also boasts extra-hardened steel.
With it, you don't need to worry about sawing, hammering, or prying. It doesn't break loose irrespective of the tampering method used. The bright red color feature of this lock can be seen from far. This means it deters thieves from approaching your trailer. The Master Lock coupler lock can withstand extreme weather conditions and is also corrosion and rust-resistant.
Installation is simple and easy. The overall design ensures the security of your trailer and ease of installation. The unique design offers complete protection of your trailer. This means you are doomed if you lose the key considering it can't be opened by any other key.
Pros
Bright red paint deters thieves

Resists prying or picking

Constructed with sturdy materials

Withstands extreme weather conditions

It's rust and corrosion resistant
Cons
Extremely tough to break when you lose the key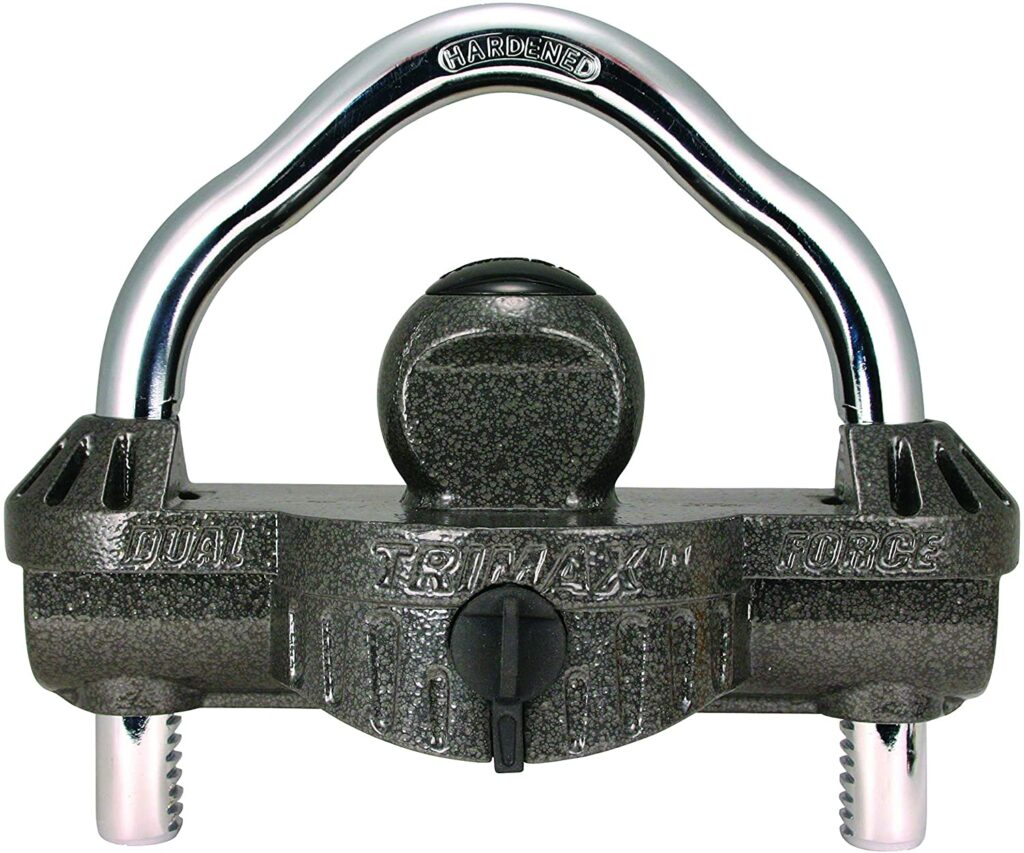 This Trimax lock is designed to fit all types of trailers and it uses a dual ratchet locking system. It provides you with 360-degree protection thanks to its innovative design.
The hardened steel has corrosion and rust-proof epoxy hammer tone finish. It's compatible with couplers of 1-7/8", 2", and 2-5/15".
It features a keyhole cover that can slide up to keep grime or dirt away. It's next to impossible to break this lock as it has a super solidified hardened steel structure. The receded edges provide great defense against sledgehammer and bar attacks.
It's coated to make it corrosion and rust-proof guaranteeing excellent durability. It's tough to saw through its steel shackle that has a 5/8" diameter. Last, but not least, a 6-teeth advanced mechanism design makes it hard to pick.
Pros
Universal fit

Uses super-hardened steel

Comes with a keyhole cover

Epoxy hammer tone finish

6-teeth advanced mechanism design
Cons
Sometimes keys get jammed

Not 100% rustproof
This coupler lock is a great option for immobilizing your trailer when it's not in use. With this tough theft-deterrent product, it will be a struggle for anyone without a key to open it.
The lock's characteristics provide excellent performance for keeping your trailer safe. Master Lock is built entirely of metal meaning there is nowhere on the lock where you find weaker materials. It provides your trailer with remarkable security because of its outstanding sealing mechanism.
Keep in mind it's compatible with couplers of 1-7/8" and 2-5/16". Its sleek body resists severe weather conditions meaning it can last longer than others in the market.
The only drawback of this lock is the "alike" keys. They all use the same type of key therefore if a thief has access to one Master Lock key they can easily unlock it. However, without any access to a key, the product is one of the hardest to break.
Pros
Solid construction

Universal fit

Resistant to extreme weather

Quick and simple installation
Cons
Fits loosely on some couplers

Keyed alike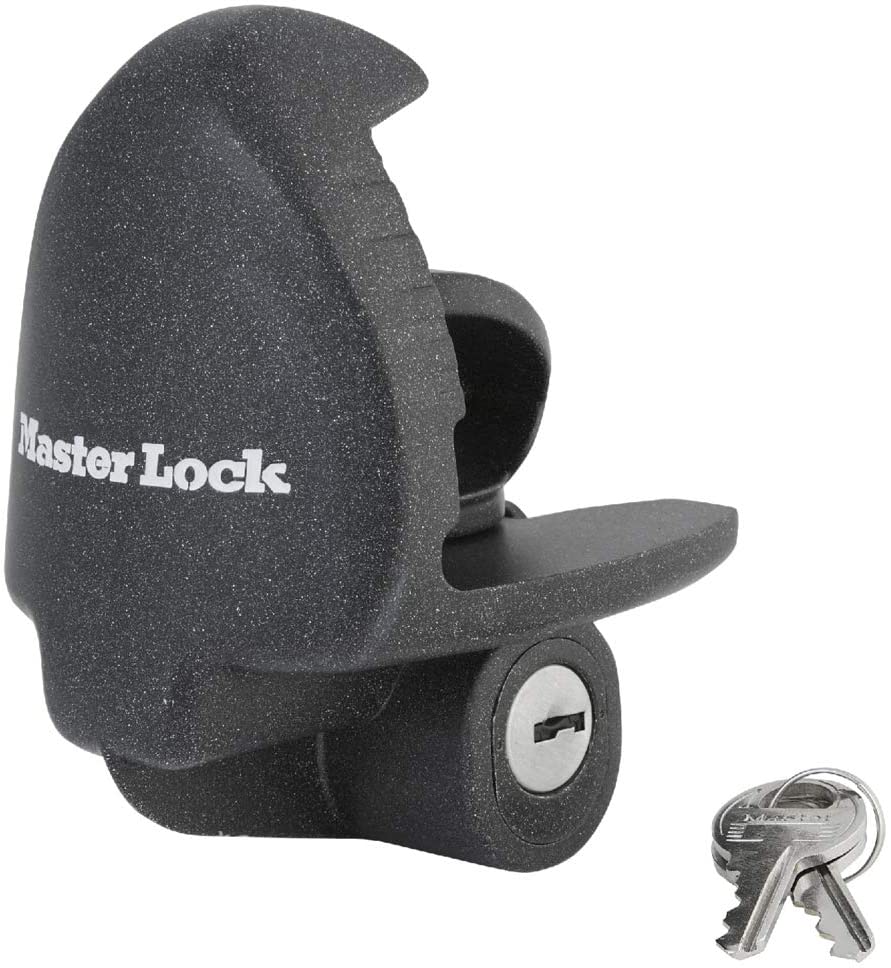 This Master Lock will give you peace of mind and confidence. It secures your trailer to make sure you are safe even when in an insecure location. To make sure you enjoy better security, the product firmly seals the coupler.
The lock is made of sturdy and durable materials to prevent prying or cutting. It is also capable of preventing corrosion and rust while being versatile and strong.
The lock fits a wide range of trailer hitches because it's universal. It fits couplers of 1-7/8", 2", and 2-5/16".  It's one of the best choices for people who own two or more trailers.
Removal or installation of this lock is pretty simple. Additionally, its advanced mechanism and convenience are worth the cost.
Pros
Fits multiple couplers

Sturdy zinc alloy

Easy installation and removal

Fits a wide range of hitches

Well priced
Cons
Suitable for mobile trailers only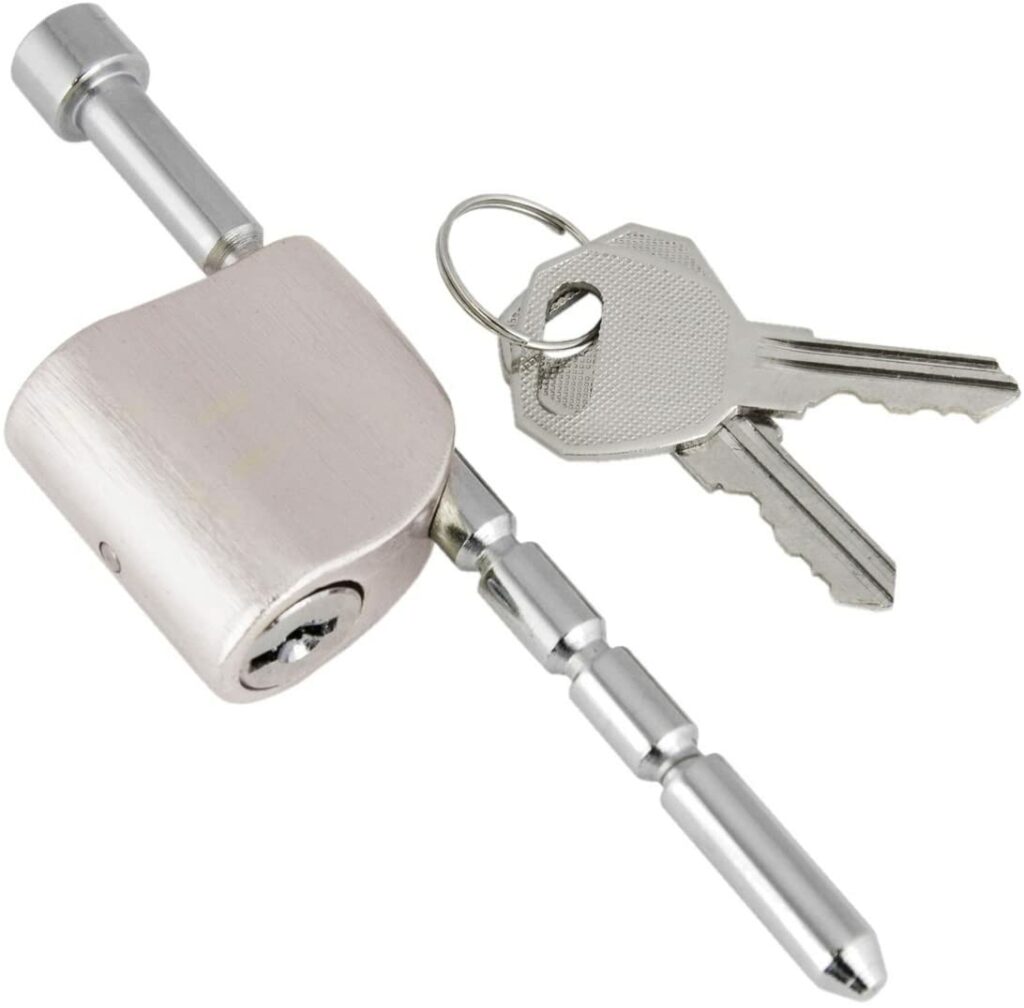 Reese Towpower adjustable coupler latch lock is a great option. What makes it a bit different from the rest is the solid structure. It's made from sturdy materials to give you peace of mind.
The lock is hard to cut or pry considering it's reinforced with a steel shaft and a nickel coat. The base is made of brushed aluminum making sure there is no chance of rust or corrosion. Additionally, the aluminum enhances the lock's appearance while increasing durability. The product comes with a couple of keys for convenience.
It allows you to lock in 6 different positions. This means it's easier to fit the trailer latch without struggling. The lock can be adjusted from 5/8" to 3". The result is it provides the security needed for most trailer couplers.
Reese Towpower 7042100 is compatible with a variety of couplers as it boasts a pin with a diameter of 3/16". People with trailers have ranked the lock as one of the best choices available in the market.
Pros
Super lightweight

Designed to be rust and corrosion resistant

Easy to adjust

Smooth shiny finish

Compatible with the majority of couplers
Cons
Weaker than steel made locks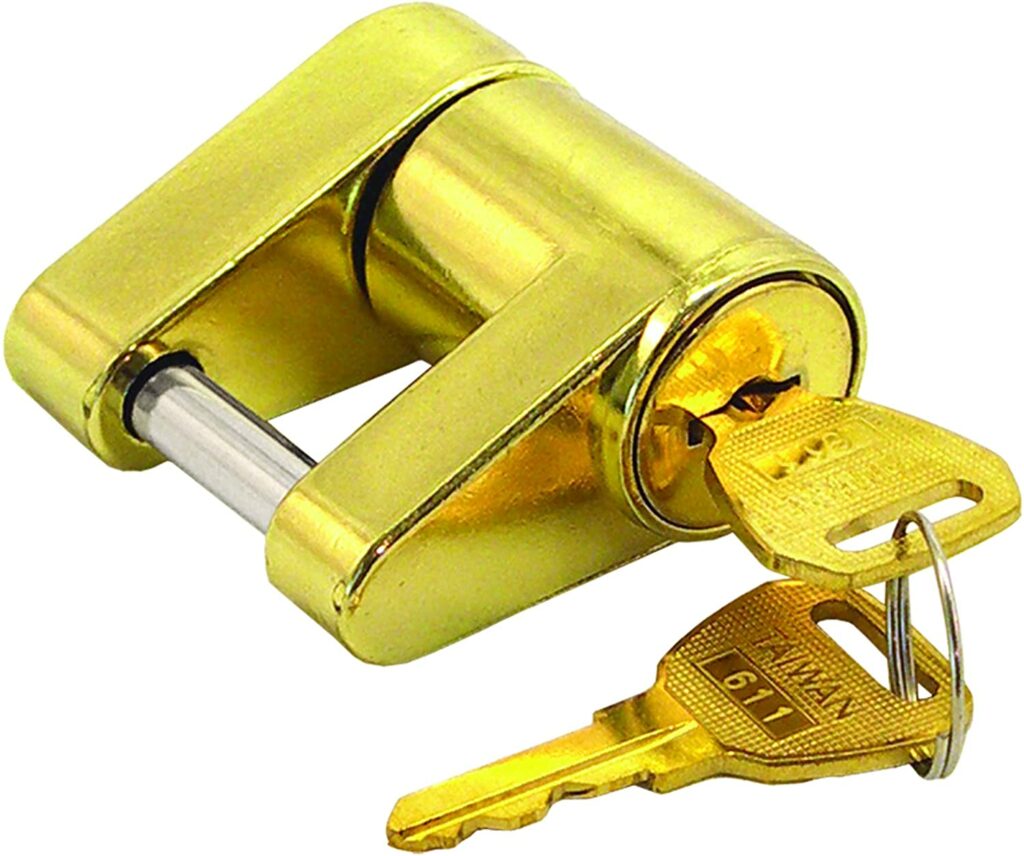 This particular Shoreline Marine coupler lock is a great option if you're looking for a simplistic trailer theft deterrent solution. The lightweight brass-made and small-sized lock is easy to use. Installation and removal can be done in a matter of seconds.
The lock works and looks simple. That doesn't mean that the mechanism inside isn't impressive. As for the design, you get one that is visible and bright considering it comes with a shiny golden-colored brass finish. You unscrew it to separate the two units and screw it to join them. Corrosion or rust doesn't affect this product.
There are a few complaints against this lock that have popped up. Regular keys of the same size have been found to open this lock easily. Furthermore, you may have to struggle to get the key inside since the keyhole gets jammed up often. The screwing might be difficult even if you get the key inside.
Its relatively cheaper price is something that may relieve a buyer's frustration. For your not-so-expensive trailer and contents, this may be considered a fair enough solution.
Pros
Bright and visible

Small in size

Works in adverse weather conditions

Resistant to rust and corrosion

Lightweight yet sturdy
Cons
Doesn't support many couplers

Keyhole gets jammed often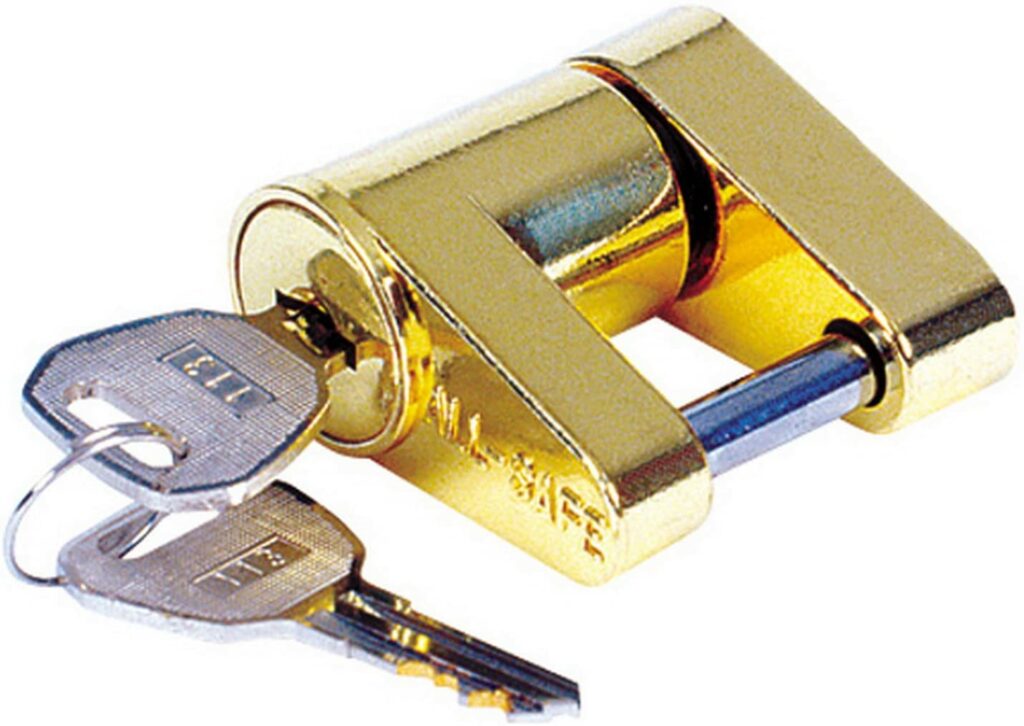 This is a budget deterrent solution for your trailer's coupler from Reese Towpower. It offers you ease of use and security in a smaller-sized lock. It's ordinary yet heavy-duty and is all made of brass.
The shiny brass makes it noticeable and this tends to fend off thieves lurking around your trailer. It also helps it remain corrosion and rust-free. It's not easy to cut or hammer this product.
As for the keyhole, it's designed to block unnecessary dust from getting in even though it doesn't have a keyhole cover. This super lightweight product is easy to lock and unlock. Though the reviews regarding this lock are positive, users have expressed frustrations regarding the keys. In some cases, the lock is hard to open.
Compared to other coupler locks in the market it is cheaper. Cheap doesn't mean poor quality considering the name Reese is renowned for its high quality and durable products.
Pros
Small in size

Rust and corrosion-proof

Super lightweight and sturdy

Works in extreme weather

Bright making it easily noticeable
Cons
Buying Guide for Trailer Coupler Locks
You need to be careful when buying a lock for your trailer considering the safety of your trailer depends on this little item. It's not sufficient to look at a coupler lock's face value. You need to make sure that it meets all your needs.
For this to work, you need to know how to choose a good coupler lock. I have highlighted the various factors you need to consider before choosing a specific coupler lock. Read on to learn them.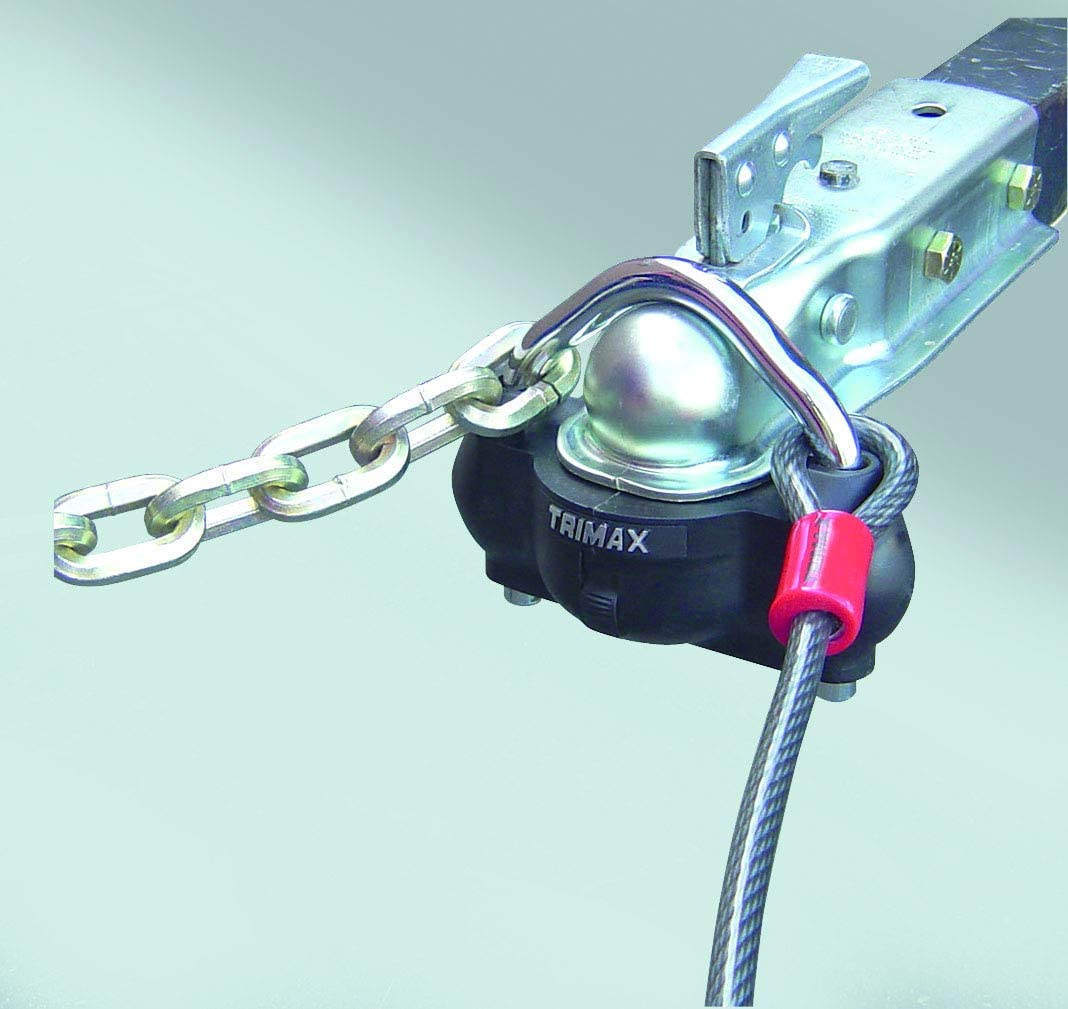 The Different Types of Trailer Coupler Locks
Trailer coupler locks aren't made the same. They serve the same purpose but come in various forms just like other products. When looking for the right one, these are the trailer locks that you should consider.
The receiver coupler lock fits crossways into your vehicle's receiver hole. They are ideal for securing your trailers because if don't have a key you can't open them.
These products are metal pins with locks on the edges. Some receiver coupler locks have a crooked end to prevent them from being removed. Others have two locks on the side.
Coupler locks are popular with a design that's similar to the U-lock used to secure bikes. To help secure the hitch over the top, the locks usually come with a ball and shackle. Take note that the shackle is adjustable to ensure that the lock won't get loose. Reese models like 72783 and 7088300 are the best examples of good coupler locks.
To keep the coupler pin secured, a coupler pin lock uses a basic spring steel clip. Although many models use more developed features to reinforce protection, the basic model is preferred by most users. In my opinion, it holds up for very long and is good enough to keep the coupler pin secure.
This kind of lock can be removed and reattached to another vehicle. It's advisable to get one that is bright in color to deter potential thieves.
Benefits and Drawbacks of Trailer Coupler Locks
A coupler lock's main benefit is to keep your trailer secure when you're away. The coupler lock binds the trailer hitch to the receiver. The designated key is the only thing that can unlock and break the coupling.
After setting the lock on your trailer, it will be almost impossible for a thief to lift the receiver and go with the trailer. I recommend attaching a shackle to ensure no one breaks the lock. I noticed an additional benefit is the lock ensures the coupler latch doesn't dislodge when you are on the move. It also prevents your vehicle and trailer from creating a rattling noise or wobbling.
However, with the right equipment and sufficient time, some locks can be broken. Experts can beat the lock with a strong hammer or pick the lock. I suggest you go for robust locking mechanisms and durability to experience the best protection.
What to Look For On a Good Trailer Coupler Lock
Here are certain things to consider to make sure you've made the right purchase decision.
You have to choose between two designs for coupler locks; deadbolt or universal. Also known as deadbolt locks, coupler pins are made in a way that they fit into the coupler's drilled holes.
They usually give a tighter fit than their universal counterparts. It's because they are bolted on your coupler using the specified dimensions. They are more famous for RV camping.
Universal locks are more flexible as they can fit a variety of coupler brands and styles. To keep everything secured in place, these locks often have a metal ball and a bridge above the ball.
They often fit with coupler sizes 1-7/8", 2", and 2-5/16". If you own multiple trailers or plan to use a different trailer, these are the products you should consider.
Always look for a lock with a formidable locking system to prevent your lock from picking and prying. Such a lock fits more snugly into your coupler with a barbell locking mechanism adding another layer of security.
Look for a push-button lock mechanism for ease of use. To provide more flexibility, some of the best coupler lock systems allow a third-party padlock.
To prevent your lock from rain, dust, and other elements that may damage the inner parts of your lock, look for one with a rubber cap that covers the keyhole. It ensures that your locking mechanism performs better.
For the lock to resist tampering it has to be as robust as possible. The best ones are made of aluminum and steel. They often come with a chrome finish or corrosion-resistant zinc to extend the lock's life.
A visible trailer coupler lock is an effective way to deter thieves. Bright colors are easily visible and they give your trailer a nice look. Red and yellow are the most popular colors used.
An extended warranty assures you that the lock will last for a long time. Top-rated coupler locks provide a lifetime warranty, while others offer a basic 1-year warranty. The longer the warranty the more durable a product is likely to be.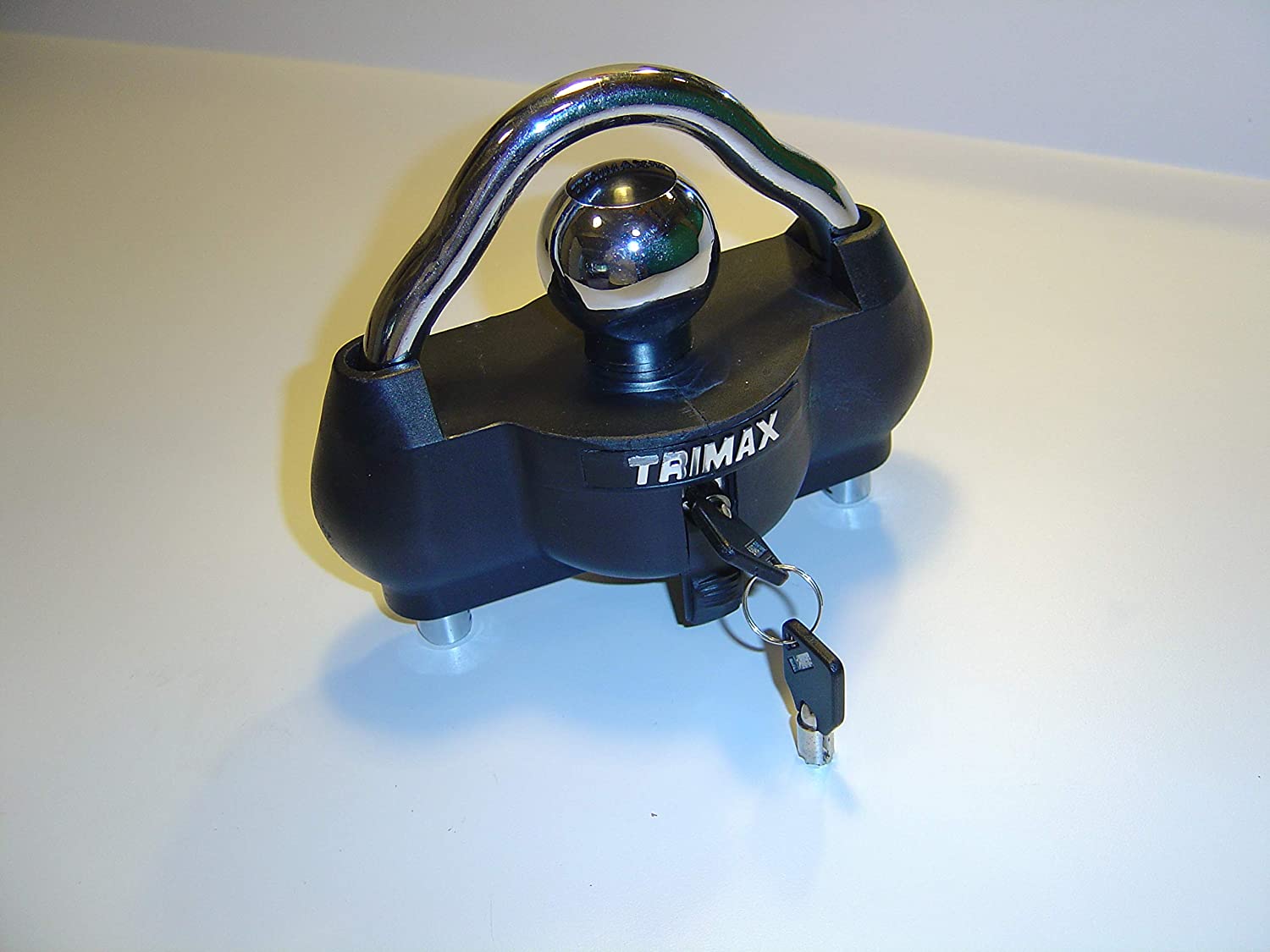 Trailer Coupler Lock FAQs
Question: Are Coupler Locks Safe?
Answer: Yes, they are. These locks are designed to ensure your trailer, boat, or RV is secured to your vehicle to prevent theft. They are designed to resist any type of tampering or prying potential thieves may try.
Question: Can I Know the Best Size of Coupler Lock for my Trailer?
Answer: Yes. If you have a class I or class II receiver, the best size is a 1 ¼ inch lock. If you have a class III or larger receiver, go for a 2-inch lock.
Make sure the interior width of your receiver is similar or slightly more than the overall width measurement of the hitch at the hitch pinhole. If you are not sure, consult with the person selling you the coupler lock. They may help you get the right lock and even show you how to use it. 
Question: Can I Cut My Coupler Lock?
Answer: Not really. However, depending on the type of lock, a set of heavy-duty bolt cutters may work. This may be because the majority of locking pins on coupler locks are made of 1407 steel and are half an inch in diameter.
Question: Are U-Haul Trailers Compatible with Coupler Locks?
Answer: Yes. All trailers come equipped with a coupler or hitch that is compatible with most of the coupler locks in the market.
Bottom Line
Coupler locks are a must-have if you own a trailer. From my list above, I would suggest you go for the REESE Towpower 72783 Universal Lock. It's resistant to rust and corrosion, visible to deter thieves, and comes with an adjustable locking bar.
If you didn't find a lock on this list that suits your needs, check out my buying guide. It gives you detailed information that will ensure you get the best coupler lock for your needs. With this information, I believe you will get a coupler lock that will serve you for years to come.
Looking for more interesting readings? Check out: