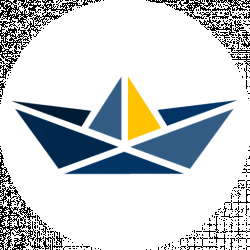 Latest posts by Jeanne Murugami
(see all)
Pontoon boats' versatility is unmatched as they cater to your fishing needs, recreational cruises, and even afternoons of wakeboarding and water skiing with your family. Besides that, they deliver ample room for your friends and extended family to enjoy remarkable, fun moments on the waters.
Again, they do boast adequate space, which is a good thing. On the contrary, however, their size may prove challenging as far as anchoring is concerned, unlike in a ski or fishing boat.
And with such a high profile, you'll need more than a standard anchor to keep your pontoon steady against the raging effects of winds and currents while on water, keeping in mind the buoyant nature of these watercraft.
Such situations demand that you get one of the best pontoon boat anchors for your vessel. It would help if you had something reliable to keep your pontoon intact in one position.
Nonetheless, there's a sea of pontoon boat anchor options flooding the market, and picking out the best can be daunting. But don't fret, as our guide will help make things easier for you.
We'll review a few options that we consider as the Best Pontoon Boat Anchors and incorporate a buyer's guide alongside more relevant material. Our review will feature the most budget-friendly, durable, versatile, and most effective pontoon boat anchors. So, let's jump right into it, shall we?
Types of Pontoon Boat Anchors
Fluke Anchors
Fluke Anchors dig into the bottom to get a hold of the sand and gravel. They have a decent gripping ability that doesn't necessarily demand hefty weight, and hence, they don't require too much effort on the hoisting part.
A typical fluke anchor weighs roughly 15 pounds and is enough to secure a 30-foot pontoon on calm water. They are sharp to dig into the sand and muddy water floors effectively. For that reason, before placing them on your boat, make sure there's ample protection to avoid damage.
Box Anchors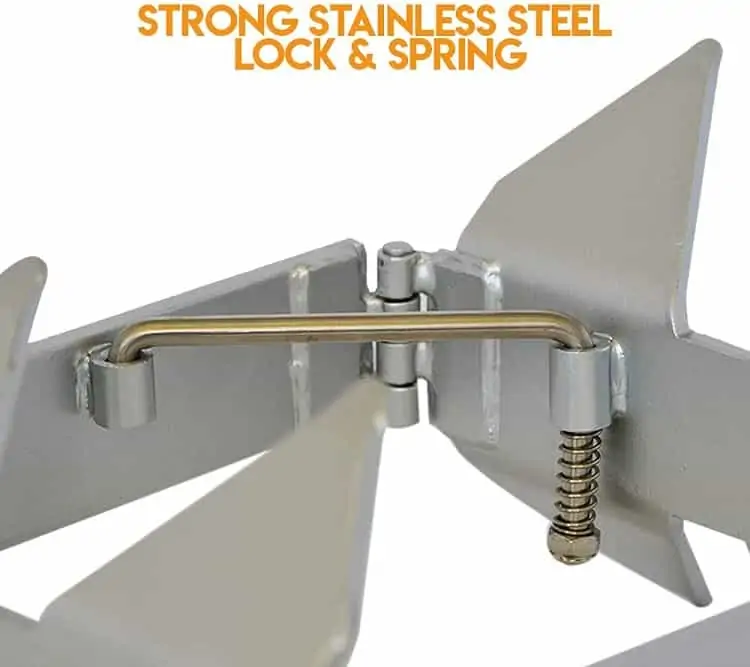 If an all-around watercraft anchor is what you want, box anchors are worth considering. They are excellent for water bodies with vegetation presence and those that get muddy. Depending on the sediment density and weight, expect them to penetrate roughly one to two feet deep, which is impressive.
When dealing with muddy surfaces, box anchors will create friction that helps them attain excellent holding power.
So, while other anchors, e.g, Mushroom anchors struggle with grass and other vegetation, box anchors have an easy time in such environments, thanks to their pointed flukes that make it through the roots of underwater hydrophytes. 
They also effectively hold on to crevices and rocks but struggle a bit on sandy surfaces. Freeing box anchors can be hard at times but pulling your vessel forward is a trick that seems to work.
Plow Anchors
Plow anchors, sometimes referred to as digger anchors, almost resemble their fluke counterparts. The only difference is that they aren't open to angle adjustments like the latter. Even so, plow anchors are excellent options to use in water bodies with vegetation, mud surfaces, and sand.
They have a self-righting geometry and low center of gravity that allow them to be set almost immediately. And should the tide or wind sway the boat, their shape facilitates them to reset easily.
Grapnel Anchors
If you operate your pontoon on rivers or lakes with rocky bottoms, a typical grapnel anchor will deliver the smooth anchorage you need. They feature four arms that enable them to grip rocks of different sizes. 
To use it correctly, drop it, then back up a few feet or drift to create the chance for the arms to grasp the rocks.
During instances of strong currents and winds, you may need two grapnel anchors for efficient anchorage. Typically, these anchors are compact, making them ideal for pontoon boat owners who only have minimal storage to offer.
The 5 Best Pontoon Boat Anchors
Slide Anchor Box Anchor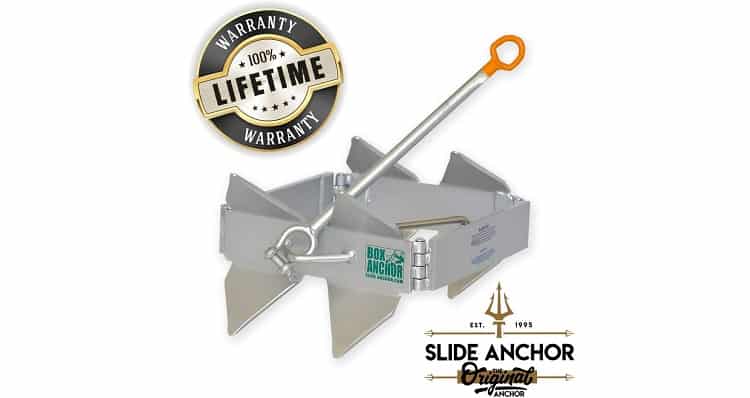 If you sail in rough conditions or dislike traditional boat anchors, the Slide Anchor Box Anchor is worth your consideration. Unlike conventional counterparts, it showcases a square shape with four pointed blades.
Its shape is unconventional and pretty unique. Nevertheless, it is a precision-engineered box boat anchor whose development even involved ideas from reputable fishing boat manufacturers.
As such, the Slide Anchor is a heavy-duty option and will work efficiently regardless of the prevailing marine conditions.
Being a box-style anchor, it doesn't rely on the downward pull and will settle in any bottom, whether sand, grass, or mud. With traditional counterparts heavily depending on a lead chain, this box anchor eliminates the need for one.
Of course, you'd want a pontoon boat anchor that's effortless to retrieve. And luckily enough, the Slide Box Anchor is nothing different and doesn't require any complex maneuvering or pulling to recover it. You will only need to ride your vessel over the anchor's top and wait for it to pop out of the riverbed.
Pros
Versatile for both hard and soft bottom water bodies

Ideal for adverse marine environments

Innovative and unique design

It doesn't require a lead anchor chain

Easy to retrieve
Cons
It lacks a good-quality cable tie
Danielson PVC Coat Anchor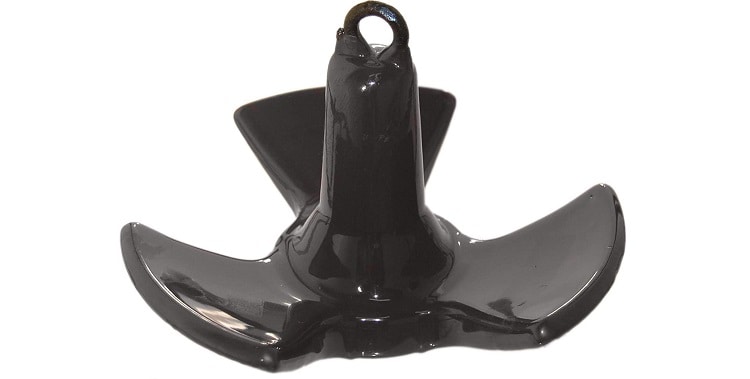 Coming from a reputable boat accessory manufacturer, the Danielson PVC Coat Anchor cuts it as one of the best pontoon boat anchors in the market. With this device, you won't have to fret about the fear of drift that some hobbyists and professional fishers suffer from when exploring deep rivers.
The anchor satisfies most specifications set by renowned pontoon boat manufacturers. Its construction boasts stainless steel alongside a vinyl coat, which delivers the utmost protection from rust and discoloration. And with such materials, this pontoon boat anchor's durability is nothing to question.
Even so, this boat anchor doesn't include a rope, although Danielson arms it with a hole through which you can hook or tie your anchor line. It is precision-tooled and showcases a grapnel style. As such, it perfectly attaches itself to stumps, brush, rocks, and mud present in the waters.
With a three distinct blade design, it produces exceptional grappling action. It best suits small pontoon boats ranging between 22 and 26 feet and is available in 18-pounds and 12-pounds weight options.
The 18-pound anchor will suffice in hard-bottom waters and work for larger pontoon boats thanks to its adequate holding power.
Pros
Vinyl coat for corrosion, rust, and discoloration protection

Brags old-fashioned construction quality

Works on both hard-bottom and soft-bottom waters

Includes a 12-pound option that's easier to handle

Employs top-grade materials for durability

Best suits small and mid-sized watercrafts
Cons
It doesn't feature a rope
MarineNow Deluxe Boat Anchor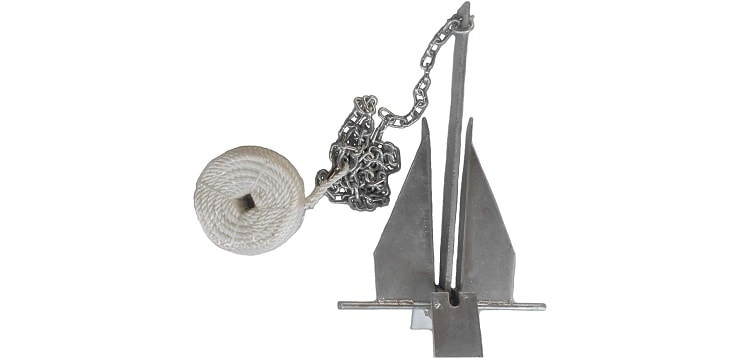 If your pontoon boat falls under the small size category, the MarineNow Deluxe Boat Anchor is a steal for you. It weighs 8.5 pounds and brags an impressive holding power that effectively keeps your vessel intact, and with a fluke style, you can count on it to hold firmly.
It features hot-dip galvanized steel that integrates corrosion and rust-resistant zinc coat. And besides being durable, it's also sturdy enough to dig deep into sand and mud bottoms, although it often requires some time to bury well.
Moreover, you won't have to acquire a separate line as it incorporates an anchor rope and chain.
The anchor line has an overall length of 98 inches, with the rope being 8 mm thick alongside a 6 mm thick lead chain, which employs hot-dip galvanized steel. The string's quality is doubtful and may not be the best, but such measurements are pretty enough for small vessels.
Further, this pontoon boat anchor integrates two 5/16-inch precision-tooled shackles. Through this, it digs into the seabed or riverbed pretty effortlessly.
The unit may seem old-fashioned, but it's way more effective than most old-style three-blade counterparts. And even more, it's capable of securing more than one watercraft. 
Pros
Hot-dip-galvanized metal construction

Corrosion and rust-resistant 

Can secure more than one watercraft

Weed-friendly anchor blades

Ideal for sand and mud bottoms
Cons
Pretty heavy to rival anchors

Low-quality rope   
Greenfield 530-R Anchor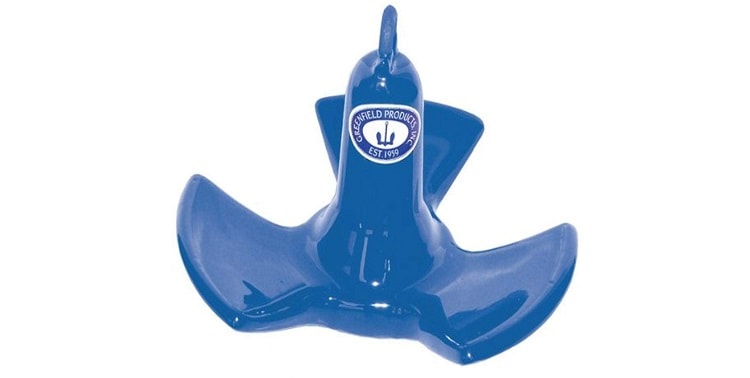 If your pontoon boat is less than 26 feet, among the best anchors for you is the Greenfield 530-R Anchor.
Firstly, it's pretty colorful and showcases a triple fluke design, and employs cast iron material for its construction. As such, it's best suited to medium-duty operations in moderate or soft marine conditions.
This pontoon boat anchor qualifies as an all-purpose option, especially for light vessels. Nevertheless, it's way better than mushroom counterparts, and I would also consider it an ideal second anchor to work alongside a heavy-duty anchor in a relatively larger watercraft. 
It then boasts a vinyl coating, which besides adding to its appearance, also ensures it doesn't scratch any surface on your pontoon boat.
At the same time, the vinyl coat also makes the Greenfield 530-R resistant to rust, discoloration, and corrosion. And with a weight of 30 pounds, this boat anchor assures decent holding power.
Pros
It doesn't drag

A striking gentle vinyl coating

A triple-fluke design

Sturdy and durable cast iron construction

Effortless to use and handle

Can handle rocky, mud, and sand bottoms
Cons
Only suits medium-duty operations
Lewmar Claw Anchor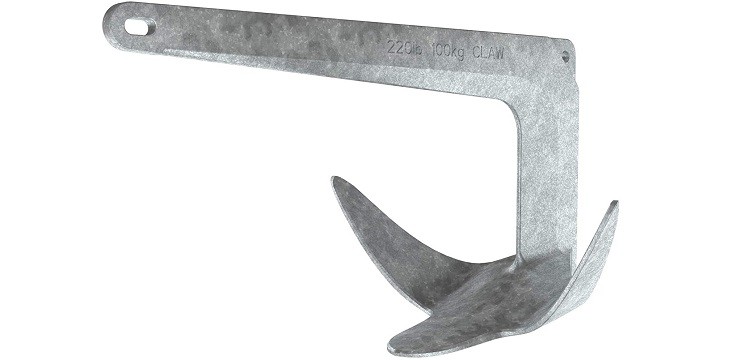 If a masterfully sculpted pontoon boat anchor to use in the sea is what you're after, the Lewmar Claw Anchor is ideal for you. In this case, you need an anchor with a superior ability to dig into the sand, and this claw anchor delivers just that since it suits all bottom types best.
Its durability is unmatched, with Lewmar going the extra mile to guarantee the unit's longevity. For instance, it employs galvanized steel rather than stainless steel, and with a protective zinc coating, corrosion and rust are nothing to fret about.
Nonetheless, it's not straightforward to use like box counterparts. It includes a front hole that facilitates the connection of the lead anchor chain using a shackle. On the rear is another spot through which you connect the cable ties.
Even without moving or repositioning the anchor, expect this claw pontoon boat anchor to reach the seabed effortlessly. It displays a design similar to that of the heavy-duty oil rigs operating in the North Sea, and hence its reliability and performance are dependable.
Pros
Effortlessly sets in the sea bottom

Durable, galvanized steel construction

Several weight options to pick from

Perfectly handles rocky sea beds

Corrosion and rust-resistant
Cons
Time-consuming and intricate assembly

Not weed-friendly
Buyer's Guide for the Best Pontoon Boat Anchors
Before making the ultimate buying verdict, there are some vital factors worth considering to acquire the best anchor for your pontoon boat. They include:
Construction Material
Different pontoon boat anchors feature varying materials for their construction. You'll come across some using aluminum, galvanized steel, vinyl-coated steel, and stainless steel, all of which deliver many years of service. 
Both aluminum and stainless-steel anchors are corrosion-resistant. However, they are pretty costly, and hence, they don't suit boaters on a tight budget.
Moreover, you'll notice that most boat anchors employ conventional steel, which most of the time incorporates a polymer coating of either epoxy or vinyl.
The layers, nevertheless, are prone to damage which in turn exposes the mild steel to corrosion. These options make up the cheapest category of boat anchors and are ideal for boat owners on a budget.
But if you're after a boat anchor material that strikes the best balance between price and corrosion resistance, nothing beats galvanized steel. It may not be as attractive as its stainless steel or aluminum counterparts, but it tackles the anchoring job effectively.
Stainless steel, on the other hand, is often employed as well. It's almost the same as galvanized steel in terms of performance in handling saltwater alongside other conditions. It's also lighter in weight and offers a better shining appearance.
Weight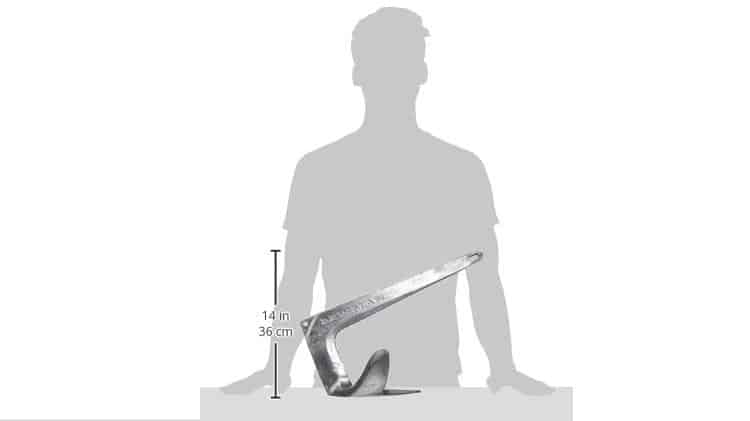 How much the anchor weighs should depend on your vessel's size. For example, if you have an average-sized pontoon, opt for an anchor weighing roughly 15 to 20 pounds.
Box anchors are relatively more extensive than other counterparts and hence the heaviest. Most boating experts believe that the heftier your boat anchor is, the better. 
However, that doesn't mean you should overdo it since pontoon boats don't necessarily need the heaviest options available.
In other words, it's unlikely that there's any pontoon boat that will require a 30-pound anchor. Such weight levels are unnecessary, and they translate to you working harder than you have to.
Below is an ideal general summary of the anchor's weight suitable for your boat's length.
| | |
| --- | --- |
| Pontoon Boat Length  |       Anchor Weight |
| 20- to 30 feet | 20 to 30 pounds |
| 20 feet or less | 12 to 15 pounds |
Chain or Rope
The chain or rope is another component of the anchor system. Be sure to check if the boat anchor you are acquiring includes one, keeping in mind that not all do.
Also, see that the rope is strong and sturdy enough for your pontoon vessel. The reason is, you wouldn't want a strong current or wind shattering your anchor line, leaving you and your craft adrift.
The rope's weaving should display small air pockets to facilitate effortless maneuvering. It should also be solid to avoid fraying alongside other types of damage.
You'll notice that most pontoon boat anchors employ nylon for the anchor line. It's not only sturdy but also relatively cheap, resists salt water, and offers a bit of stretch. Jute also cuts it among the best materials for an anchor rope.
An excellent rule of thumb to apply in this case is 1/8-inch of the rope diameter for each 9-feet of your vessel's length. 
| | |
| --- | --- |
| Pontoon Boat Length |           Rope diameter |
| Up to 18 feet   | ¼-inch |
| 27 feet                                             | 3/8-inch |
| 36 feet                                             | ½-inch |
| More than 36 feet                           | 5/8-inch |
The Holding Power
Another thing to check is the anchor's holding power or the amount of pull force the boat anchor can handle. You'll need an anchor with sufficient power to ensure your pontoon boat stays in place. However, strong winds can sometimes interfere with this ability.
For a 20-feet pontoon boat, consider boat anchors with a 90-pound holding power, which is enough to get along with strong winds of roughly 20 mph. A 25-feet pontoon vessel, on the other hand, will demand an anchor with more holding power of about 125 pounds.
Accessories
We wouldn't advise you to pick an anchor just because of the accessories in the package. But at the same time, getting value for your money is pretty nice. 
Some good boat anchors will feature storage bags that come in handy to prevent mars and scratches. Go for one that's durable and rugged to deliver long-lasting service.
Care and Maintenance of Pontoon Boat Anchors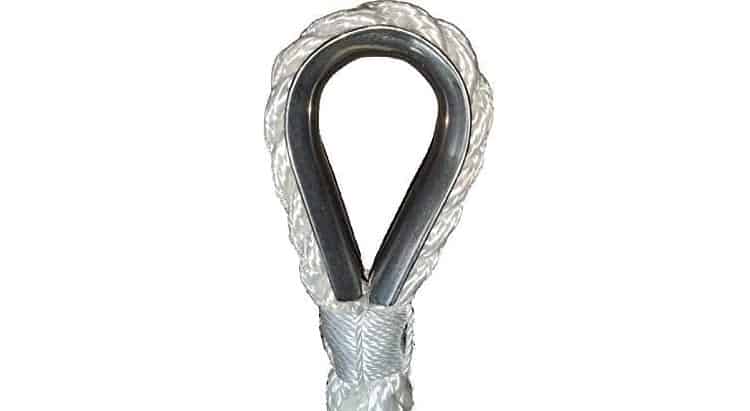 Like any other tool, pontoon boat anchors also require care and maintenance. You'll have to undertake a few necessary measures to bolster the anchor's service life. Such fundamental measures include:
See that you appropriately store your boat anchor when not in use. In this case, a storage bag comes in handy by providing room to arrange the unit inside securely.

Clean your boat anchor every time after use, mainly if you've used it or often operate on saltwater. The reason is, the saltwater residue may incur damage leading to a shortened lifespan.

Be mindful of any accessories accompanying your anchor. A frayed rope, for instance, could make you lose an anchor deep in the water in case it breaks. Hence, it's wise to opt for a rope replacement when needed, which shouldn't be a problem since they don't cost much.

Part of maintenance also entails learning how to use different types of pontoon boat anchors. And once you understand how to use your anchor appropriately, you will be extending its service life by some degree and vice versa.  
Frequently Asked Question
Question: How Do Pontoon Boat Anchors Work?
Answer: A boat anchor efficiently works to secure your vessel in the water or moor it at the pier. By this, it prevents drifting or shaking as a result of strong winds or noticeable currents. But to attain the utmost effectiveness, see that you set the anchor appropriately.
First, move towards the water current or wind and identify an ideal mooring position to station your pontoon boat. Slowly approach the area while gradually dropping the anchor from the bow section.
Proceed to prepare a line, five or sevenfold the water's depth from where you stand, and after releasing the perfect rope length, tie it to the boat's cleat but not the grab rail. 
The water will drag the anchor to the same direction it flows to before stopping in a moment. You can then reverse your boat a bit to tighten the anchor line for better security, and that's just it.  
Question: Where Can I Buy a Good Pontoon Boat Anchor?
Answer: Where to purchase an ideal pontoon boat anchor is not that of a huge problem. For one, you can visit marine stores near your area. Shopping for your boat anchor online is also an excellent idea, provided you make your purchase from renowned sellers to avoid fraud. 
Besides convenience, buying online also has additional advantages than going to visit marine retailing stores in person. For example, you'll have access to a vast assortment of pontoon anchors alongside resourceful information about them.
Question: Can You Use Pontoon Boat Anchors in the Ocean?
Answer: Typically, pontoon boat anchors are designed for inland use in lakes and rivers, just like the pontoon vessels themselves. Nevertheless, some are more than capable of working in the sea, provided their performance, construction, and size are suitable to use in such environments. 
In other terms, to use a pontoon boat anchor in the ocean, it should feature a construction sturdy and durable enough to withstand saltwater and corrosion. Options that employ the aluminum-magnesium alloy are perfect for such settings.
Wrapping Up
At this point, we can all agree that a pontoon boat anchor is, without a doubt, one of the essential pieces of marine equipment. It enables you to keep your pontoon vessel secure in one place as you continue to party, fish, or have quiet family time.
Even newbie boating enthusiasts can now enjoy on-water hobbies, thanks to the availability of modern boat anchors. But even as you sail to the waters, you must understand what safe anchoring entails and any dangers that come with anchoring.
Lastly, all our five pontoon boat anchor options above are excellent starting points for different needs. The Slide Anchor Box Anchor is ideal for large pontoons and heavy-duty operations, while the MarineNow Deluxe Boat Anchor is suitable for small and mid-sized pontoon vessels.  
Fore more interesting readings check out: