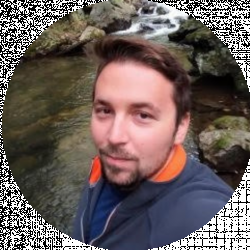 Latest posts by Coty Perry
(see all)
Having over 10 years of experience on the water, I have come to know which trolling motors are best to use for your boat. The Minn Kota Edge 55 is one of the best trolling motors I've used for a few different reasons. In this guide, we'll discuss some of the reasoning behind why I choose to use it. 
Bottom Line Up Front
The Minn Kota Edge 55 has a lot of perks and not many disadvantages. It has great speed control, steering, is easy to use and set up, and is powerful enough to tread through some of the worst conditions. The only issues that you might have with this motor are that the power cord is shorter than you would expect and you may want to add some additional accessories to your motor.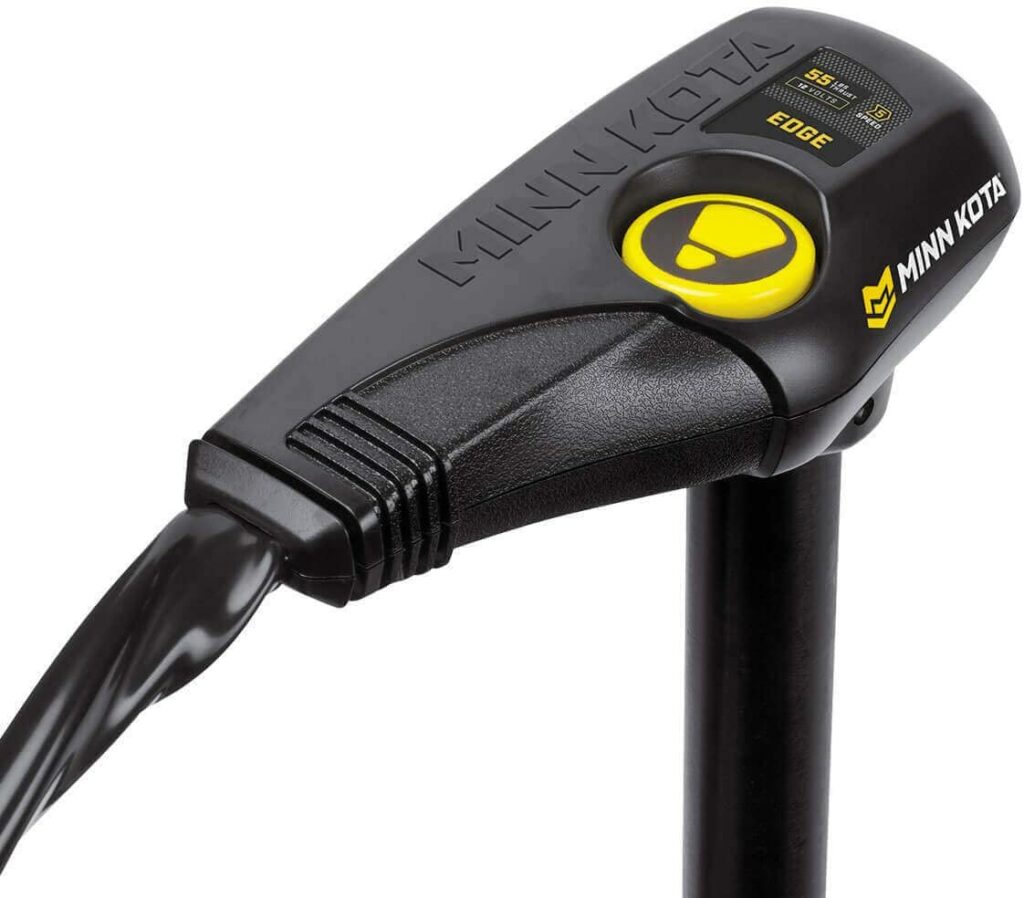 Minn Kota Edge 55 Review
The Minn Kota Edge 55 is our top pick when it comes to trolling motors. When comparing it to several other brands, the Minn Kota Edge 55 possesses the qualities of a reliable and smooth trolling motor with longevity.
Main Features
There are many great features of the Minn Kota Edge 55.
Options for Speed Control
There are two-speed control options for the Minn Kota Edge 55. There is a 5 front-wheel-drive/5rev and a 5-speed setting that you can control by using either the hand tiller or the foot pedal. 
Foot Pedal
The toe and heel steering foot pedal used in the Minn Kota Edge 55 is efficient and responsive. It precisely controls the direction of the motor and features a heel block, a momentary switch, and a dial that can control the speed.
Directional Indicator
The Minn Kota Edge 55 offers a directional indicator, which is available on the foot control models. This will give you the ability to know the direction in which the propeller is aligned. 
Propeller Options
There are two propeller options available on the Minn Kota Edge 55. There is the Minn Kota Power Propeller, which is classically designed to provide an abundant amount of power to cut thru thick weeds and vegetation. The other style is the Weedless Wedge 2 Propeller, which has a more swept-back design. This propeller option will allow you to get through weeds and other vegetation efficiently.
Cooling Running Motors
The way their motors run and the way they are designed are important to Minn Kota. Their motors have large winding, and a quality bearing system. This allows the motor to dispense heat at a rapid rate so the motor does not overheat. Besides the engine staying cool, the battery life lasts longer and the motor is quieter because of the way the motor stays cool.
Door Bracket and Latch
Since the Minn Kota Edge 55 has a door bracket and latch, you can simply use a soft grip knob to remove the engine from the mount.
Edge Mount
The Minn Kota Edge 55 mount might be small, but it is sturdy. The motor is stable when deployed because of the plated aluminum arm.
Composite Shaft
The Minn Kota Edge 55 presents a composite shaft that includes a lifetime warranty, like all of their other trolling motors. The composite shaft can be put under a lot of stress without bending or breaking. 
Warranty
Like all other Minn Kota trolling motors, the Minn Kota Edge 55 also comes with a 2-year limited warranty. This warranty covers any defects in the materials and manufacturing. If your motor is damaged from use, it will not be covered under warranty. The warranty begins the date you purchase your motor.
Accessories and Replacement Parts
The Minn Kota Edge 55 has many accessories and replacement parts available that can be purchased separately for your trolling motor. Some accessories and replacement parts include a replacement rope and handle, Weedless Wedge 2 Propeller, an onboard marine battery charger, a plug and receptacle, and a quick-release bracket.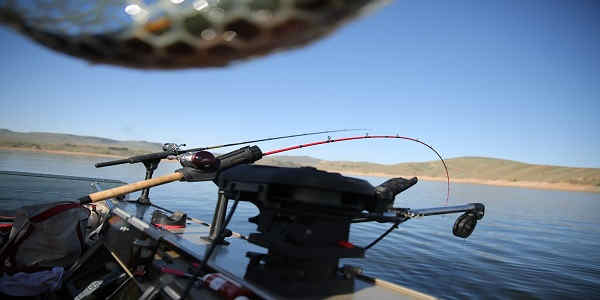 Pros 
The motor has five speeds

Powerful

Can power through rough waters and windy conditions without draining power

Easy and fast to install 
There are many pros associated with having a Minn Kota Edge 55. This five-speed, reasonably priced, trolling motor is powerful and has excellent control. This motor can power through rough waters and windy conditions without draining the power of the motor. Typically, this trolling motor will last four to six hours.
We like that it is easy and fast to install the mount for this motor, and the mount is sturdy. It can take you as little as 30 seconds to remove the mount when using the easy-to-turn, soft grip knob. The mount is designed to be safe and easy to store. Unlike some other trolling motors, Minn Kota's foot pedals are wide. This makes it much more comfortable to use and you can better control the motor because of how wide the pedals are. 
Cons 
Might need to purchase accessories

The power cord is short
The Minn Kota Edge 55 might not fit your boat as you would expect. Sometimes, you will need to purchase accessories for the motor to better fit your boat, like a handle extension. The power cord to the battery seems short as well, which might require you to purchase additional wires to extend the cord. 
How to Choose the Best Trolling Motor
To choose the best type of trolling motor for your boat, you will need to be aware of a few factors about trolling motors.
Know if you would rather have a hand-controlled motor or a foot-controlled motor. Foot-controlled

 motors allow you to control your motor hands-free, while the hand controls offer a fast response and less maintenance.
Be aware of how trolling motors can be mounted. They can be mounted on the engine, transom, or bow. Minn Kota supplies all three of these mounting options.
Choose your motor with additional features in mind. These features can be battery gauges, digital displays,

GPS features

, and autopilot. 

Know what voltage of power will work best for your boat. Trolling motors typically have different voltage options for power. Choose a high voltage motor if you have a larger boat or a smaller voltage motor if you have a smaller boat.

Choosing the right shaft length is important. You need to be sure your propeller is submerged properly, which is at least 12 inches below the surface of the water. Choosing the incorrect shaft length can damage your motor.
Now that you know the specifics regarding trolling motors, we can better explain these factors to help you choose the right motor.
Hand or Foot Controlled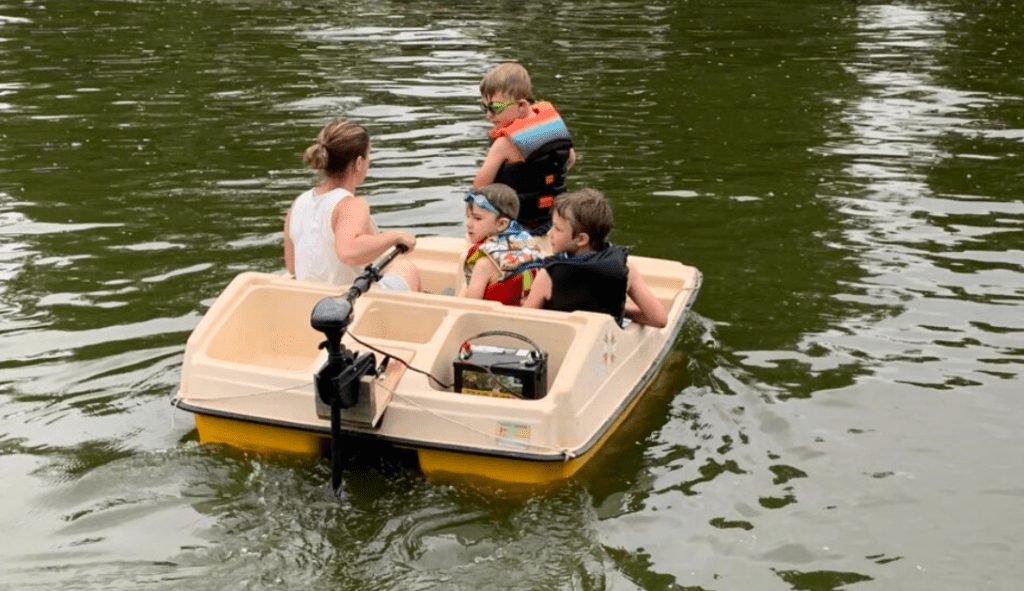 Many prefer hand-controlled trolling motors because of their reliability. However, using your hand for trolling requires a lot of effort. Hand-controlled motors offer power continuously to your boat, which means you might have better control and more accuracy. Most modern trolling motors have power buttons or switches to help control every part of the motor.
Foot-controlled trolling motors are operated by using a pedal on the floor of your boat. To operate the motor, you will need to step on the pedal. The speed of your troller depends on how much you are pressing on the pedal. The greatest perk of using a foot-controlled motor is that you are hands-free and you can sit back, and relax. A foot-controlled motor is sometimes not as quick to react as a hand-controlled one, but it still gets the job done.
Mounting Options
Your trolling motor can be mounted on either the bow, engine, or transom. Bow mount trolling motors are most common for anglers with medium to large-sized boats. A great advantage of bow mount trolling motors is that they provide better control when compared to a transom motor. The bow mount pulls your boat through the water instead of pushing it from behind.
Engine mount trolling motors are mounted to the cavitation plate of an outboard motor. They are steered through the outboard motor by either the wheel or by hand and provide a significant amount of thrust. To control the thrust settings and direction, you will need to use a wired remote. These motors are more difficult to control than bow mount or transom mount motors because of the location. These motors are best suited for multi-purpose boats.
Transom mounts are common when using a smaller boat because they are simpler to install than bow mount motors. Transom motors simply attach to the stern of the boat using a clamp. Transom mounts are easy to operate from the back of the boat and are best used for smaller boats like canoes.
Additional Features
When choosing the right trolling motor that is best suited for your boat, keep in mind any additional features you are looking for. A common feature to look for in a motor is GPS features. GPS features enable your motor to have a navigation system that can record, retrace, and help you return to your favorite trolling paths. It just takes a click of a button for you to return to your most productive trolling spot.
Having an autopilot feature is also helpful so you can automatically maintain your boat's heading. Your motor having the ability to be automatically steered takes a load of stress of you and allows your boat to make adjustments that you will not need to control.
Voltage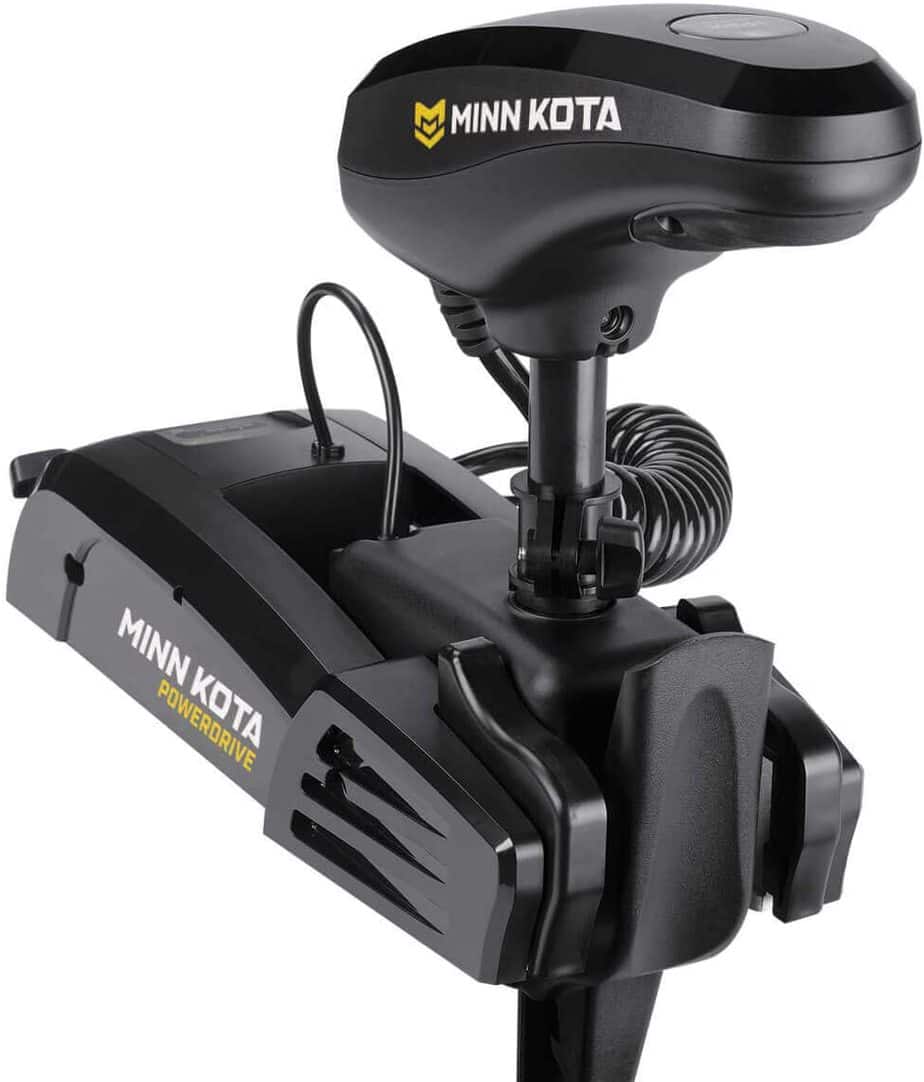 Selecting the right amount of voltage for your trolling motor is essential. Depending on the size of your boat, you might need a low or high voltage. Trolling motors typically come in three voltages – 12v, 24v, and 36v. Motors with higher voltages have more thrust. 
A trolling motor with the right amount of thrust for your boat will allow you to not be blown off course, have good steering, and stay on plane. To choose the best trolling motor for your boat, know your boat's weight as you will want a minimum of 2 pounds of thrust for every 100 pounds.
Shaft Length
This is one of the most important aspects of finding the best trolling motor for your boat. Your motor's shaft length is responsible for keeping the propeller submerged at least 12 inches underwater. You need to prevent the propeller from coming out of the water so it will not become damaged. Also, you will need to make sure your shaft length is not too long because it might catch something on the bottom of the water and get stuck. 
Measuring the shaft length for your motor is simple. Be sure to measure in calm water so you can get an accurate read, and be sure to take into account any extra weight over the bow. If you are in a light boat, the bow will dip down further than you might think. Your fuel tank should be full when measuring shaft length so you will know how it will impact bow rise. Be sure to clarify the weight of your motor and batteries.
Three Alternative Trolling Motors
These three trolling motors are similar to the Minn Kota Edge 55.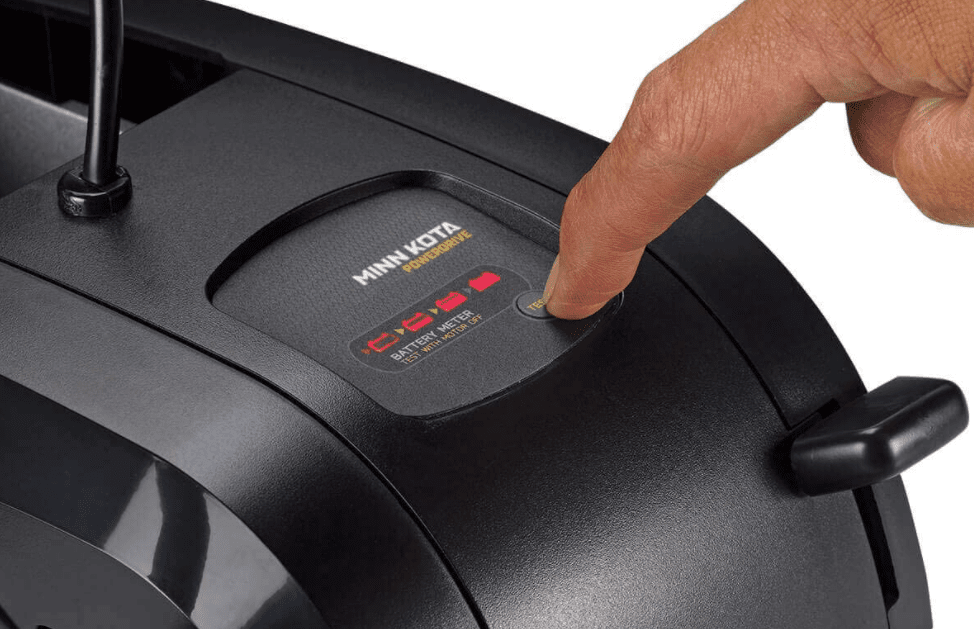 The Minn Kota Powerdrive trolling motor is closely related to the Minn Kota Edge 55. It is equipped with an easy-to-use foot pedal, which is water-resistant and easily maintains the speed of your boat. This trolling motor has the Weedless Wedge 2 Propeller, like the Edge, and can chop through some of the thickest weeds and vegetation. Like the Edge, the indestructible composite shaft will not corrode, break, or bend.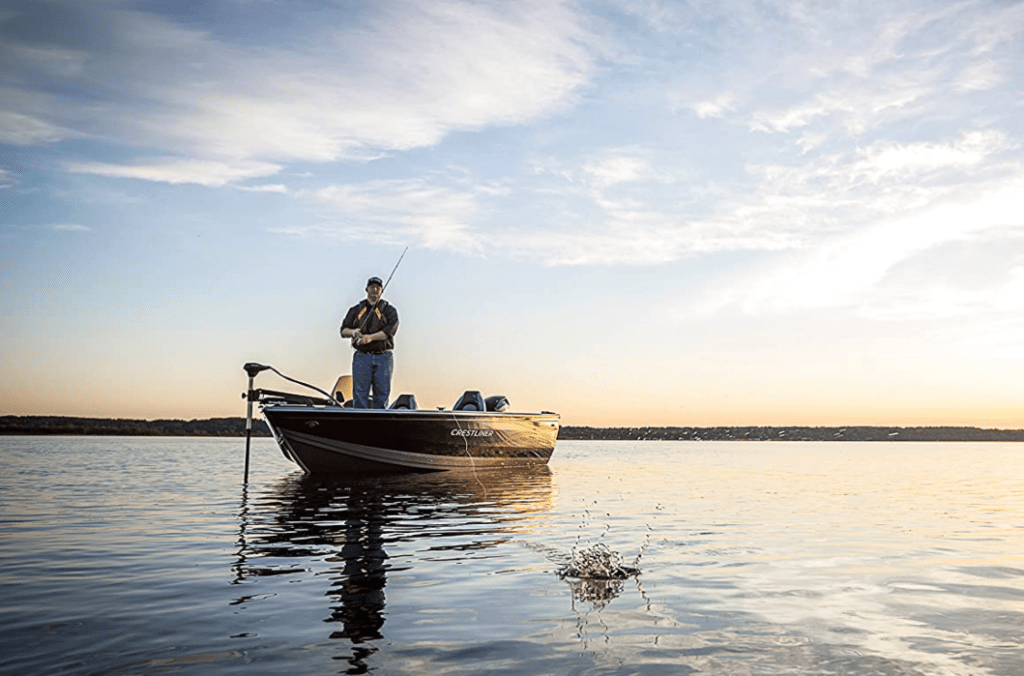 This Motorguide trolling motor is similar to the Minn Kota Edge 55 in a few ways. This motor offers precise, quick response steering using an easy-to-use foot pedal. It has a 2 blade weedless propeller to help keep the motor smooth and quiet and has a hinged door that is easy to remove. The Motorguide X3 freshwater trolling motor features 5 speeds and has a 2-year limited warranty like the Minn Kota Edge 55.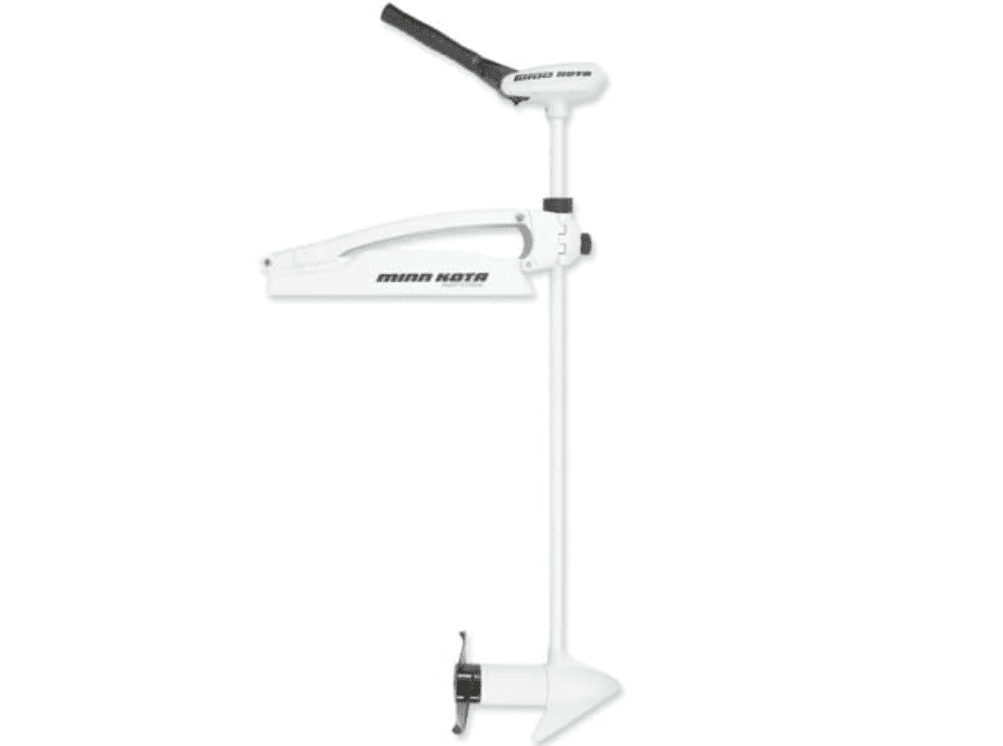 This Minn Kota trolling motor is similar to the Edge. However, this motor is used in saltwater and not freshwater. This motor allows you to use a foot-controlled pedal to control the motor and is easy to use. The Minn Kota Riptide Maxxum motor has 5 speeds, is corrosion resistant, and will quietly take you through rough waters to get you to your destination.
Frequently Asked Questions
Here are some frequently asked questions regarding trolling motors.
Question: How many volts is a Minn Kota Edge trolling motor?
Answer: A Minn Kota trolling motor will operate with any lead-acid, marine 12-volt battery.
Question: How fast will a 55-pound thrust trolling motor go?
Answer: As long as you have good riding conditions and use good fuel, your 55-pound thrust motor is likely to achieve a maximum speed of 5 miles per hour. 
Question: How much horsepower is a 55-pound thrust of trolling?
Answer: A 55-pound thrust of trolling is equivalent to about a .84 horsepower motor.
Question: How far should your trolling motor be in the water?
Answer: The ideal depth of a trolling motor's propeller should be about 6 inches of water above the blades. The centerline of the motor should be about 12 to 18 inches beneath the waterline. 
Final Thoughts
The Minn Kota Edge 55 is one of the best trolling motors for smaller boats. I highly recommend this motor for its reliability and ease of use. Installation is relatively simple and the most important thing is that you won't find yourself stuck on the water with it. Give it a further look by clicking here. 
Looking for more interesting readings? Check out: