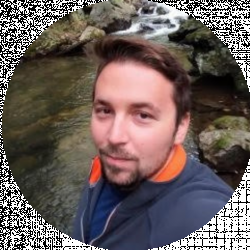 Latest posts by Coty Perry
(see all)
Fishing is easier when using the right boat. However, having a quiet motor that does not scare away fish makes a big difference. When it comes to trolling motors, the MotorGuide Xi5 is among the best options.
Xi5 is the most suitable for water adventurers who are looking for something unique. The battery life is sufficient to cater to your fishing needs. This means worries of getting stuck due to low battery shouldn't be a cause for concern. Read on to learn detailed features of the trolling motor and why it may be a great fit for you.
Bottom Line Up Front
MotorGuide Xi5 is one of the best trolling motors that I would recommend to someone who enjoys technology. If you want something different from Xi5, then try Minn Kota Fortrex 80/112. It is a good option for those boaters looking for a trolling motor option with excellent performance.
MotorGuide Xi5 Review
Xi5 has taken MotorGuide to another level. It marks a milestone in the manufacturing of trolling motors. For starters, it's available for freshwater or saltwater. The product was made using a significant investment in design, engineering, and manufacturing.
Being one of the latest models, it's stealthy, quiet, and ultra-responsive. It's also safer and easier to use compared to the previous versions. MotorGuide designed and built Xi5 to exceed the expectations of today's picky anglers.
What makes it unique is its wireless operation capability. This enables riders to have precise steering control from anywhere in the boat. This is thanks to the unique Pinpoint GPS platform.
The saltwater version features a wireless hand-held remote. On the other hand, the freshwater model comes with a wireless foot pedal. They all have a sophisticated steering transmission with a ball bearing to reduce friction and wear.
Additionally, Xi5 comes with an extremely rigid shaft support tube and custom seals that help keep water and dust out. The electronics are protected from water and dust because they are encapsulated in a high-tech coating. If the prop stalls, the lower unit won't get damaged.
The 2-blade propeller enables the new composite shaft to take on all obstructions that get in its way. Sometimes it bends, but it won't break. Another good thing is that it's backed with a lifetime warranty.
There is a Jog feature that enables your boat to shift position 5 feet in any direction. It comes together with a heading lock. It's designed to keep the boat on a straight-line course until when released.
With Xi5, you can record and store 8 routes each up to 4 miles long. In case of extreme weather conditions, you can make adjustments for current and wind.
Lastly, Xi5 offers you the chance to choose between the available thrust, power, and size options. With this trolling motor, you can easily set a course or anchor mode. Take note, the hardware can also be mounted. Let's go into more detail.
MotorGuide Xi5 Features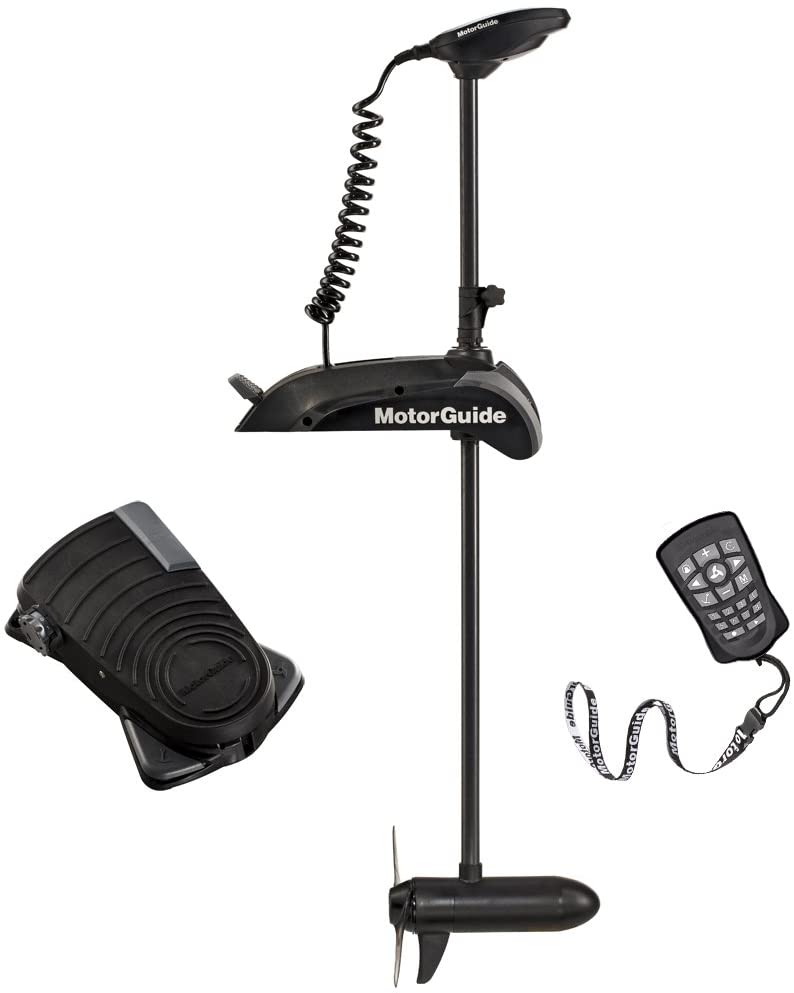 Below are features of the Xi5 from MotorGuide. They are described to ensure you understand their use and how they improve your fishing experience. Here we go!
Thrust, Power, and Size
You can count on the MotorGuide Xi5 when it comes to power. For thrust and size, it offers a variety of options to choose from. It comes with 3 power options which include 12V, 24V, and 36V. However, you need to bear in mind that every voltage is directly related to thrust.
Xi5 thrust options include 55 pounds, 80 pounds, and 105 pounds. The size and weight of your boat are the main factors that you need to consider before choosing your motor's thrust.
This powerful motor features 5 different shaft lengths ranging from 45 – 72 inches. Therefore, you can easily choose whichever size is suitable for your boat. Don't forget you need also to consider the depth of the fishing spot.
The peak thrust and power variations of Xi5 are quite strong. For instance, they can withstand strong currents and wind. However, MotorGuide recommends the use of 36V-105 pounds thrust if you plan to fish in areas with strong currents.
Durability and Guarantee
MotorGuide Xi5 is a durable trolling motor. This is because all its parts are designed and built with high-quality materials. For instance, the composite material used to make the shaft can withstand hard hits. This means that the motor can fight tough currents or hit various obstacles without experiencing any breakage or crack.
Dust and moisture are prevented from damaging the motor. How? The Xi5 comes with a composite shaft that features a marine-grade design to house all the electronics and crucial components. The durability and features of the motor guarantee a high-quality and efficient product worth the price.
Mount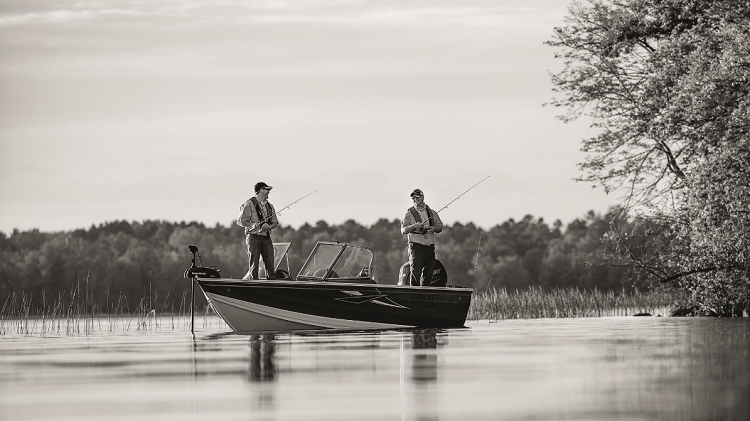 To reduce the bulkiness of the trolling motor, MotorGuide Xi5 comes with a low-profile mount. This makes it easier to use since you don't have to sacrifice stability, power, and speed.
Battery
For an electric trolling motor, it is essential to consider battery life to ensure you are on the safe side. This MotorGuide product comes with a 105 amp-hour trolling motor battery. It's capable of lasting for a couple of days before needing a recharge.
To increase the efficiency of the battery by up to 50 percent, Xi5 features digital technology. This means that if the battery's efficiency is increased the lifespan of the motor also increases.
The digital display enables you to monitor the battery power by notifying you when the battery needs to be recharged. This helps minimize future issues that cause the battery to break down.
Display, GPS, and Steering Control
MotorGuide Xi5 has an advanced combination of bearing systems, with a protective and rigid housing shaft. These provide increased efficiency and performance. This means that you can be assured that this product will keep you safe and protected when steering heavily.
Aside from that, Xi5 features a speed system that comes with user-friendly controls to make steering the boat easier. You can utilize the wireless foot pedal to control most of the functions. One of the downsides of this motor is the lack of a display. However, it can connect to several fish finder plotters through the NEMA 2000 unit.
There are many compatible units from Lowrance. But, when it comes to the advanced sonar features you will need a transducer for mounting the motor. Thanks to the reliable LED display, you can see when the power is ON/OFF and the battery life.
With MotorGuide Xi5 you don't have to worry about anchoring your boat. This is because the motor comes with GPS that can easily anchor your boat in the right position. It also helps track your courses effectively.
One good thing about the model is that it can lock in the heading giving you time to relax and concentrate on fishing. All this is made possible by the autopilot and cruise features.
Sonar
MotorGuide Xi5 comes with an inbuilt standard sonar transducer that can easily be connected to a fishfinder. However, note that you should use a NEMA 2000 connector cable. Fortunately, the connector is compatible with most units.
If you are looking for near-perfect imaging, this is an excellent option. Even though Xi5 doesn't do side imaging, it has an advanced system that is better than not having any sonar in your trolling motor.
Configuration

Boaters need to have a bit of knowledge concerning the configuration of MotorGuide Xi5 so that they use it properly. There are important things you need to be conversant with. At the top is the deployment and mounting of a trolling motor as well as sonar and GPS.
Pros
Able to withstand tough currents
Silent motor
Efficient battery
Reliable LED indicators
Durable and affordable
It features different sizes and power options
Cons
It doesn't have side imaging
MotorGuide Xi5 Alternatives
If MotorGuide Xi5 doesn't meet your requirements, take a look at the alternatives that I have provided. They all lie in the same category as MotorGuide Xi5. Additionally, they were the options majority of anglers chose when they didn't go for the Xi5.
Minn Kota Fortrex 80/112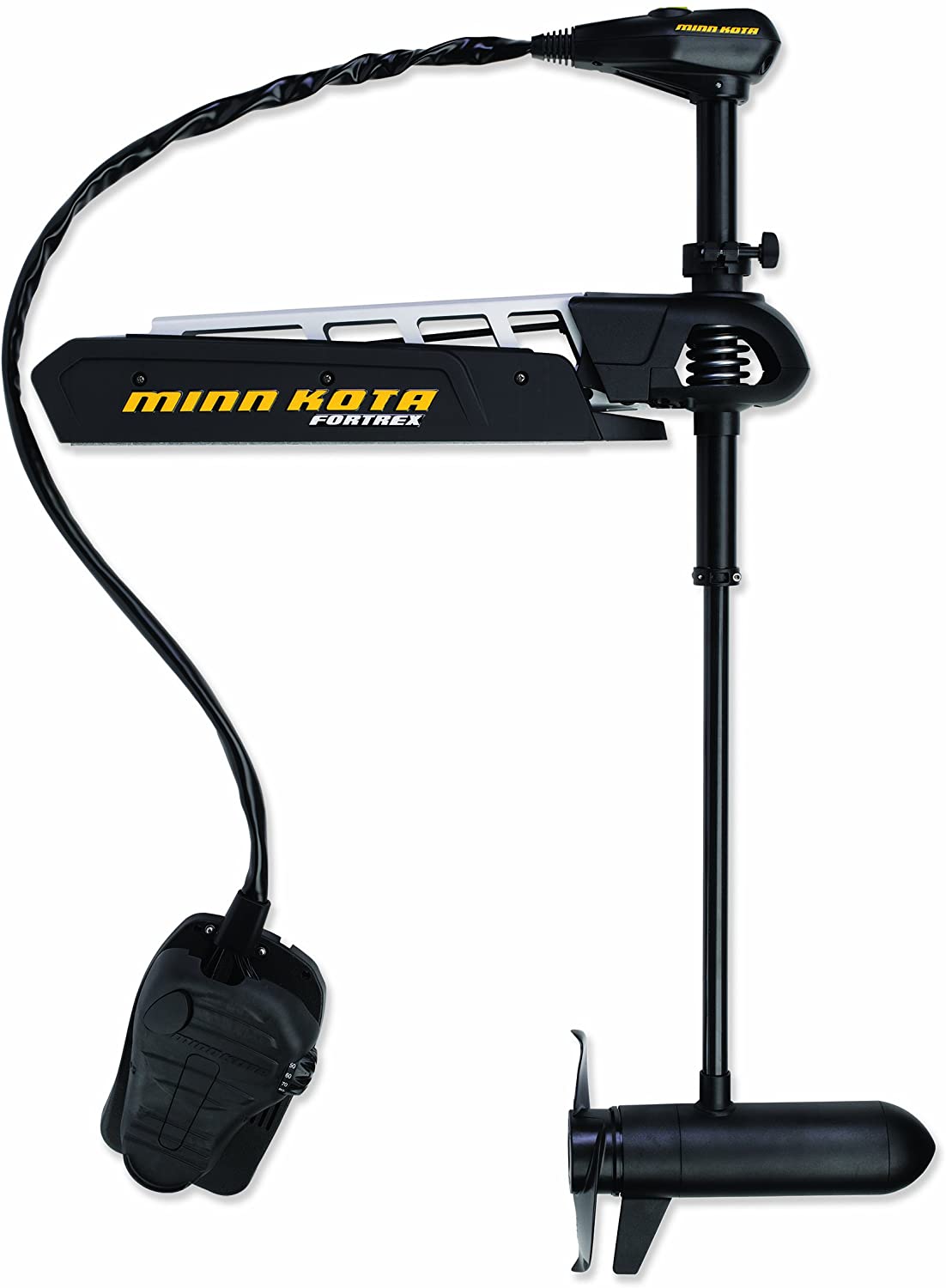 This bow-mounted trolling motor has an excellent performance. The simple but high-quality model features 2 thrust options (80/112 lbs.). They draw on 24V and 36V systems respectively.
The 112 lbs. version is the best choice if you intend to fish in heavy wind zones. Note that you need to watch your footing as you engage the motor.
The composite shaft helps deliver power effectively and efficiently. It is available in 2 different lengths – 36" and 45". The model features Weedless Wedge 2 and Weedless Prop. These enable you to operate the motor easily as you fish since they can be controlled effectively by a foot pedal.
What makes Fortrex unique is the fact that it can't be outfished at low throttle positions. The trolling motor features a gas-filled piston and spring. It also comes with a maximizer tech that ensures you have battery power to spare. I recommend this model to boaters who have large boats and prefer bow-mounted trolling motors.
Pros
Awesome battery life
It offers plenty of power
Perfect mounting system
Simple design
Available in 2 different lengths (36" and 45")
Cons
Not ideal if your boat is small
MotorGuide Xi3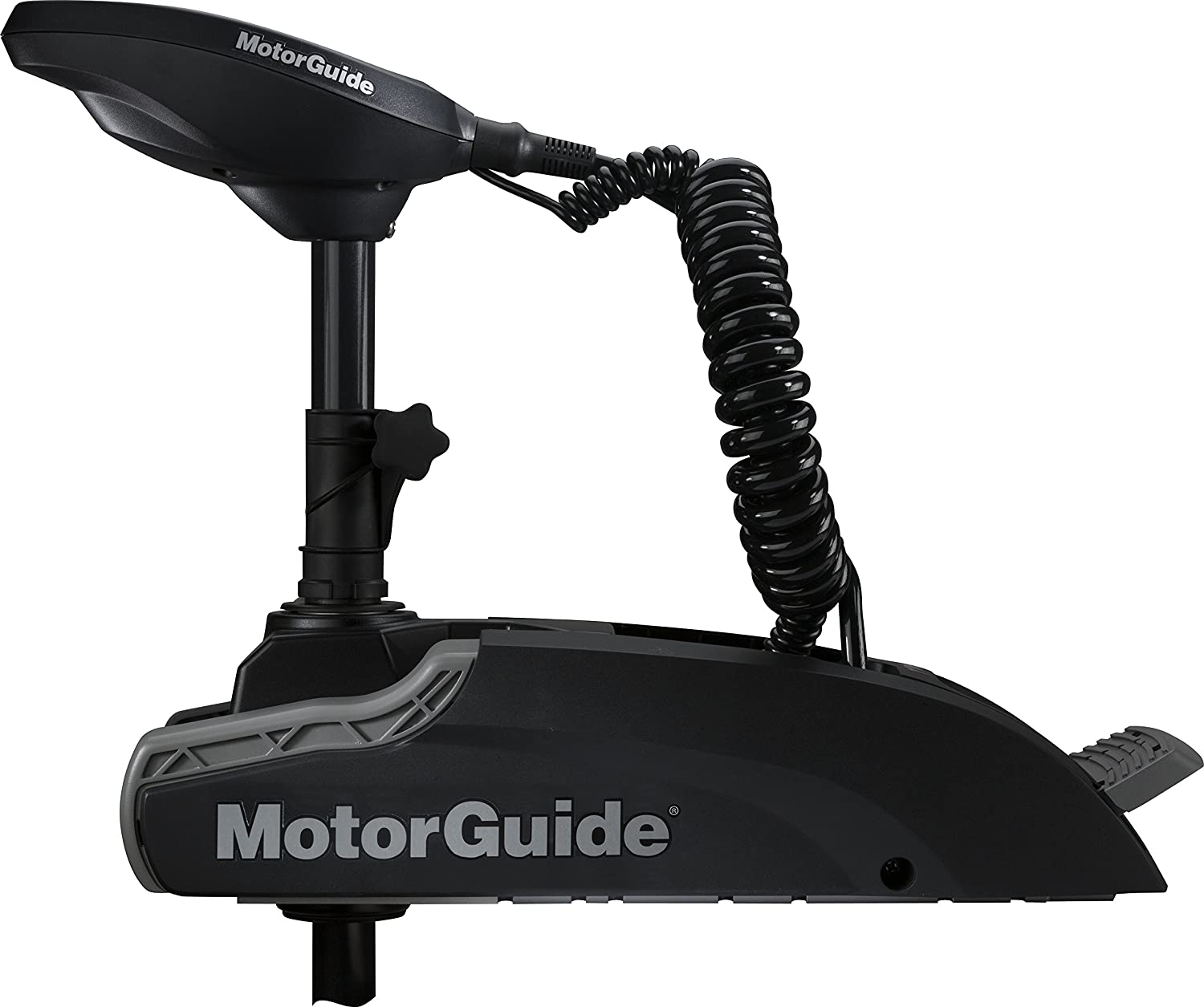 If you are looking for a trolling motor that features a secure step system for your pontoon boat this is a great option. It can deploy and stow easily and safely. The model not only features a quality design but is also GPS-controlled with remote control.
If you intend to fish in freshwater then this is a great choice. It comes with an awesome battery backup that offers an efficient operative arrangement. That's why Xi3 is one of the top-notch trolling motors that have innovative features.
It has a 48-inch long composite shaft that delivers a thrust of 55 pounds. The product has dimensions of 64.25 x 20 x 10.5 inches with a weight of 41 lbs. The motor also has a 3-blade Machete and 12V motor with a current draw of 52 amps. If you like fishing with a trolling motor, then MotorGuide Xi3 is a great option.
Pros
It features an LED dashboard
GPS
Quiet
Easy to install
Long-lasting battery
Wireless on-screen control display
Cons
It is not easy to control
Minn Kota Riptide Ultrex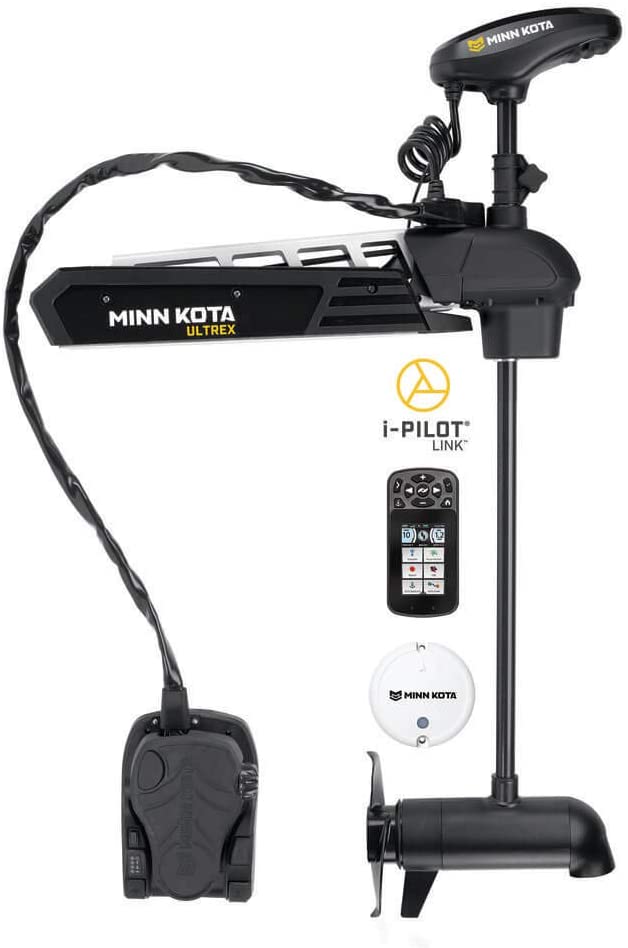 Ultrex is one of the best trolling motors when it comes to the best saltwater bow-mount models available in the market. Apart from being durable, it's also corrosion-resistant. One good thing about the motor is an inbuilt GPS. This makes it easy to map out your fishing zone and track your exact location.
The i-Pilot technology enables you to map and follow a particular path automatically. However, it's important to note that the foot pedal used for navigating the motor comes separately.
If Minn Kota Riptide Ultrex is your preferred choice then be ready to spend some more. This is because the motor can stow and deploy with a press of a button.
Pros
It can stow and deploy easily at the touch of a button
It comes with fully-encapsulated electronics
Corrosion-resistant
I-pilot technology
Built-in GPS and Spot-Lock
Cons
Trolling Motor Buying Guide
If you want to increase the chances of catching fish then you have to arrive at any fishing spot quietly. This is what trolling motors are built for.
They are available from simple-hand controlled products to more advanced ones. For example, some features fish finders, wireless control, and GPS. Before you buy one, check out the following factors that you need to consider.
Types of Trolling Motors
There are 3 types of trolling motors in the market:
Bow Mount
These are usually installed on the foredeck of the boat. The good thing about them is that they are straightforward to operate. With a bow-mount motor, you can steer the bow of your boat with precision.
However, compared to the transom motors, they are more difficult to install. This is because they require you to fix the horizontal surface at the front of your boat first.
Transom Mount
Unlike the above model, these motors are easy to install. They are also cheaper making them more popular among dinghy, canoe, and small boat owners. You only need to attach the trolling motor to your boat's transom using dual clamps and you are good to go.
Engine Mount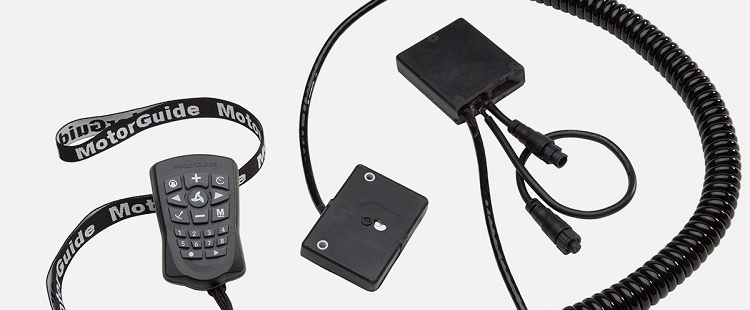 These are fixed on the cavitation plate of your outboard motor. Aside from being remote-controlled they also steer together with the outboard. The good thing about these models is that they require less space. They are best for the smaller boats that don't have space on the bow or transom.
Thrust
When shopping for a trolling motor, thrust is one of the most important factors to put into consideration. It determines how powerful the trolling motor is when it comes to pushing your boat at the right speed.
Thrust is measured in pounds (lbs.). If your boat is light then it means that you'll require less thrust and vice versa.
Battery Runtime
What determines the runtime of your battery are the capacity of the battery and the current draw of the trolling motor. The current draw is measured in Amperes (amps) while the battery capacity is in Ampere hours (Ah).
Steering Options
There are 3 types of steering options. There is either electric, cable, or hand steer.
Electric Steer
These models feature more control options that include GPS positioning and wireless remote to get you to your fishing spot.
Cable Steer
A multi-function foot pedal together with the motor is directly linked via a cable in these motors. The advantage of these models is that they are more responsive with a less sophisticated system that is popular with bass fishermen.
Hand Steer
These motors come with a tiller handle for direct control similar to the traditional outboards.
Freshwater or Saltwater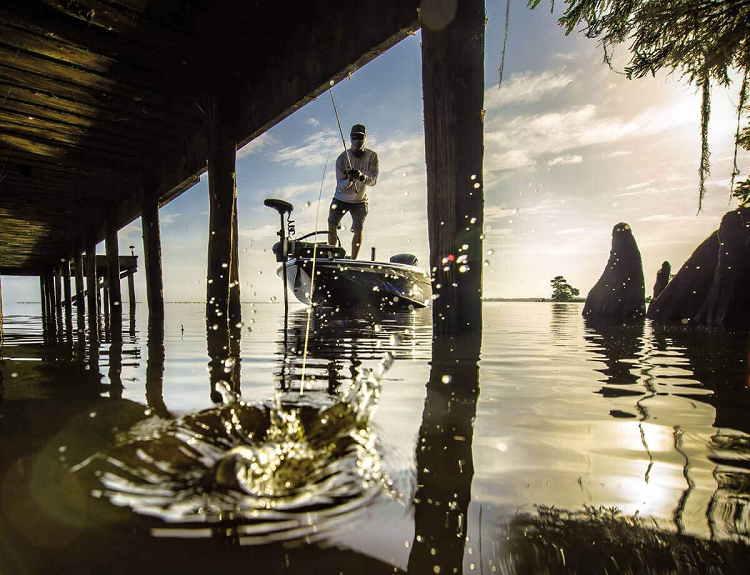 Every trolling motor features a clear description of the type of water it should be used on. Saltwater trolling motors have strong materials that are corrosion-resistant.
For instance, MotorGuide and Minn Kota saltwater trolling motors feature premium-grade alloys. These are usually coated with zinc. Furthermore, they are also painted with corrosion-resistant polyester paint.
You should note that freshwater trolling motors should not be used in saltwater. In case they are used, your warranty may be void and you may damage the product.
Motor Voltage
You can only find trolling motors with 12V, 24V, and 36V. Higher voltage systems are more powerful and efficient. This is because of the lower current flowing through the cable at the same power output. As a result, less energy is wasted as heat.
Shaft
If you want to get it right, then ensure that you get the right shaft. It needs to be long enough for the propeller to stay submerged at least 16" below the waterline.
If it's short, it may suck in air and make noise resulting in loss of power. In the long run, this may shorten the life of your motor.
Important Features
I have highlighted a quick overview of the most crucial features you can find in a trolling motor today. They include:
Variable Speed Controller
If you want a variable speed controller then you need to have a variable-speed motor. It comes with smooth power delivery in forward or reverse. Apart from that, they draw less power at lower speeds compared to those without them. This means that no energy is wasted offering you more runtime from your battery.
Autopilot
The Autopilot feature enables your trolling motor to steer in the set direction by using a compass.
GPS
The press of a button on the remote GPS helps you to steer and control speed. It also enables you to lock onto fishing spots. This feature is mostly available in high-end trolling motors.
Fish Finder Integration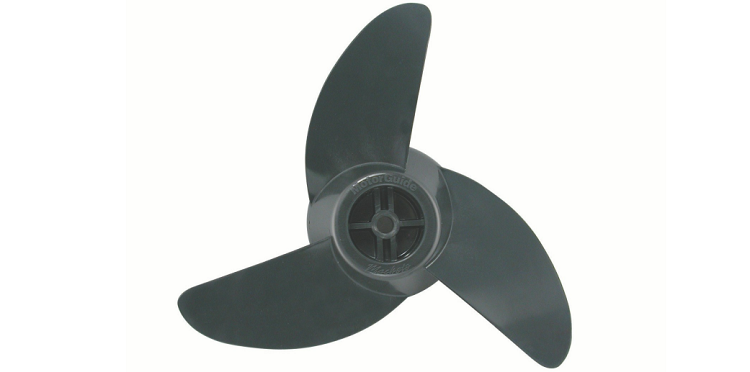 You can control your trolling motor's steering and speed with this feature. Furthermore, you can automatically follow depth contours to get to your fish finder's waypoint and Spot-Lock.
Transducers and Sonars
Trolling motors with these features can send images to your fish finder. They are integrated with the lower section of the motor. This means that you don't require additional cables or connectors.
Lift-Assist
Stowing and deploying trolling motors can be hard or easy. Different manufacturers use different techniques. Some use stainless steel gas springs while others use spring-loaded mechanisms.
Auto Stow and Deploy
This is a unique feature that few premium models like Minn Kota Ulterra introduced. It uses an automatic stow, deploy, and trim system instead of the lift-assist mechanism. You only need to press a button on your foot pedal or remote.
Trolling Motor Brands
There are over 10 companies specializing in the production of trolling motors. Some of the best companies include:
Minn Kota
MotorGuide
Lowrance and Garmin
Haswing
Newport Vessels
MotorGuide Xi5 FAQs
Question: Is There a Built-in Transducer in MotorGuide Xi5?
Answer: Yes there is. MotorGuide Xi5 comes with a built-in sonar transducer that is compatible with most fish finders.
Question: Do MotorGuide Xi5 Trolling Motors Have an Auto Deploy Feature?
Answer: Yes they do. The auto-deploy feature is great and ensures it improves your fishing experience.
Question: Do MotorGuide Xi5 Trolling Motors Come with Inbuilt GPS?
Answer: Yes. GPS enables you to control your Xi5 motor wirelessly and position your boat accordingly.
Question: Is Humminbird Compatible With MotorGuide Xi5?
Answer: Yes it is. MotorGuide motors can be adjusted accordingly to conform to Humminbird the same way it's linked with Lowrance.
Bottom Line
Are looking for an efficient and affordable trolling motor? Then MotorGuide Xi5 will meet your needs. It features several sizes and thrust options that meet most of your requirements.
Check out the buying guide if you don't feel like MotorGuide Xi5 meets your preferences. The alternatives I have provided should give you insight into other options. For example, the Minn Kota Fortrex 80/112 is the best alternative for the Xi5.
Looking for more interesting readings? Check out: